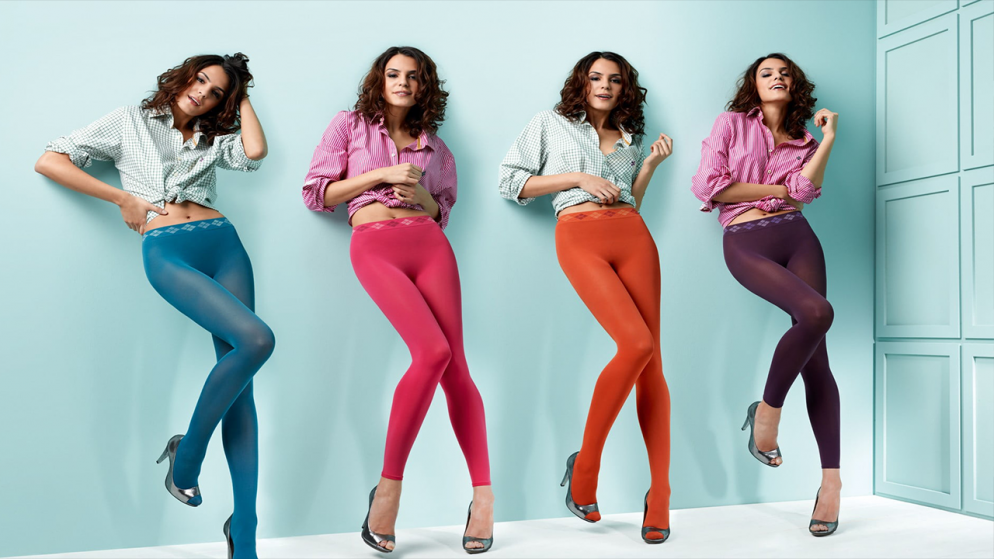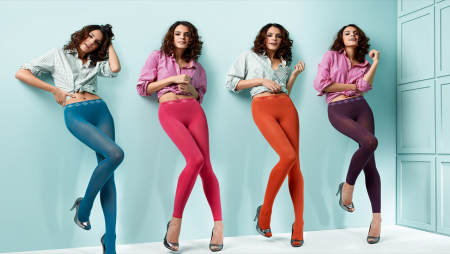 Our content is reader-supported. If you click on our links, we may earn a commission.
There are leggings—and then there are Lululemon leggings. The latter inspires a rabbit hole of Reddit threads dedicated to solving the mystery behind why the best Lululemon leggings are, well, the best. The stretchy workout gear has sustained such feverish loyalty that few dare question the hype. Never mind the technical fabrics or high-performance cuts—all it takes is slipping into a pair of Align IIs or Wunder Unders to concede that, yes, Lululemon does in fact make some of the best running and yoga pants on the planet.
Tempted as you might be to add the first black pair to cart, Lululemon offers a range of workout leggings (Fast & Free! Align! Wunder Under!) for specific fits, feels, and workout needs. With so many options to sift through—and a price point that requires a keener eye—the checkout button can feel miles away. But honest-to-God reviews can be the guiding light when you can't tell the difference between the Nulus and the Luons.
You know (and we know) that nothing makes you feel like your truest self than leggings that hug you in all the right places, so we combed through hundreds of reviews to see which of Lululemon's most popular styles deliver. From a pair of capris with minimal seams to a flared fit that's on point for lounging, shop the 18 best Lululemon leggings below.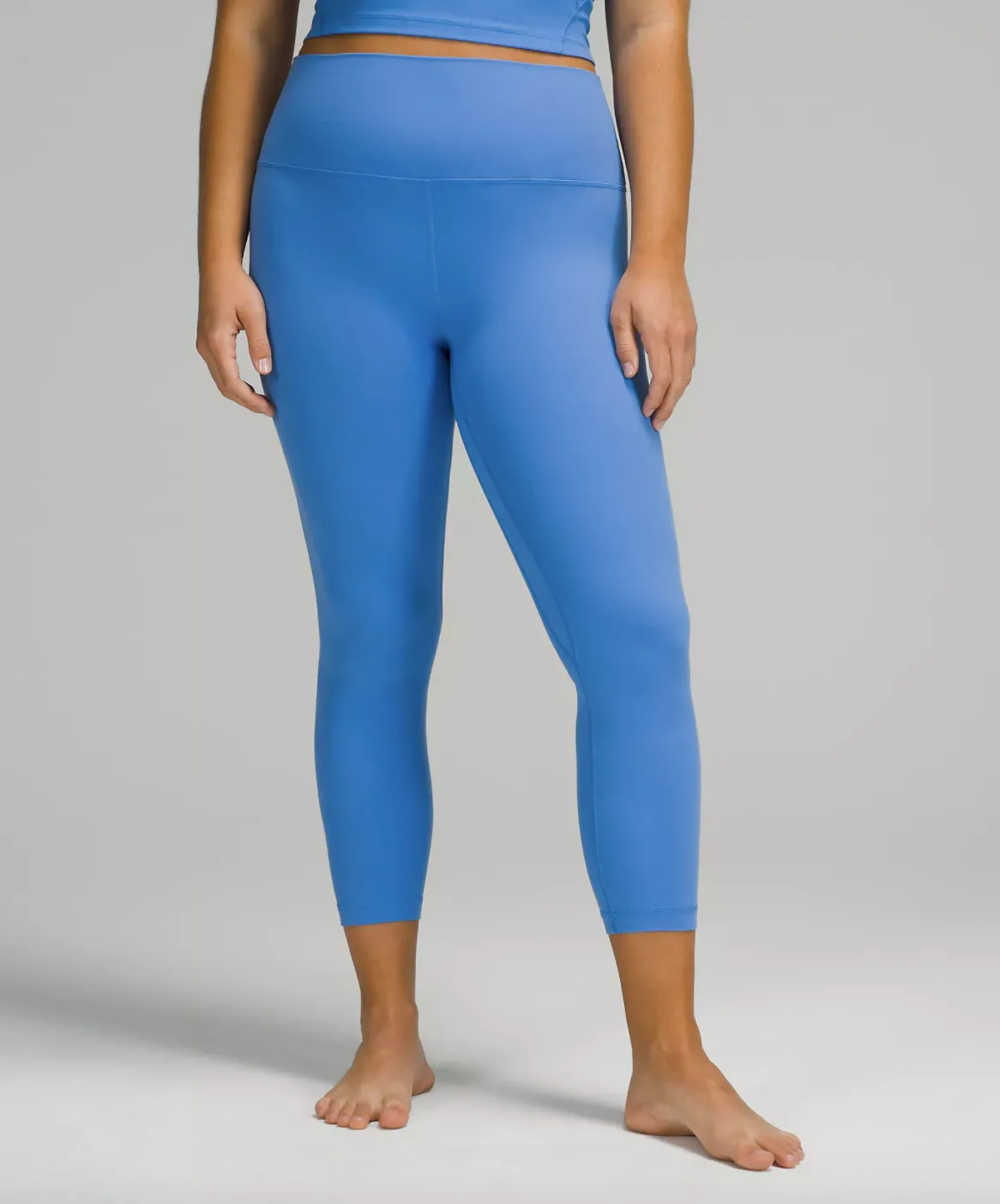 Best Overall Leggings: Align Pants, II, 25″
Key selling points: Buttery soft, weightless, and an exceptionally thick waistband—what's not to love about the Align II? It comes in three lengths, but the 25-inch inseam nails the elusive sweet spot between capris and full-length leggings. The site says this style is perfect for yoga, but going through its nearly 6,000 five-star reviews, it seems customers do everything in them (napping included).
What customers say: I have many pairs of these leggings, [and these are] totally worth the price. They feel so soft and light, sometimes it feels like you're not wearing anything! I wear them casually and for Pilates, and they work perfectly for both.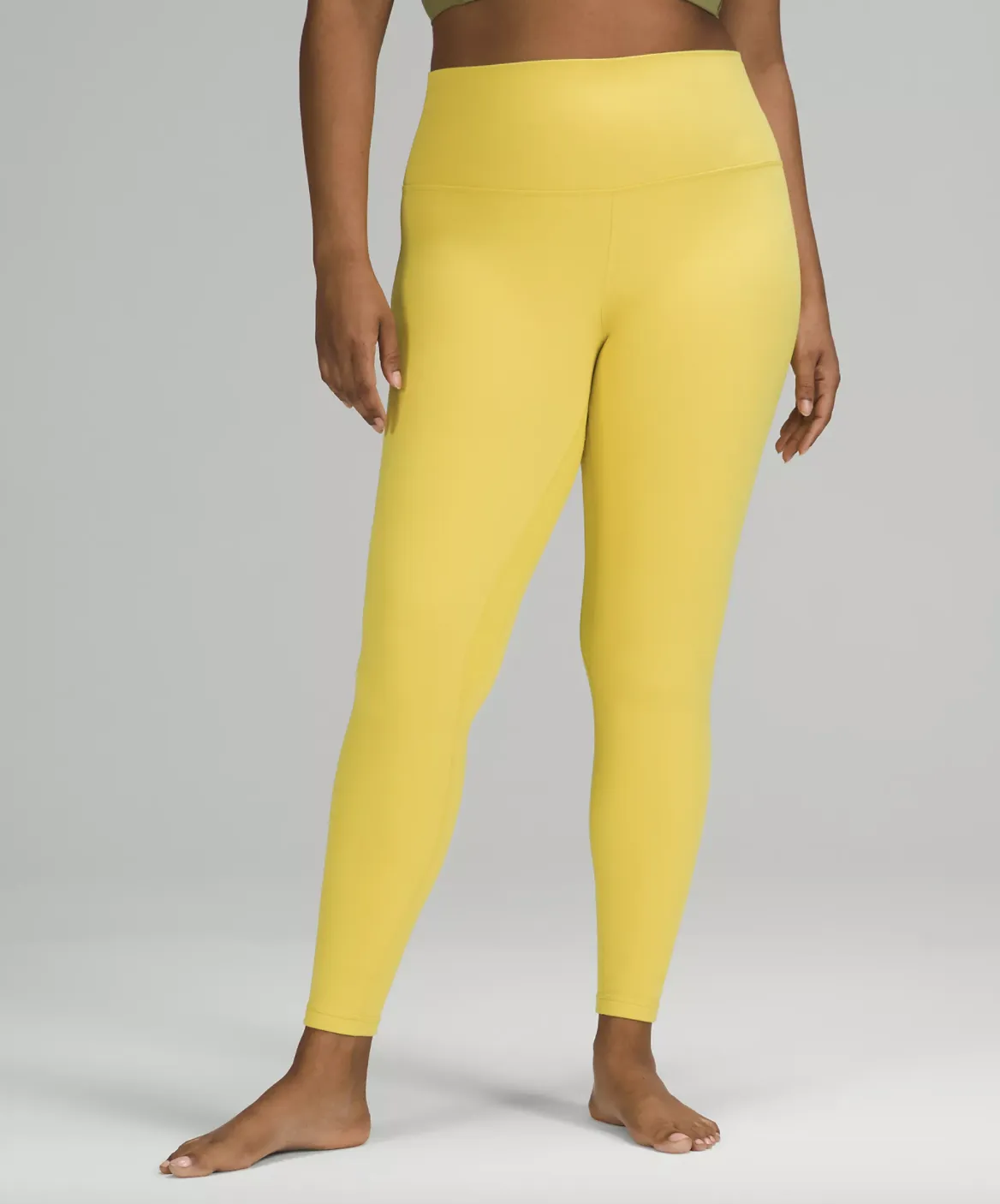 Best for Lounging, Walking, or Doing Yoga: Align High-Rise Pants, 28″
Key selling points: All the goodness of the Align leggings but cut with a 28-inch inseam. The Nulu fabric feels like second skin, doesn't lose its shape (thanks to the added Lycra fiber), and makes for great workhorse leggings in warmer months.
What customers say: Amazing for pregnancy, leisure, and exercise. I was recommended these leggings by several fellow pregnant friends—I was skeptical, but they are truly magical. The material is lightweight, the waistband is extremely flexible and comfortable, and even though these are not specifically designed for pregnant women, they are a complete game changer for me during pregnancy. I look forward to continuing to wear them even after pregnancy—for exercise and just hanging around in comfy, cute athletic clothes!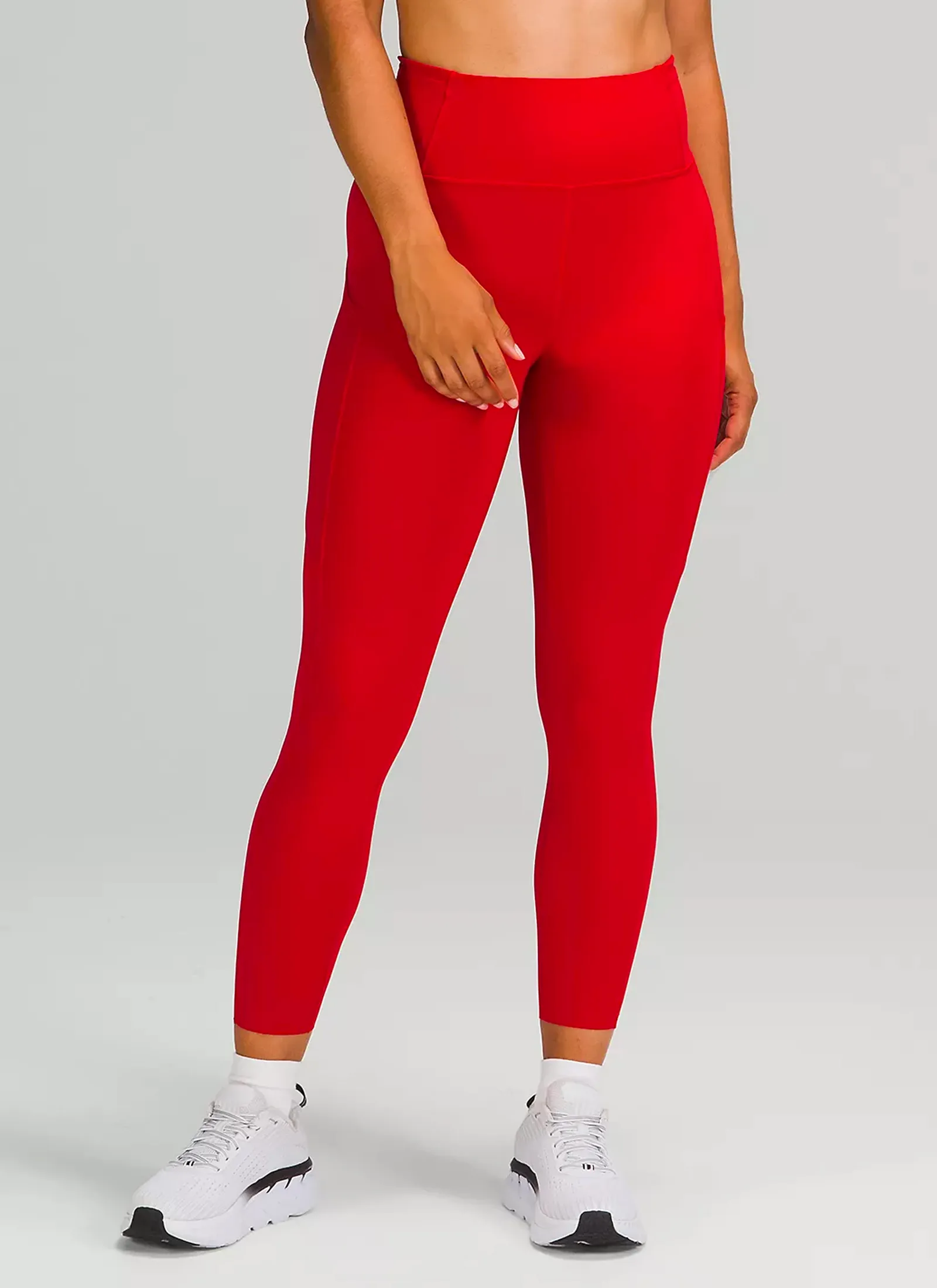 Best for Running: Fast and Free Tights II, 25″
Key selling points: Made from a lightweight (but not sheer), quick-drying fabric, the Fast & Free Tights are a popular option for high-intensity workouts. They don't show sweat, and the waistband hugs in nicely without cinching like a corset. The Nulux fabric (think Nulu feel but more supportive) is cool to the touch, and despite having more seams across the thigh and shin area, these still deliver the "weightless coverage and unrestricted movement" that Lululemon tights are so often praised for. The roomy side and waistband pockets are functional but discreet details that allow you to store essentials like a credit card, phone, and house keys.
What customers say: These are my favorite running leggings. Love the compression and the pocket for my phone!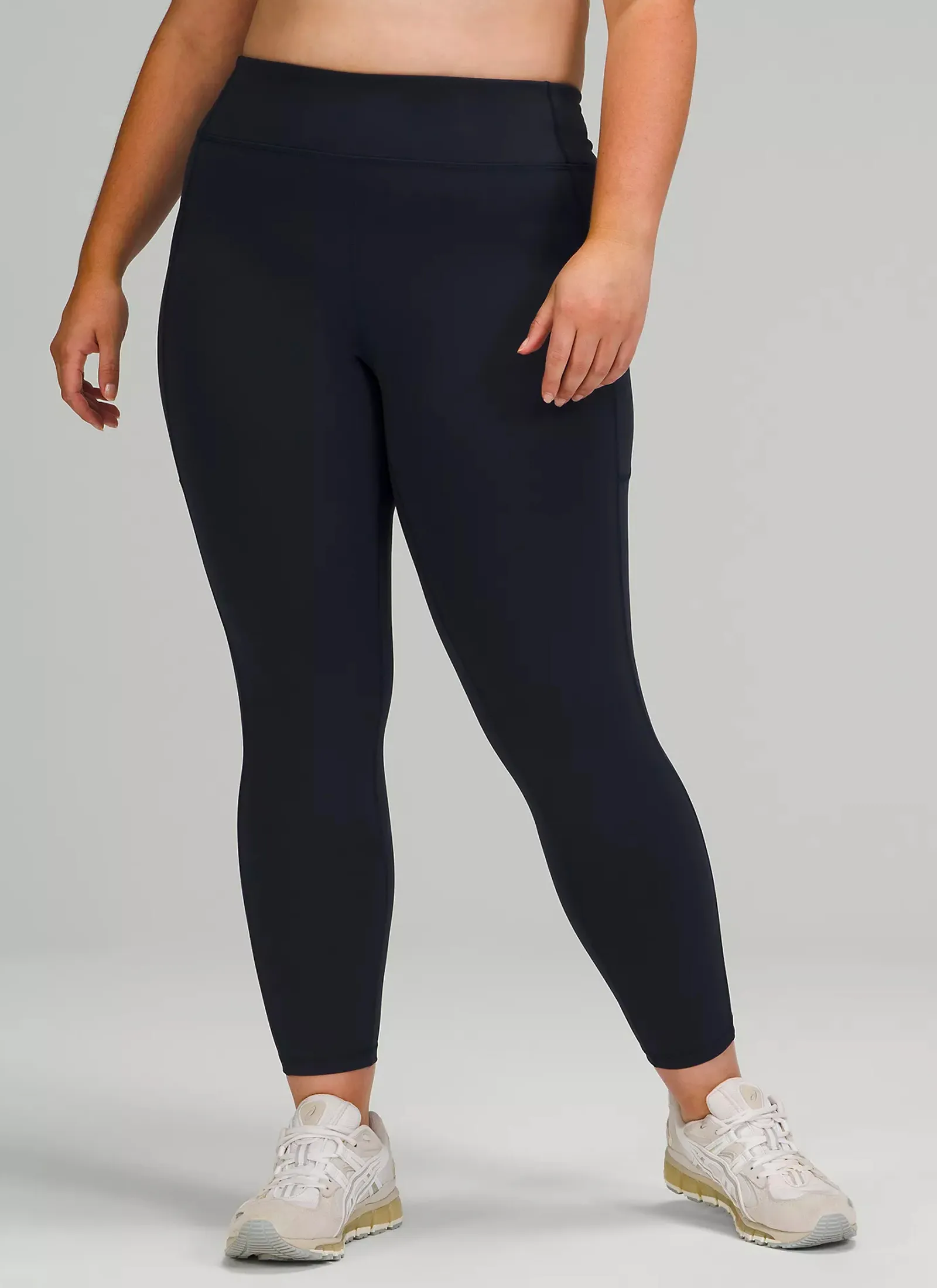 Best for Sweaty Workouts: Invigorate High-Rise Tights, 25″
Key selling points:

 We'll take all the side pockets, thanks! In addition to having this handy component, these buttery soft leggings are designed with Lululemon's classic Nulu fabric. They're so seamless and fit like a glove. 
What customers say: I love these tights and do everything in them: runs, yoga, strength training, walks, and errands. They're so buttery soft, and I love the addition of the pockets. At 5'3″, the 25″ length hits exactly where I want on my ankles.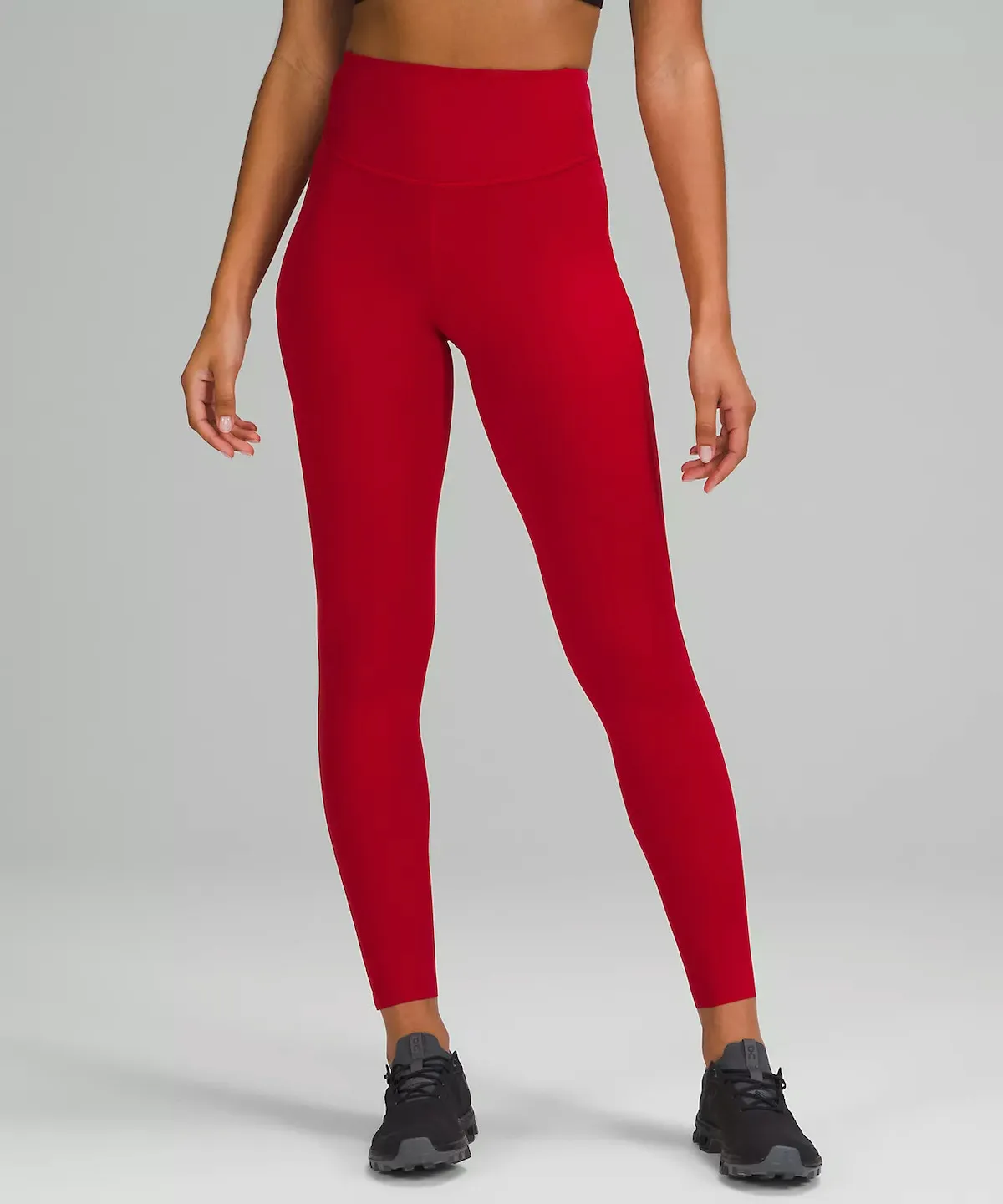 Best Fleece Leggings: Lululemon Base Pace High-Rise Fleece Tights, 28″
Key selling points: Fleece-lined leggings? Say less. This cherry red pair is not only great for brightening up the mood on a gray-skied day, but the tech fleece fabric is ideal for keeping your internal temperature at an optimal level while you're exercising outdoors during the colder months. P.S.: The water-repellent fabric also dries super fast, in case you get caught in the rain mid-run.
What customers say: I do a lot of HIIT type workouts and strength training, and these come above the belly button and stay in place. The material is nice and light and keeps you cool.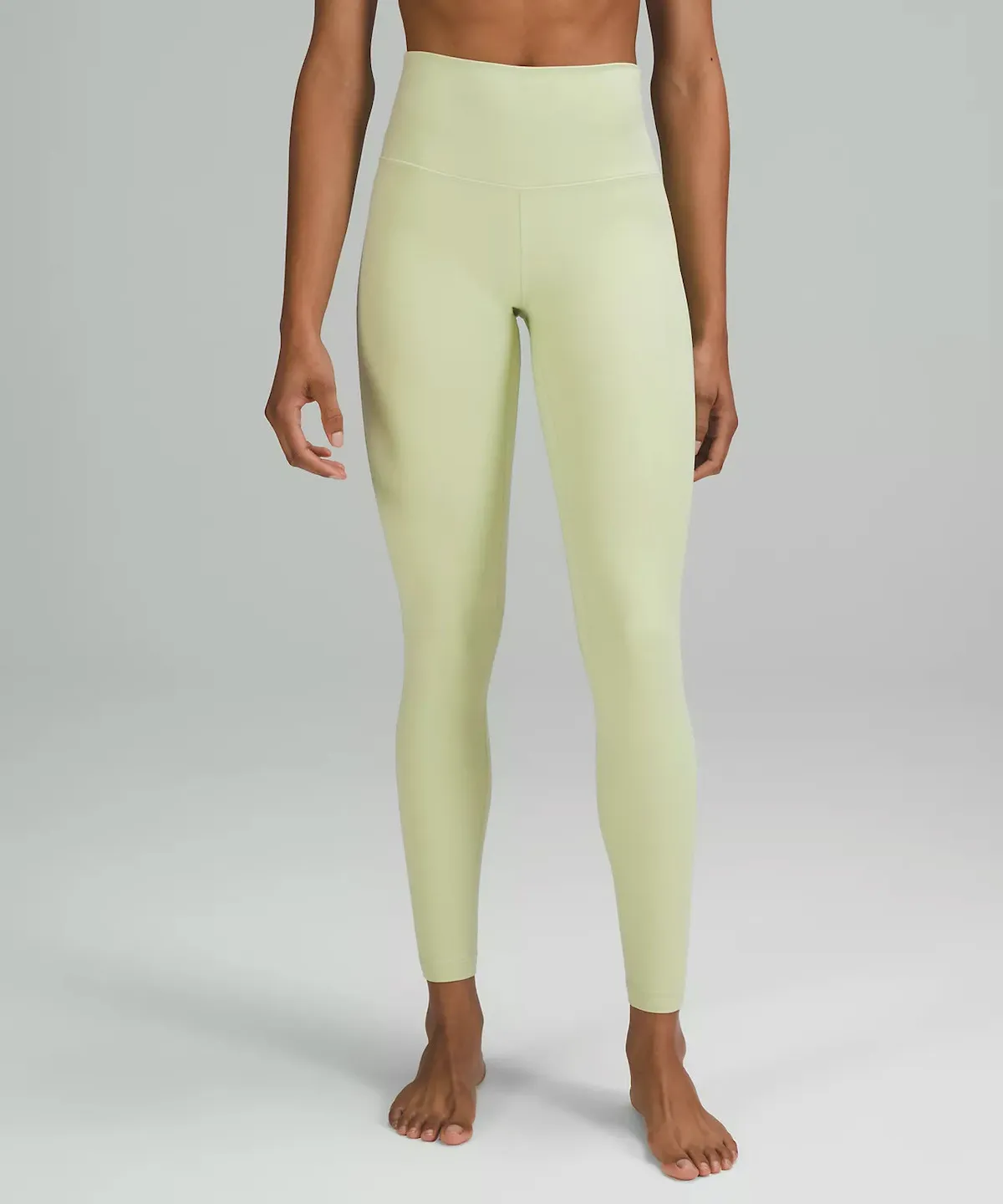 Best for Tall People: Lululemon Align High-Rise Pants, 31″
Key selling points: Long-limbed ladies, these are for you. Expect the same smoothness and stretch as the O.G. Align II leggings, except with a longer inseam that hits just below the ankle—and is ideal for people with longer legs (we're talking 5'8″ plus) who don't want their ankles to freeze during the winter.
What customers say: I am 5'9″ and all legs. I have to remember to size up with the regular Lulus, and still I have to constantly pull up the waist. These are perfect for me at my normal size! The material is even yummier than the regular Lulus. Love these! Thank you!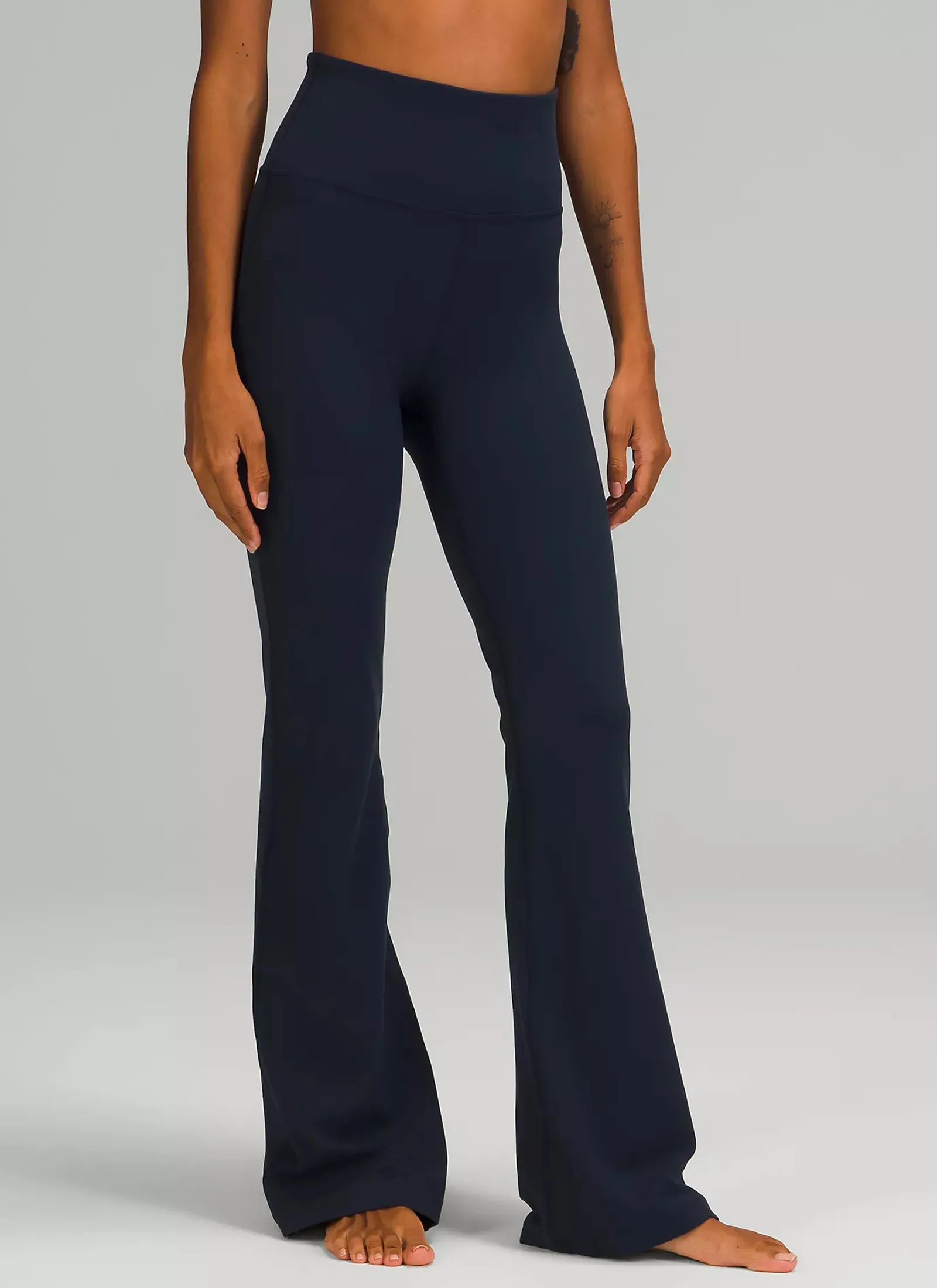 Best Flared Leggings: Lululemon Groove Super-High-Rise Flared Pants Nulu
Key selling points: Come for the early-aughts flare crop, stay for the super-high-rise waist and leg-lengthening silhouette that'll effortlessly take you from a workout on your yoga mat to a croissant and coffee in the park. Heads up: The inseam on these flared leggings is long, so if you're on the petite side, may we suggest this wide-leg crop instead?
What customers say: Holy moly! I fell in love as soon as I put these buttery-soft pants on! Thank you for finally restocking! I am 5'9″ with a long torso, and these are the perfect length. Must buy, ladies! Excuse me while I live in these for the next few months.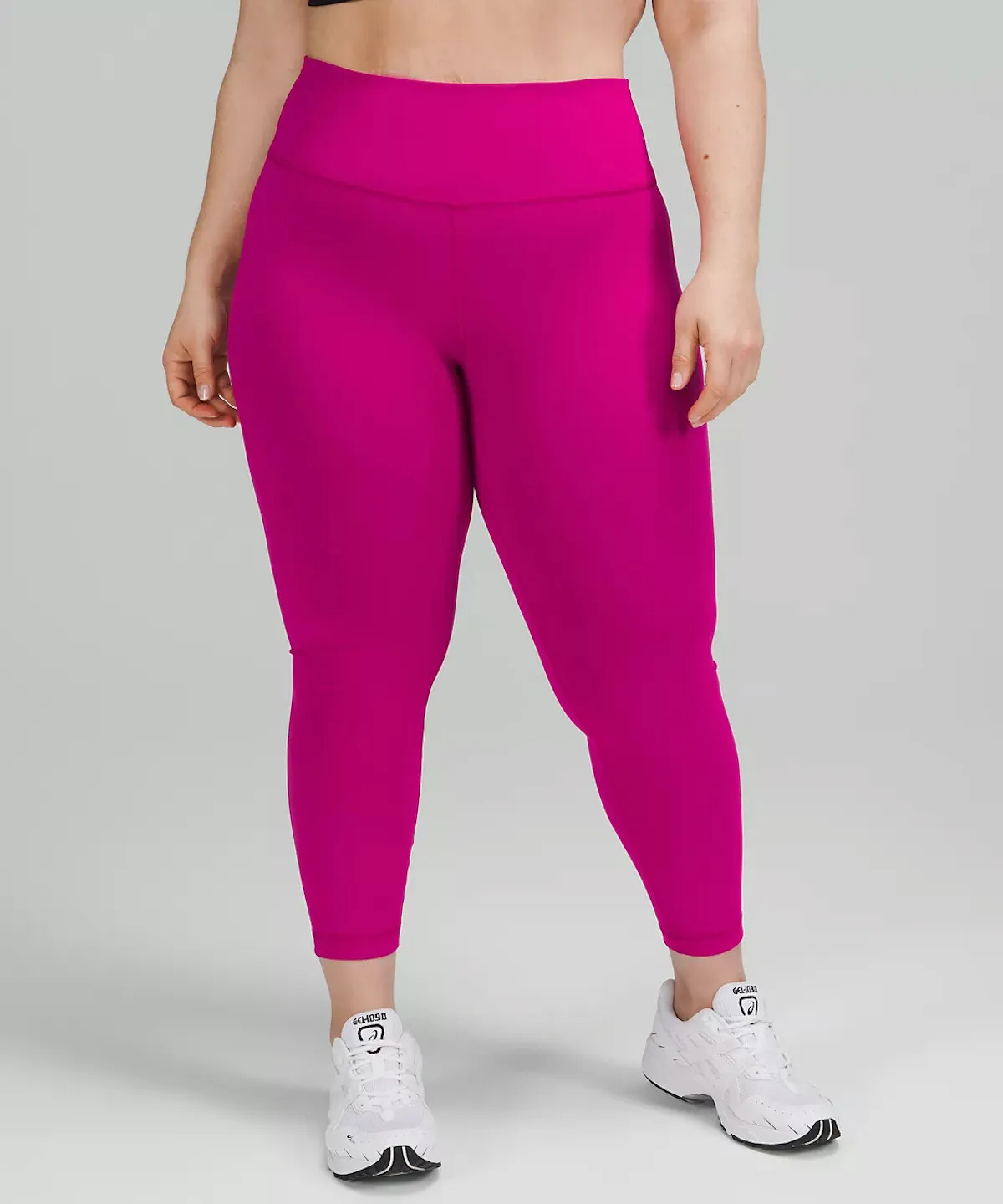 Fastest-Drying Leggings: Wunder Train High-Rise Tights, 25″ 
Key selling points: Like many other Lululemon leggings on this list, this style comes in an array of fun colors, including this vibrant magenta. What really makes these stand out, though, is the fabric, which is both sweat wicking and temperature regulating—ideal for cardio-intensive activities where you know overheating is a possibility. There's also a hidden drawstring inside the waistband to secure the fit, making it a solid pick for workouts that involve lots of jumping up and down (ahem, burpees).
What customers say: I don't have any problems with them sliding down or having to adjust them mid-workout. I'm a cycling instructor and have so many pairs of these! They never give me an issue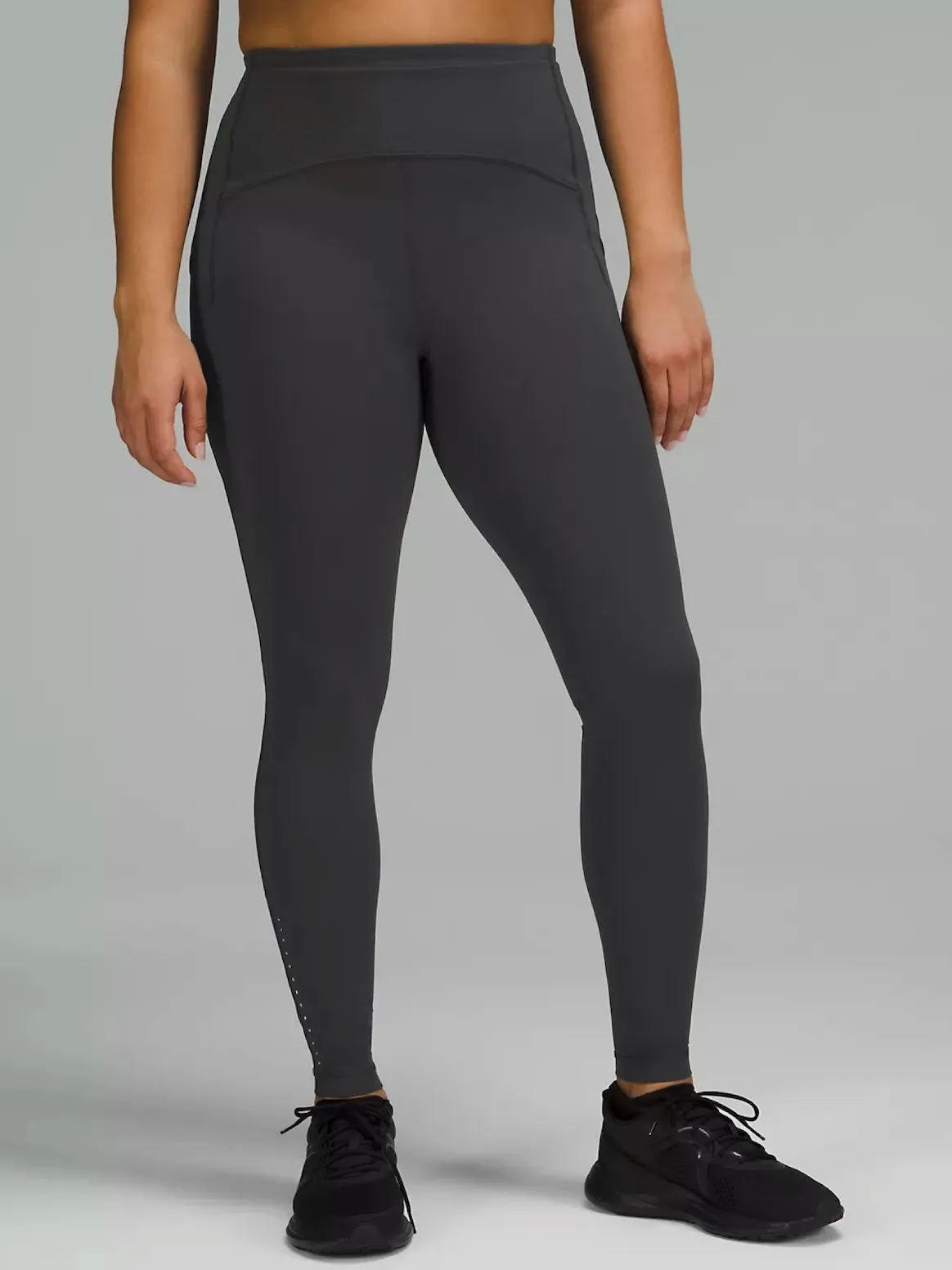 Best for Everyday Runs: Luxtreme Swift Speed High-Rise Tights, 28″
Key selling points: Thanks to Lululemon's breathable and cool-to-the-touch Luxtreme fabric, you don't have to worry about overheating on your run. The slick material is also supposed to help with friction; you don't need to worry about chafing as much if your legs rub together. And with proper care, these will retain their shape and color.
What customers say: I have to say, these are very nice. The waistband keeps them up even with a phone in the pocket, and I like that there''s a zippered pocket too. Since there's no seam on the insides of the legs, there's no chafing. They're okay to run in when it's hot outside, and I think they'll be okay in relatively cold weather too.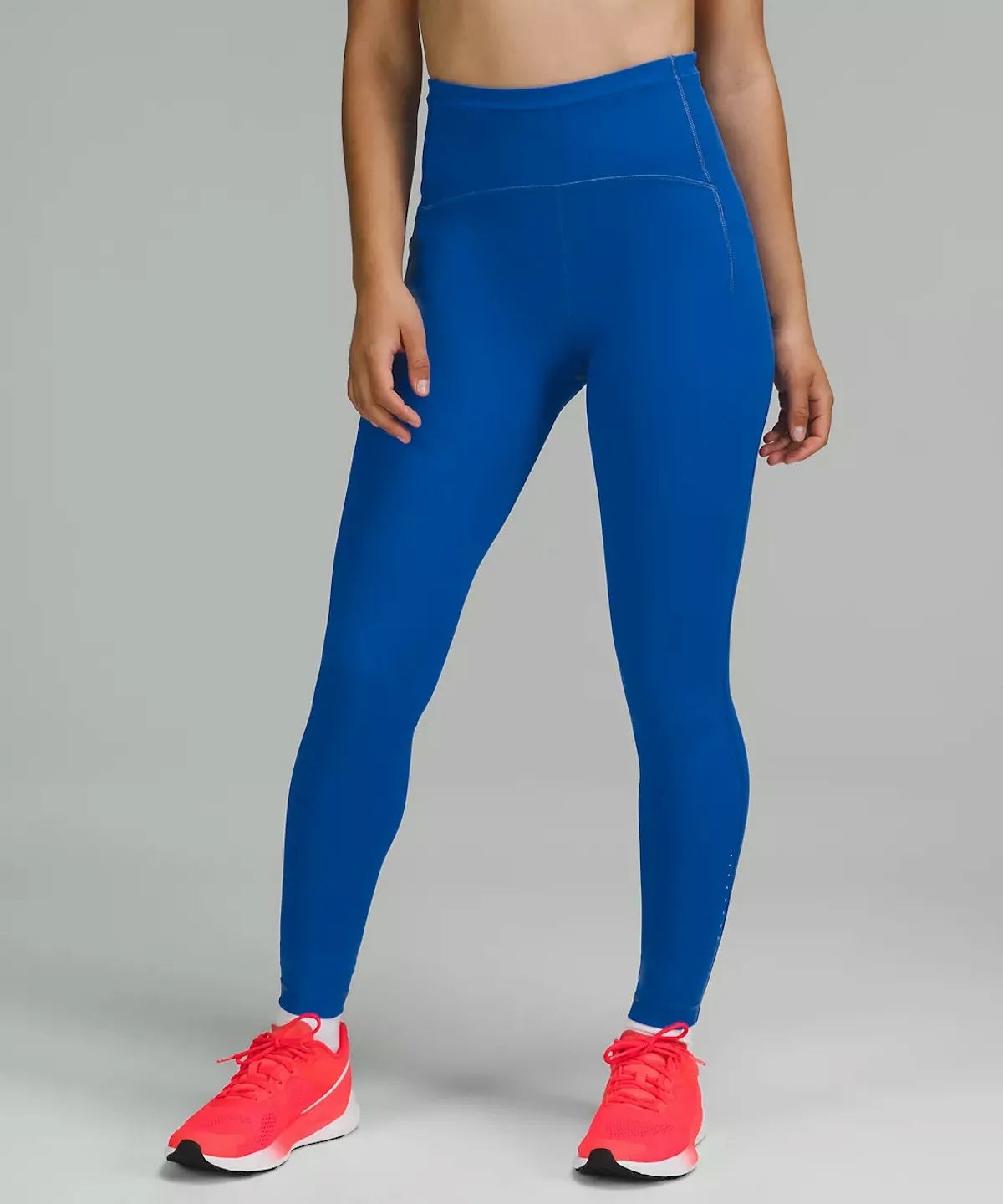 Best for Night Runs: Lululemon Swift Speed High-Rise Leggings
Key selling points: Early risers and night owls alike will appreciate these compressive leggings, which feature reflective detailing and lots of pockets—including a zippered back pocket to stash house keys or gel packs on longer runs. The seamless design also helps reduce friction, which can mitigate any burning sensations if your legs tend to rub together when you walk or run.
What customers say: I was always adjusting my leggings while running, until I bought these. They seriously don't move mid-run. Also, they have reflective spots on them, which is good if you run at night!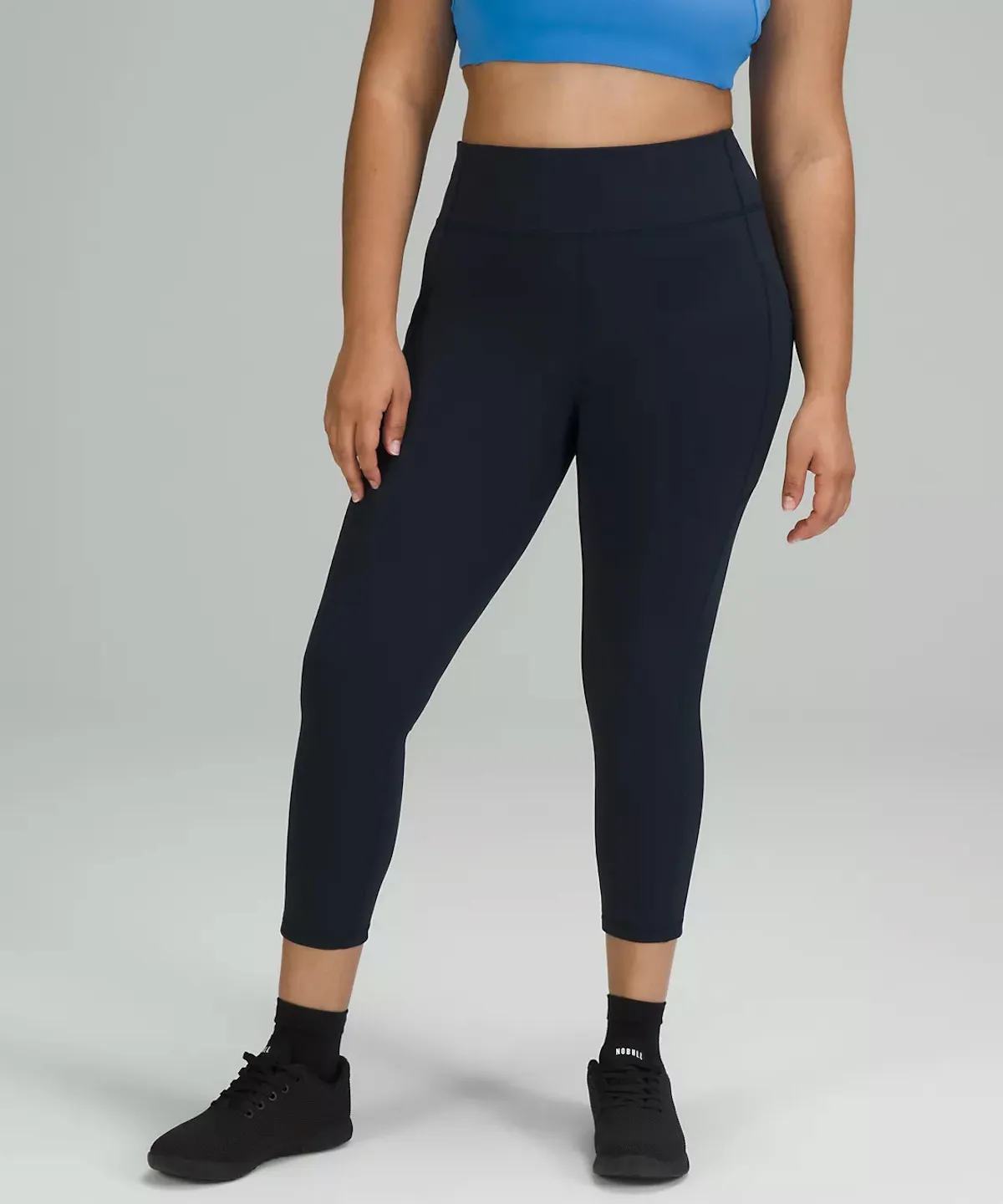 Best for Strength Training: Lululemon Invigorate High-Rise Crop, 23″
Key selling points: These leggings are made from a fast-drying, sweat-wicking material, which you'll love for intense workout classes. The 23-inch crop is also perfect for milder temps when you don't feel ready to wear shorts but don't want to suffocate in full-length leggings.
What customers say: These are some of my favorite Lululemon leggings, and I'm always surprised they're not more popular. The fabric is so soft but also durable, and dries so fast! They're great for working out and everyday. —Megan, reviewer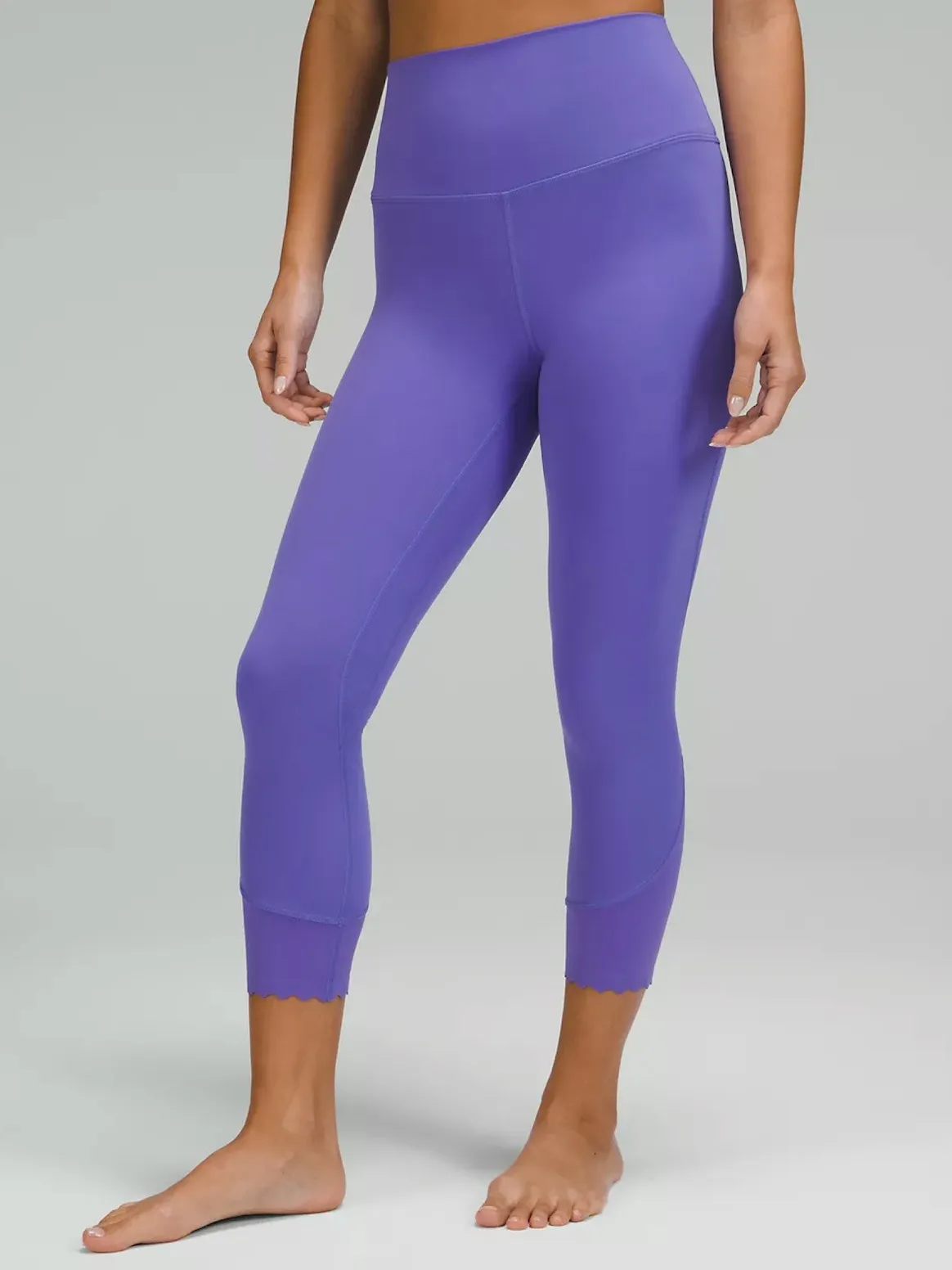 Cutest Details: Align Scalloped-Hem High-Rise Crop, 23″
Key selling points: If aesthetics are a priority, you'll appreciate the scallop trim and pretty violet hue on this cropped pair, which is set on the same buttery-soft Align fabric you know and love.
What customers say: Since the Align line of leggings came out, they're all I've been wearing! I typically only wear black leggings because I don't want sweat marks to show, but I decided to order a different color (Mulled Wine) and was pleasantly surprised. I haven't worn these to work out yet, I've only worn them around the house, but I love the scalloped trim.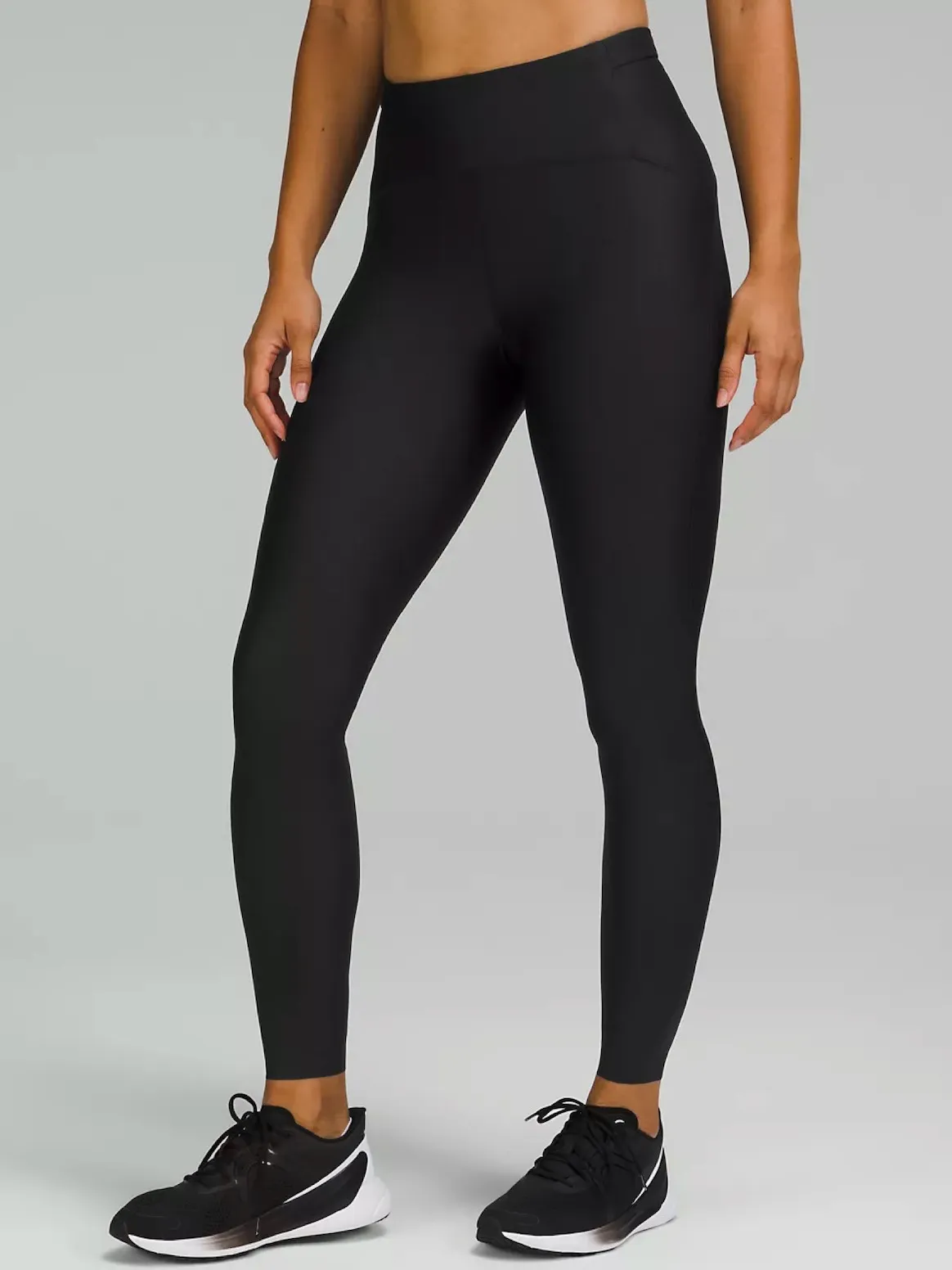 Best for Long-Distance Runs: SenseKnit High-Rise Running Tights, 28″
Key selling points: Whether you're training for a marathon or running a few miles every day, these are the leggings for you. The signature SenseKnit technology focuses on breathability and running freedom, which means you can count on these to be quick-drying, sweat-wicking, and extremely stretchy.
What customers say: I literally have every pair of Lululemon leggings, and these are by far my number one! I just got them today and tried them on and immediately ended up buying both the indigo and black colors after. They're true to size and lift you in all the right places and are not uncomfortable at all. They also pass the squat test!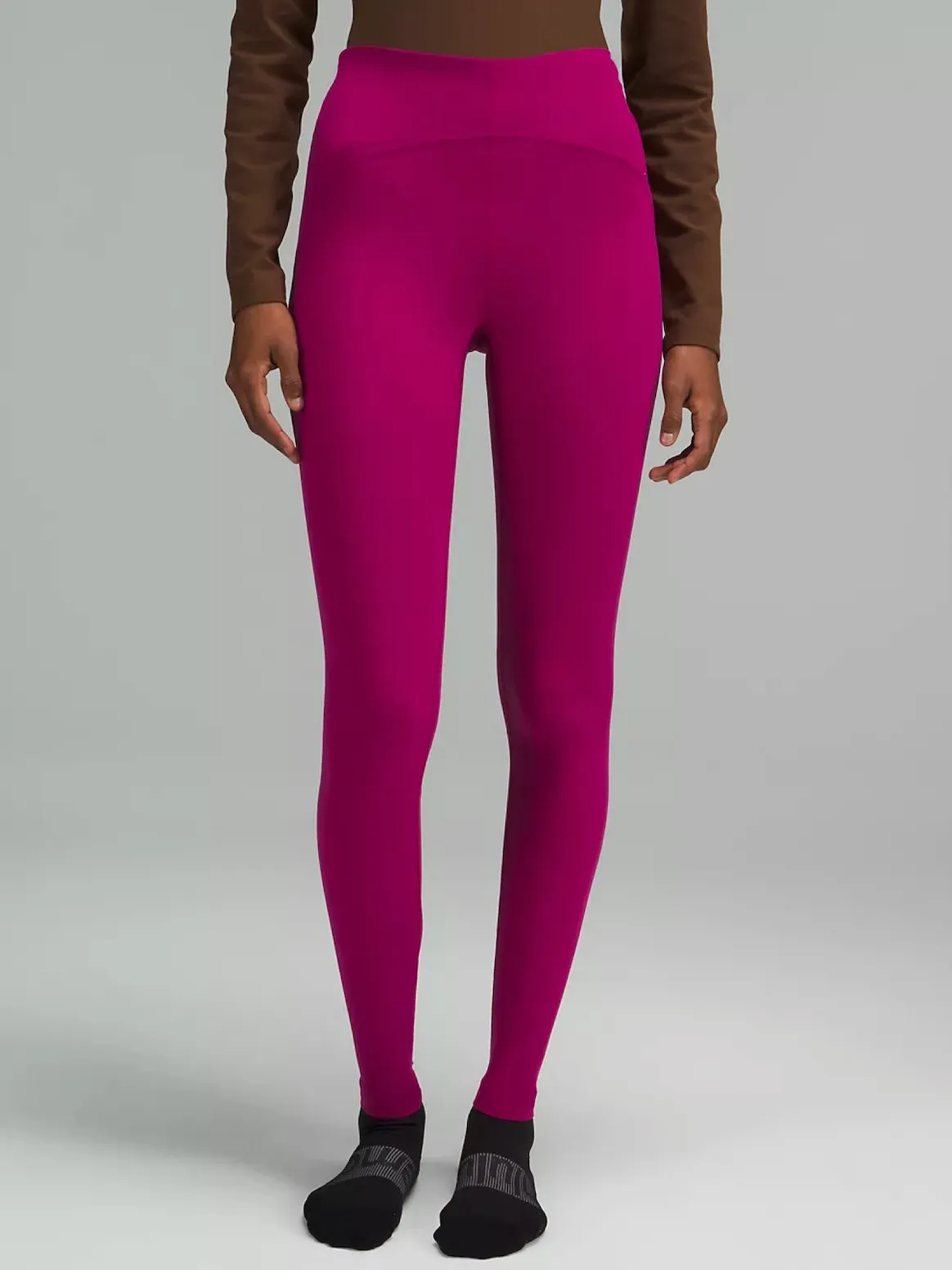 Most Smoothing: InStill High-Rise Tights, 28″
Key selling points: Lululemon's newish InStill fabric is virtually seamless—it's designed to be both smoothing and supportive, after all. You'll love the feel for doing yoga: It won't get in the way of a vigorous vinyasa flow or a slow-and-low yin class.
What customers say: Got a pair of these and tried the Instill material for the first time, and I love them. It feels like a more structured and fitted version of the Align and Nulu fabrics, and I would love to buy more leggings with this material.