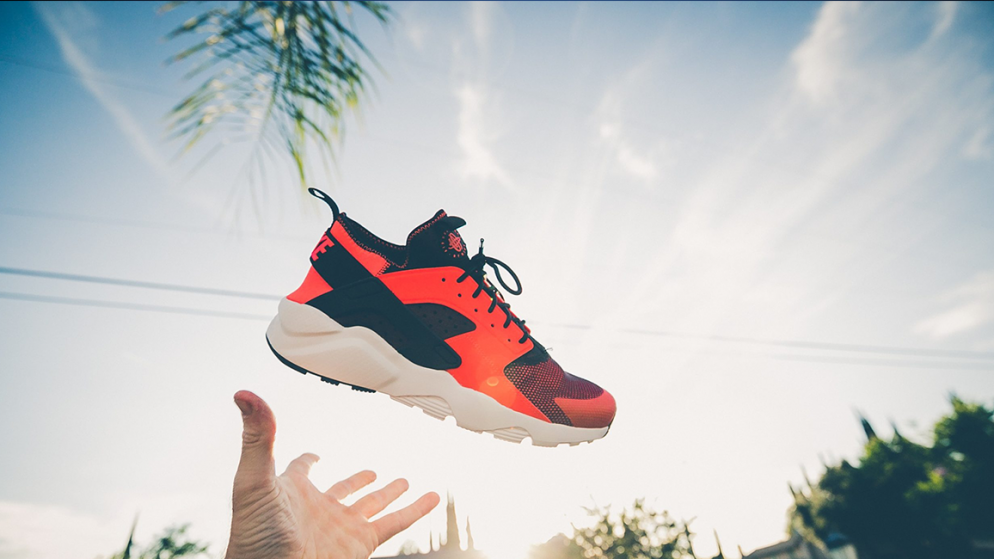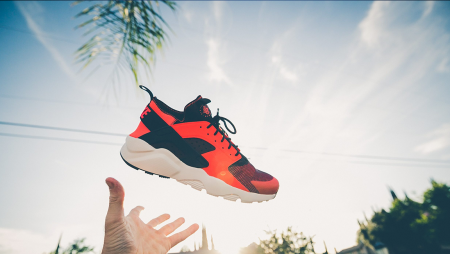 Heads up: Our content is reader-supported. This page includes affiliate links. If you click and purchase, I may receive a small commission at no extra cost to you.
Known for its high-quality and comfortable products, cole hand is considered a premier brand in the footwear realm. It offers innovative iterations that are comparable to other well-known brands.
Whether you're looking for a high-fashion kick or everyday footwear, we've got you covered. We've searched through more than a dozen pairs of trendy cole haan sneakers to give you data-backed recommendations.
How we test sneakers
To save you from hours of scrolling down, here is our approach to arm you with honest and unbiased review:
We purchase these shoes using our money to avoid impartial results.
We put these sneakers through a series of tests and assessments to probe their comfort, durability, and many other parameters.
We gather all available reviews from the users of these sneakers.
After raking through the data, we rank them from 1-100 using the corescore system. This scoring system will conclude how this sneaker performed for the majority.
Best Cole Haan sneakers overall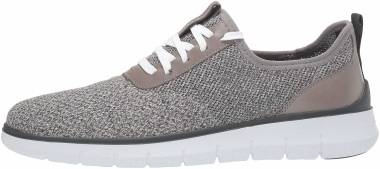 Pros
Breathable
Minimalistic design
Matches business-casual outfit
Stunning dark pink colorway
Enough arch support
Premium materials
Perfect for everyday use
Snug fit
Easy slip on and off
Cons
Verdict
After testing, assessing, and comparing oodles of cole haan sneakers, we pick the cole haan generation zerogrand as the best overall.
Showcasing a minimalist vibe, this model did not disappoint us when it comes to style. We were able to pair it up with tons of attire without having any difficulty. It is indeed a versatile pair of sneakers.
Its comfort is definitely something to beat. It is lined with luxurious material that hugs our feet cozily as we traverse the pavements. Ideal to be worn every day, this sneaker also has an easy on and off design. We enjoyed how quick it was to head out the door with the generation zerogrand on our feet. This kick is truly for users who have an on-the-go lifestyle.
Its knit upper, meanwhile, is comparable with nike's flyknit. This feature offers a fantastic amount of ventilation to keep our feet comfy and dry all day long.
While this pair has a bit pricey tag, it will surely give you all the comfort, style, and quality you have paid for. Truly a piece every sneakerhead must add to their collection.
Best tennis Cole Haan sneakers

Pros
Perfect for casual and dressy activities
Comfortable for all-day wear
Lightweight
Easy to clean
Good quality leather
Great cushioning
Premium in-shoe feel
Durable
Cons
Easily creases
Causes stains
Verdict
The cole haan grand crosscourt ii beat the rest of the iterations on our list as the best cole haan tennis sneakers to date.
Displaying a classic and tailored look, we are over the moon by its versatility. It has a clean and straightforward upper offered in various colorways and is easy to pair up with heaps of dressy and casual attires.
Its coziness is definitely a hit! It keeps our feet snug and lasts all day long. Its weight, meanwhile, is another feature we genuinely adore. All we had was breezy and airy strides, no dragging-down sensation at all!
Durability-wise, the crosscourt ii is truly an incredible pair. It remained intact and unscathed after wearing it for hours!
Upkeep is also not a problem. Its smooth upper is made with high-quality leather material; thus, it is easy and quick to remove any stains.
Simple yet stylish and durable, the cole haan crosscourt ii is an iteration you should never miss adding to your collection.
Best knit Cole Haan sneakers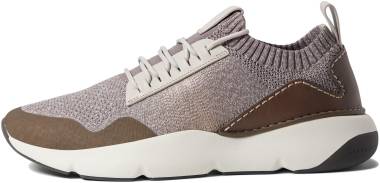 Pros
Great for work and gym
Comfortable for all-day wear
Keeps feet cool and dry for long hours
Stretchy collar
Integrated tongue
Matches any outfit
Out-of-the-box comfort
Great amount of comfort and support
Cons
Frail outsole
Off-center stitching
Verdict
If knit sneakers are your options, we highly recommend the Cole Haan Zerogrand All Day Trainer. A perfect all-rounder sneaker, we'll share with you several reasons why this model is a must in any breathable knit sneaker collection.
From work to the gym, we had no problems using this model. Right out of the box, its coziness is on a par with other pricier and more popular brands. It kept our feet cozy even after wearing it all day long.
Also, it is easy to wear! We love how its single-piece upper with stretchable upper allows our foot to slide in and out quickly. And its minimalist and clean upper are adaptable to a wide array of styles.
Its breathability is another remarkable feature. Our feet remained cool and dry even while wearing them during the summer heat. This model is indeed the perfect footwear for your upcoming summer getaway.
Quality-wise, this sneaker will not upset you. Like its Cole Haan siblings, this is constructed with premium materials and finish. Grab a pair or two of Zerogrand All Day Trainer before it runs out!
Best slip-on Cole Haan sneakers

Pros
Elegant and stylish finish
Easy to pair
Perfect for the summer
Highly comfortable
Durable and well-constructed
Well-fitting
Lightweight feel
Cons
Verdict
Topping our best slip-on cole haan sneakers list is the nantucket deck slip-on sneaker.
Displaying a simple yet elegant style, this sneaker is suitable if you enjoy dressing up or down. With its slim profile, clean finish, and shiny leather upper, this kick will instantly boost your usual attire into extra dapper. Pair it with just about any clothing, and it will not fizzle you.
Also, we experienced a mind-blowing amount of comfort. A perfect summer adventure footwear, this model keeps our feet cozy while we're on our feet all day long. This kick is indeed a highly recommended footwear for all-day use.
We also want to highlight its weight. These kicks on our feet did not give us any dragging-down sensation. Our strides felt faster and easier.
We were stunned, too, by its extreme durability. After wearing it daily for our errands, it amazingly stayed intact! Thanks to its premium materials and polished construction, it sure is worth every penny.
Welcome the nantucket deck slip-on to your closets, and you will not regret it!
Best high-top Cole Haan sneakers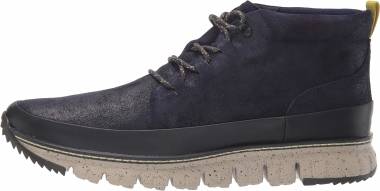 Pros
Glove-like fit
Comfortable even for extended hours
Commendable style
Wearability
Durability
Praise-worthy quality
Light
Cons
Hefty price tag
Needs break-in
Not breathable
Verdict
We've tested heaps of Cole Haan high-top sneakers, and the Cole Haan Zerogrand Rugged Chukka bagged our top recommendation.
Ruggedly stylish, this sneaker begs attention from many onlookers. We adore how it displayed a plush flair with a hint of ruggedness. It amped up our sneaker game with its one-off style.
Moreover, despite its stern look, it feels incredibly light on our feet! Unlike the other hiking shoes that weigh a lot, this kick felt zero gram. It is indeed perfect if you prefer light kicks without sacrificing style.
Meanwhile, its quality is fantastic! We put praise on its clean finish that further adds a plush vibe. And we were able to enjoy it longer than the other chukka models we've tried before. A durable pair to beat, indeed!
Its comfort is outstanding! It fits like a glove on our feet, and we were able to enjoy its relaxing feel even after wearing it all day long.
While it is offered at a hefty price, it is worth buying for all the positive features it served us!
Best value Cole Haan sneakers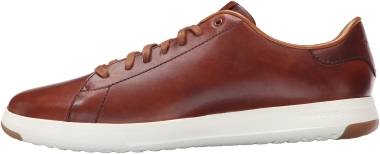 Pros
Stylish design
Lightweight
Comfortable for all-day wear
Matches any casual outfit
Premium materials
Fits true to size
Available in medium and wide widths
Cons
Unreliable durability
Insufficient ventilation
Verdict
One of the many cole haan sneakers, the grand crosscourt ii is a versatile tennis-inspired sneaker in a simple yet classy look. It is a great pair to match any outfit for dressing up or down. It is equipped with the grand-os technology that provides responsive cushioning that is lightweight, flexible, and breathable. Rubber pods are strategically placed on the heel and forefront to avoid slipping on any surface.
Most popular Cole Haan sneakers

Pros
Cozy fit
Soft materials
Stylish
Well-constructed
Durable
Light
Versatile design
Appealing colorways
Worth every penny
Cons
Narrow fit
Not many women colorways
Verdict
When it comes to high-class style, the Cole Haan Grand Crosscourt Sneaker pulls out all the stops. This shoe delivers a versatile and charming style that can be dressed up or down. Its simple look is ideal for summer. Additionally, the model is lightweight, comfortable, and well-cushioned. It also fits well and is easy to keep clean.