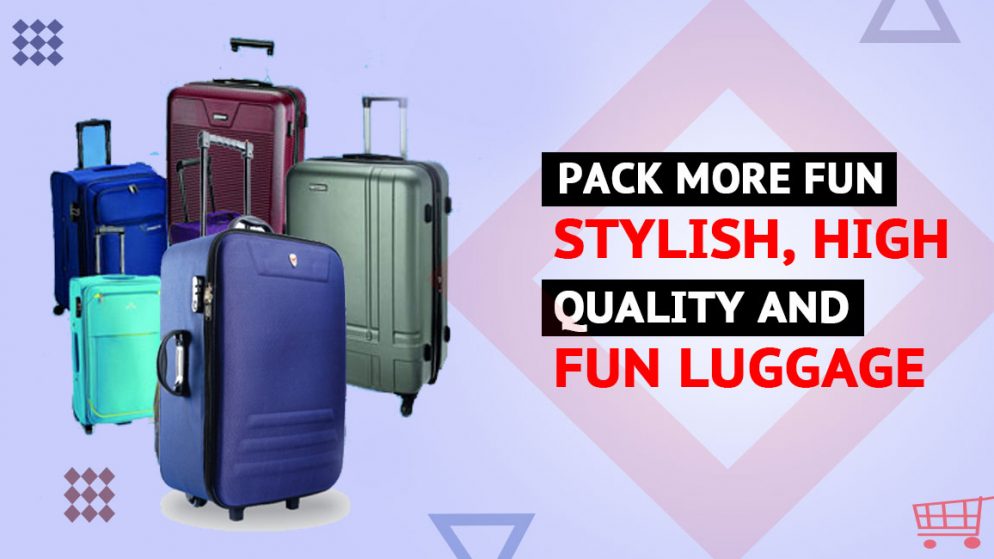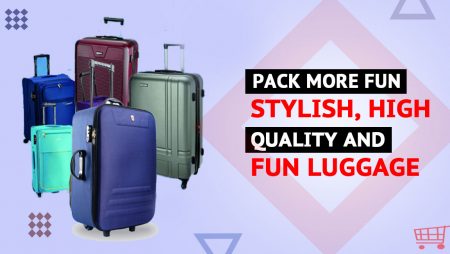 Are you looking for a durable suitcase that won't break the bank? There are tons of great options out there, but many travelers are preaching about American Tourister. However, is American Tourister as great as people say?
In this American Tourister luggage review, we will take a look at their quality, reviews, features, warranty, and other aspects to determine whether they're a solid choice or not.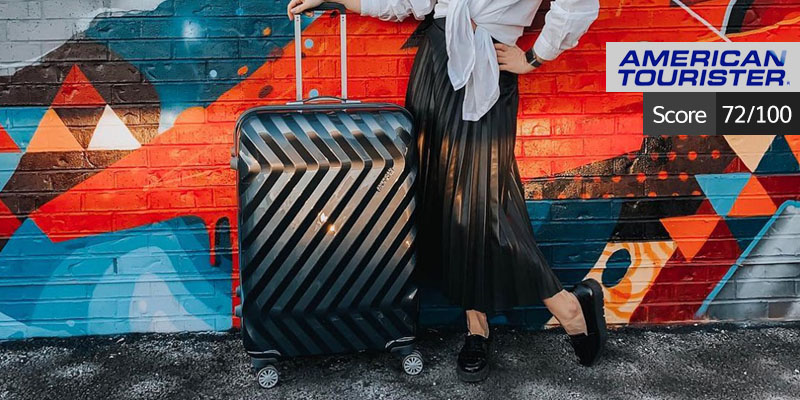 On Clever Journey's Best Luggage Brands, American Tourister got 72 out of 100 points. This places the brand in 10th place on our leaderboard. Although it may not seem as much, they're actually the second-best choice in the affordable range, right after Coolife.
You can see how we determined the 72 points here. We'll go in-depth into each category down below.

The Good
Affordable Prices. American Tourister offers luggage at an affordable price point, with most carry-ons being priced at $50-100. For a luggage set, you can expect to pay between $60-180. In the affordable range, American Tourister offers excellent value for your money.
Excellent Warranty. Everyone knows that Samsonite has a dependable warranty. But most people don't know that Samsonite and American Tourister are owned by the same company (Samsonite owns American Tourister), and both warranties are nearly identical.
Great Design Variety. American Tourister has a bunch of different luggage collections, each of which comes in a variety of colors and patterns. From Star Wars to Disney characters to the classic business designs, you'll most likely find a suitcase that will suit you.
Well-Reviewed. Out of the thousands of reviews, American Tourister has secured a significant following, with much of its luggage receiving above 4.5 stars on Amazon.
The Bad
Lack of features. With the low prices comes a lack of smart features. Most cases are pretty limited and don't offer many extras, like TSA locks, expansion zippers, USB chargers, suiters, or other smart packing features.
Not made for frequent travelers. If you're traveling one or two times per year, American Tourister's bags should hold up for at least three to eight years. When you start using them more often, the life expectancy of their bags starts to decline rapidly.
Not as durable as they used to be. According to customers of the brand, the quality of the suitcases isn't as great as it used to be a few years ago. The main issue that customers have faced lately is a drop in the quality of the handles and the wheels.
The Verdict
Overall, American Tourister offers some excellent options in the affordable price range. Their suitcases are durable enough for most people, backed up by a solid warranty, and well-reviewed. Not to mention that you'll have the ability to choose from a wide array of different designs. The only other brand that offers all of this at an affordable price point is Coolife.
However, we wouldn't recommend purchasing a suitcase from American Tourister if you plan to travel frequently because they lack the durability that other brands offer. We'd say that American Tourister is safe to purchase for kids and people who travel for leisure. If you have a larger budget, you should opt for Samsonite or Traveler's Choice, which are great options in the medium class.
If you travel a couple of times each year, you can expect their bags to last anywhere from three to eight years, which isn't too bad. Also, you get a safe and dependable warranty, which is rare amongst similar brands such as It Luggage and Merax.
Full Review
Key Facts About American Tourister
American Tourister was founded in 1933, in Rhode Island, United States, by Sol Koffler. Sol's idea was to make good-looking luggage, which would last for a long time and only cost one dollar. Let's not forget that flying wasn't as popular back then… and that a dollar was equal to $20 today.
In 1993, a company that owned Samsonite acquired American Tourister. Today, they're still owned by Samsonite, despite their parent company splitting in 1995, and in many ways are very similar to them. For instance, their warranty policies are nearly identical (which is good because everyone knows how dependable Samsonite's warranty is).
Samsonite also owns other popular luggage brands, including Hartmann, Tumi, eBags, High Sierra, and Lipault.
According to Statista, in 2019, American Touristed made 655M $ in sales, compared to Samsonite's 1.655 bln $. Due to the pandemic, the statistics of 2020 are nearly 50% down. We don't have the exact sales numbers. Still, we estimate that American Tourister is the second most popular luggage brand in the industry, right after Louis Vitton, Delsey, and Rimowa (and they continue to grow every year.)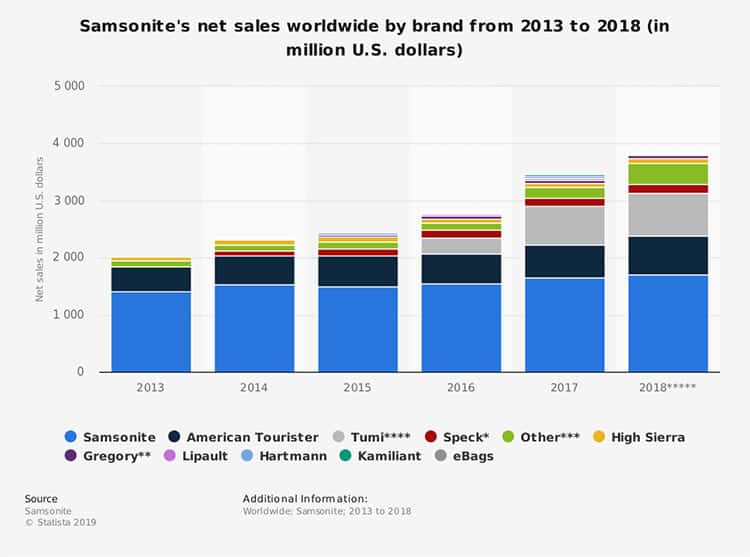 Reviews (21/30)
American Tourister's customer reviews are better than most other affordable luggage brands, like It Luggage, Lucas, or Rockland. Many of their suitcases have gotten reviews in the 4-4.8 star range, which is really good. But, their reviews are slightly behind Coolife and Merax.
We read hundreds of reviews on their most popular models and tried to find any common flaws and problems. Some of the most common complaints customers had about American Tourister luggage is that the handles and the wheels are really fragile. Many people also criticized the hardside suitcases for being too flexible and getting cracks quickly.
Another thing that we noticed is that many people complained about incorrect dimensions. But if you go on their website, not Amazon, and check the exact model's specifications, you can get the correct dimensions with wheels and handles included.
While some of their models are reviewed exceptionally well, some received a lot of bad reviews. Even the best models have a bunch of negative reviews. For example, both the Moonlight and the Belle Voyage collections have many 1-star reviews, despite being American Tourister's best luggage. We'd recommend double-checking them before purchasing a suitcase because not all of their luggage is made similarly reliable.
Quality (13/20)
To save production costs, American Tourister doesn't use expensive materials for their suitcases, like polycarbonate, aluminum, or Nylon. Instead, they use ABS or ABS/Polycarbonate combinations for their hardside luggage and polyester for their fabric suitcases, which cost cheaper. This way, they can keep their prices reasonably low.
While researching the reviews, we found that the most common issues that people experienced are:
Cracks in hardside suitcases
Tears near seams in their fabric suitcases
Broken off top and side handles
Hardside luggage can get scratches easily
Broken spinner wheels
These issues weren't too common, but they did happen for those who used their suitcases frequently or for five or more years. As we said above, American Tourister isn't for frequent travelers, but it can be a cheap way to get your possessions around if you're traveling a couple of times per year.
Despite the reasonably cheap build quality, American Tourister is pretty durable. Compared to other affordable options, like Rockland, they're one of the most reliable options.
Features (9/15)
American Tourister isn't too advanced in features, but you get the most basic stuff and a few extra neat features.
Spinner Wheels on Most Suitcases
Nowadays, we feel like spinner wheels are a must-have for any suitcase. They make navigating your suitcase around much more effortless. If you haven't tried them before, next time you go inside a luggage store, try rolling the bag around for a little bit. You'll feel how easy they move compared to regular skate wheels.
You'll find spinner wheels on almost all of American Tourister's models, which is good. That being said, American Tourister's spinner wheels don't have a great reputation for their quality, as many customers have pointed out that they break easily.
Expandable Zippers
Although not all of their suitcases are equipped with expandable zippers, some have this feature included, which is nice. Essentially, the expandable zippers allow you to expand the bag for an additional 20-25% volume. It's pretty useful when you're short on space.
Keep in mind that zippers are usually the first part of a suitcase to break. In the affordable range, zippers are prone to breaking in the first few trips, so whether you buy an American Tourister suitcase or a suitcase by It Luggage, don't overpack them.
TSA-Approved Combination Locks
You'll find TSA-approved locks only on American Tourister's hardside bags. Although some fabric suitcases from other brands may come with TSA locks, most don't because they're expensive to integrate on a flexible fabric suitcase.
Despite being a bit more expensive, suitcases that have TSA locks will most likely last longer since the TSA won't have to destroy them to check your possessions.
Basic Packing Features
If you're looking for a bag with innovative packing options, American Tourister bags won't be of much interest to you. The same goes for most other brands in the affordable range, like Merax.
Basically, all you get in the main compartment are compression straps and one zippered pocket for smaller items. There are no suiters, TSA-approved liquid bags, no specific compartments (for shoes, luggage trackers), and no hanger compartments.
Nothing fancy, but it does the job.
Design (12/15)
American Tourister has said that they're taking pride in making stylish, well-made, and fun luggage. We agree with all three points… and especially the fun part.
American Tourister offers many cool-looking suitcases for kids with Mickey Mouse, Star Wars, Spiderman, and Avengers prints. They've actually received pretty good reviews among the parents and don't cost too much, so we'd suggest checking them out.
Other than suitcases for children, they also make pretty good-looking hardside suitcases — for instance, the Moonlight collection has a wide array of different colors. Also, we love the way that the Belle Voyage collection looks.
However, their cheaper models look pretty basic and don't spark any creativity. That's why we've rated their design only at 12 out of 15 points.
Warranty (8/10)
Everyone knows how dependable Samsonite's warranty is. But what most people don't know is that American Tourister offers almost identical warranty terms to Samsonite, because they're owned by them.
American Tourister's warranty can be divided into three groups:
Limited global warranty
Limited 10-year warranty
Limited 3-year warranty
All warranty terms are identical, except for the lifespan of the warranty, which is either a lifetime, ten years, or three years respectively.
These warranties don't cover normal wear and tear, improper use, or airline damage. For instance, if your suitcase comes out on the luggage carousel with cracks, you wouldn't be covered because it's classified as airline damage.
Pro tip: If your suitcase gets broken by the baggage handlers, immediately file a claim before leaving the airport. Airlines are responsible for damaged luggage. Sometimes they don't cover wheels and handles, but each airline has a different policy.
If you ever need to ship your suitcase for a warranty repair, you have two options:
Ship the luggage yourself.
Take your luggage to the nearest American Tourister dealer and let them send it for you for $10-15.
The second option is handy because the $10-15 fee isn't too huge, and American Tourister dealers / Samsonite stores are pretty standard in most large cities worldwide.
Additionally, if the warranty doesn't cover the bag, you can purchase repair parts separately by contacting their customer support. Often, this is the cheapest solution.
Price (9/10)
American Tourister's suitcases are priced relatively affordable. Although they're slightly more expensive than Rockland and Merax, they're still cheaper than Samsonite, Travelpro, or Delsey. If you're looking for a single suitcase, both hardside and softside, expect to pay around $60-100. For Samsonite, you would spend about $100-180.
Their luggage sets are less expensive and overall are a pretty good deal. For a 3-piece luggage set, expect to pay around $50-180. Given their durability and warranty, we rated their prices at 9 out of 10. Finding anything better at these prices is difficult.
How Does American Tourister Compare to Other Luggage Brands?
American Tourister is an excellent brand in the affordable range. It comes right behind Coolife, which is the king of cheap luggage. When comparing American Tourister to medium-class brands, like Ricardo Beverly Hills and Samsonite, American Tourister's warranty ranks similarly to them. But that's the only thing they have in common since most of these brands (including Travelpro and Delsey) are much better in every other aspect.
American Tourister is similarly reviewed to most other brands in the affordable range, like SwissGear and It Luggage. Most customers don't expect much from really cheap luggage, so they love it when an affordable brand offers great durability for low prices. When it comes to its features and quality, American Tourister is similar to its competitors while still being better than Rockland and Lucas. There are definitely some improvements to be made on these two aspects, however.
The aspect that makes American Tourister stand out from competitors like Merax and It Luggage is its warranty. No other affordable brand offers a similar warranty to American Tourister's, which is nearly identical to Samsonite's warranty.
American Tourister offers a great value, with most of its luggage and luggage sets costing around the same as the other affordable brands. The suitcases' designs are also great, with many of them being as creative as Rockland's designs, or even designs made by Mia Toro ITALY.
So, overall, American Tourister is a great affordable brand. Some improvements could be made on the durability side, but you get what you pay for at the end of the day. Fairly durable luggage that looks great and is backed up by a great warranty for a low price.