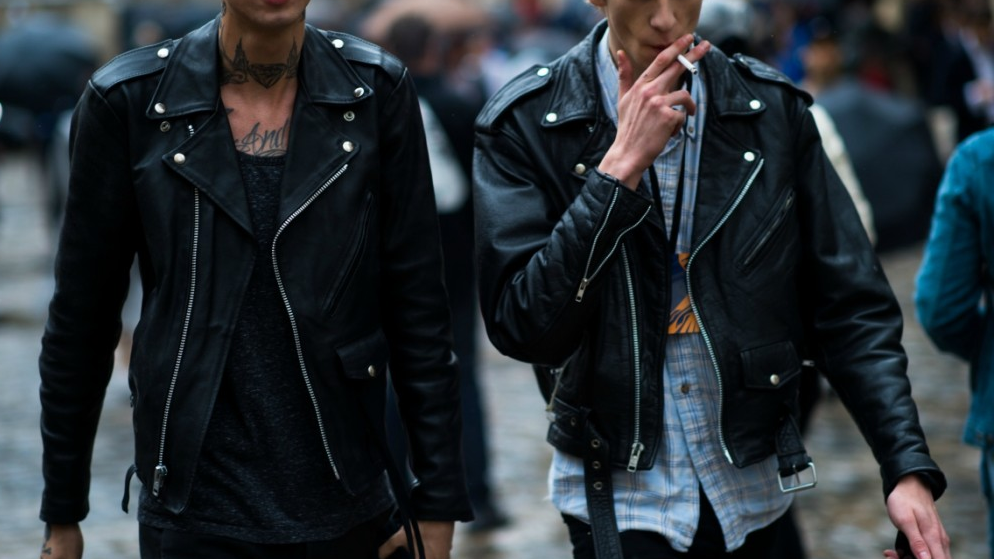 Heads up: Our content is reader-supported. This page includes affiliate links. If you click and purchase, I may receive a small commission at no extra cost to you.
All Saints is a British fashion retailer with headquarter in London. The brand was founded in 1994 by Stuart Trevor & Kait Bolongaro and currently has 279 stores across 27 countries. All Saints initially started as a wholesaler and sold exclusively to luxury brands. It was later transformed into an independent retail store that selling menswear, womenswear, accessories, and footwear.
Named after its co-founders Stuart Trevor nicknamed "The Saint."The company opened its first store in 1997 ironically on all saint's day, i.e., 1st November. A year later, they launched their first womenswear collection.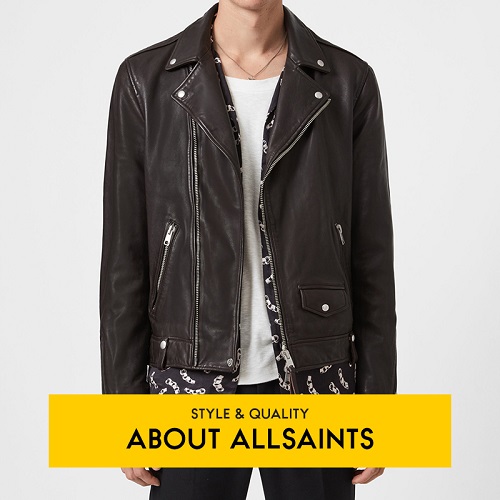 Between the years 2009 and 2010, All Saints continued to grow with about 10 stores in the U.K., the store expanded its online presence in the United States, followed by its first U.S. store in New York. Later on, AllSaints opened retail stores across the United States, including Miami, San Francisco, Los Angeles, and Boston. In 2016 they expanded overseas with a presence in different countries like Chile, Peru, Qatar, Dubai, Italy, Turkey, Taiwan, and Dubai. Today the brand is doing very well with approximately 3200 employees and a vast collection of clothing and accessories for men and women.
AllSaints Leather Jacket Review:
What is the average price range for AllSaints Leather Jackets?
Leather jackets from AllSaints are not the most expensive out there, but on average, they're on a higher scale starting from 300 and go all the way up to 700 USD, which is quite a hefty price tag. However, they do occasionally offer discounts and markdowns on selected items, so if you have an eye on one of their jackets but are not willing to pay the price, it would be best to wait until it's on sale. Moreover, if you're wondering if the quality is worth the price, the simple answer to this is probably yes. Based on online reviews of customers on different platforms, AllSaints jackets last for several years, but this does not mean you can't find a better bargain elsewhere.
How to shop from all saints?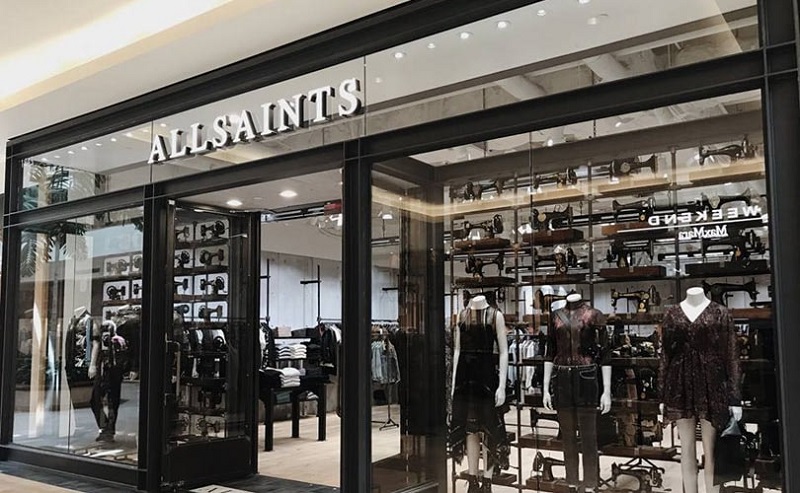 Visit the nearest AllSaints store in your city to purchase leather jackets for men and women. If you can't find a store nearby or simply prefer shopping online, you can visit their website us.allsaints and surf across the latest designs. Their website has a localized option that allows you to select your country and currency. The brand also has an IOS app through which you can explore their products on your mobile phone or tablet.
How long does AllSaints delivery take?
AllSaints has multiple shipping options. Using the standard shipping method, you can get your jacket delivered in 2 days excluding Sundays within the UK. They also have next day delivery that comes with additional charges of £5.00 but is free on orders over £100.
For countries outside the United Kingdom, the delivery may take up to 5-7 days and is only free on purchases over a certain amount, currently £250 (may vary in the future).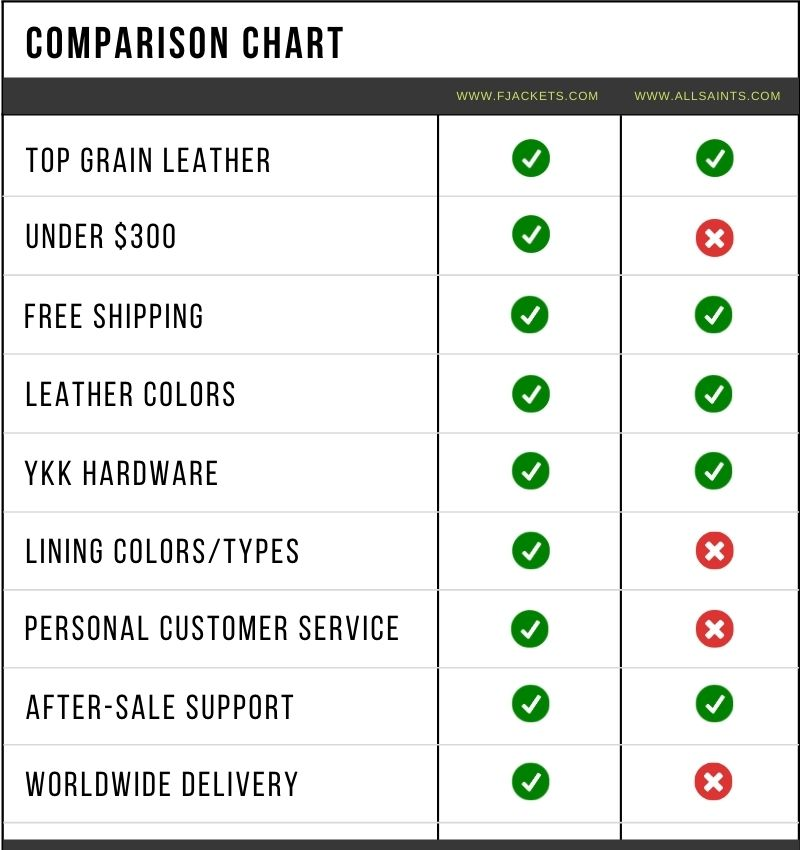 Quality does not always mean you need to pay a hefty price. With FJackets, you get exquisite quality materials, prompt customer service, and excellent after-sale services. So, if you're a real leather jacket fan and do not care about popular designer brand names, FJackets can give you the best bang for your buck.
But if you're into expensive designer brands, AllSaints is not a bad choice; you can explore their jacket collection here.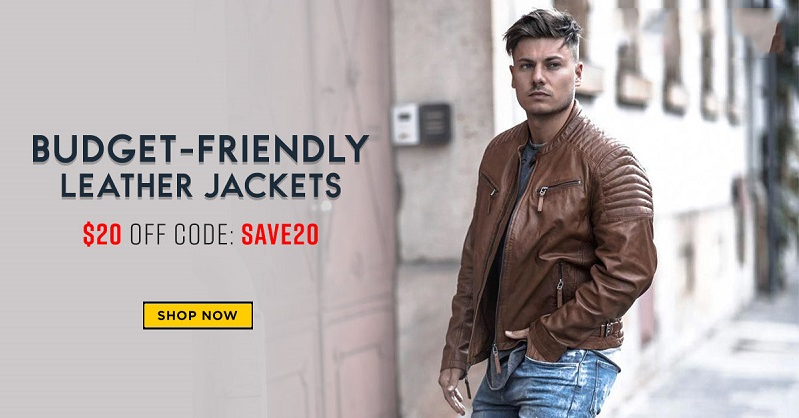 Benefits and Downside of AllSaints
AllSaints is a big name in fashion retail and a trustworthy brand that has been providing real leather jackets for years, which is one of the pros of buying from them. At the same time, there's no doubt that they make decent quality products, the prices are still on the higher end. You may also find yourself paying $600 for a leather jacket.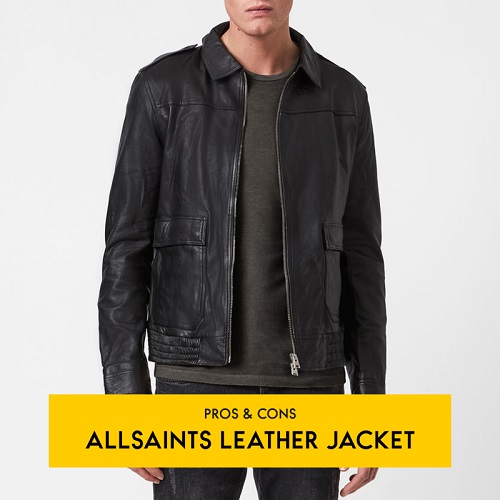 As for the reviews, they generally seem to have average ratings by their customers. We noticed some of the AllSaints Leather Jacket Review complaining about the after-sales service and issues regarding return and exchanges, so this is one part they still need to work on.
Wrapping things up:
A leather jacket is one of the best investments you can make; the style-defining piece is not tied to the trend, making it wearable for years. It doesn't matter if AllSaints or FJackets need to pick the right jacket that resonates with your style. Moreover, the article above will help you keep other essential factors in mind, including quality, customer service, and public opinions. Let us know what you think?
Disclaimer: This post is not sponsored by Allsaints, and the views expressed here are my own.