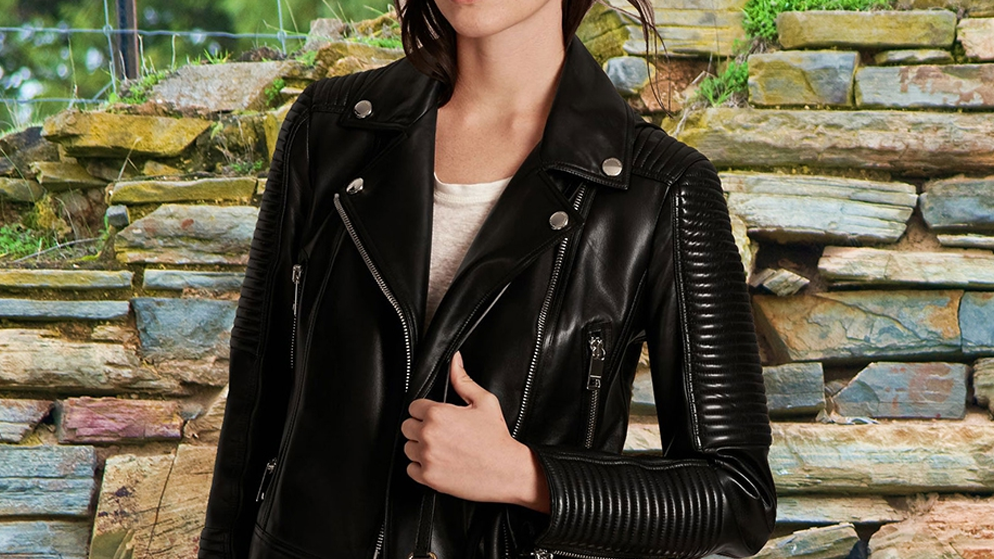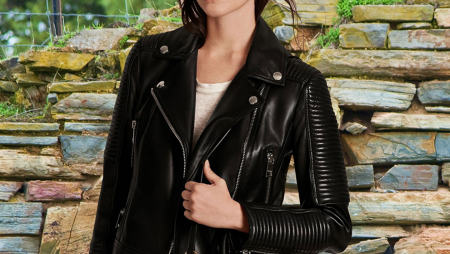 Our content is reader-supported. If you click on our links, we may earn a commission.
An All Saints leather jacket is a piece that is synonymous with style and quality. With a broad range of designs, if you're looking to invest in one of fashion's most-loved and classic silhouettes, All Saints is certainly worth adding to your shopping list.
Buying the best leather jacket is an investment, but this versatile and timeless style deserves a spot in every capsule wardrobe. A true wardrobe essential, a good leather jacket can stand the test of time and like a fine wine, it will only get better with age. Because real leather is an expensive fabric and not mass-produced, leather jackets do carry a higher price tag, with the cheapest on the market starting around the $200 / £150, stretching into the thousands. Offering an instantly directional feel to any outfit, they easily give an edge to your classic best t-shirt and jeans combo or add a tougher feel to the best midi dresses. And when it comes to where to shop, if you opt for a cult brand such as All Saints, your leather jacket will likely hold onto its value if you do decide to ever sell it – check out our guide on how to sell clothes online for tips.
All Saints have a great selection of styles and is well regarded for its extensive collection. But we realize a leather jacket is a major investment so we've reviewed the All Saints leather jacket collection to help you make a more informed choice. A stylish piece in spring and autumn, a leather jacket won't replace your best winter coat but it can play a major part in your wardrobe. Read on to see if an All Saints leather jacket is the hero piece you're missing.
ALL SAINTS LEATHER JACKET COLLECTION SPECIFICATIONS
There are a number of straight-to-market brands that do retail some leather jackets cheaper, however, All Saints is regarded as a market leader when it comes to leather jackets. For a timeless piece that you can really max out the cost per wear on, you want a style with a great fit and fabric that feels buttery soft as it will mold better to your silhouette, looking as if it were made for you. With a starting price of $375 / £299, All Saints are still on the lower end of costs when it comes to leather jackets but they really do pack a stylish punch.
WHAT'S SO SPECIAL ABOUT ALL SAINTS' LEATHER JACKETS?
Honing its craft since the brand's launch in 1994, All Saints knows a thing or two about what makes the perfect leather jacket.
"All Saints creates timeless designs, expertly created by some of the top craftsmen in the industry with unrivaled attention to detail," says the brand's Chief Operations Officer, Catherine Scorey. "Our leather jackets are iconic. We have been designing leather jackets since 1994, it's what we are known for, it's in our DNA."
While some brands might release just one or two leather jackets per season, this is All Saints' specialty. At the time of writing, its website boasts more than 15 different takes on its signature style – and that's pretty typical of every season. Some styles, like the Dalby and Balfern, have been best-selling signatures for years, while the Elora, Morgan, and Reve jackets are newer on the scene.
At a quick glance, the leather jackets all might look pretty similar, but a speedy game of spot the difference reveals plenty of variation in length, hardware and cut. It's this attention to detail that makes All Saints the go-to place if you're feeling fussy about the little things.
"With our expertise in leather, we have the ability to create numerous styles and silhouettes in a large variety of colors at an incredible price for the level of quality," continues Catherine. "The Dalby and Balfern bikers in black are our best-selling leather styles. We also offer both of these bikers in a broad range of shades in both Nappa and chrome-free suedes, from ivory whites, and pale pinks to tan browns and sky blues."
"Both of these bikers are modern classics. The Dalby is a cleaner biker with minimal hardware and a slim silhouette that is easy to style with both dresses and jeans. The Balfern could be described as edgier, with the iconic 3 zip lower pocket placement, cuff zips finishing the sleeve at bracelet length, and belt detail at the hem."
Quality and commitment to its craft aside, there are no real giveaways that will help you easily identify an All Saints leather jacket from another brand. But if you look closely, the metal zips do carry the brand name embossed across the middle.
WHICH ALL SAINTS LEATHER JACKETS ARE BEST? TESTED BY W&H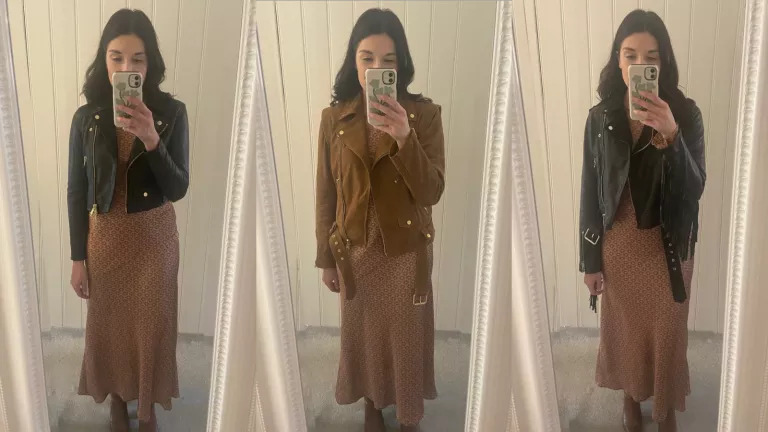 All Saints' all-around bestseller, the Balfern comes in a number of hues and is available in both leather and suede. Complete with classic metal hardware, the Balfern stays true to the biker jacket aesthetic that is so universally loved. Featuring a hemline belt that you can choose to have done up or worn undone for a more relaxed feel, if you're looking to kickstart your leather jacket collection, you can't really go wrong with this iteration. With plenty of zip detailing, this is quite a chunky piece, especially across the bust line, making it more suitable for rectangular body types. I particularly liked the sleeve zip detailing as it allows you to adjust the fit of the jacket, offering a closer fit on cooler days, or the ability to push your sleeves up on warmer ones. While the black leather version comes with silver hardware, there is gold detailing on some of the other colorways, although silver and black is the most classic and design-true version. A good starter jacket, the buttery soft leather will age well, allowing your jacket to take on its own personality as you head off on adventures together.
DALBY LEATHER BIKER JACKET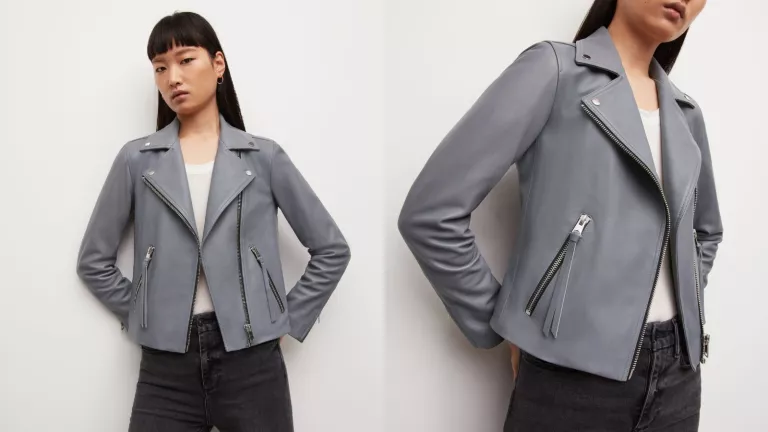 If it's a classic biker you're after, the Dalby is the one for you. Low on detailing, it features shiny black poppers across the collar and two power pockets. Crafted from lambskin leather, it has been fully lined across the body and sleeves for extra toastiness. It's incredibly supple and over time the leather will only improve. Lighter colors are more prone to staining and marking, so while it has longevity in terms of construction, if it starts to fade you may find it too washed out.
The grey does give this leather jacket an unusual twist, as most biker jackets tend to be black, I find the color black can be too stark against my complexion sometimes, so I liked the fact that All Saints have a wide range of colors to choose from across its leather jacket range. The dove grey makes this jacket ideal for spring, pairing with neutral, creams and pastel hues with ease. A smart and clean shape, you could even slide this jacket on instead of your best blazer, with this season's best pink dresses for a standout color combo that looks effortlessly chic.
CARGO LEATHER BIKER JACKET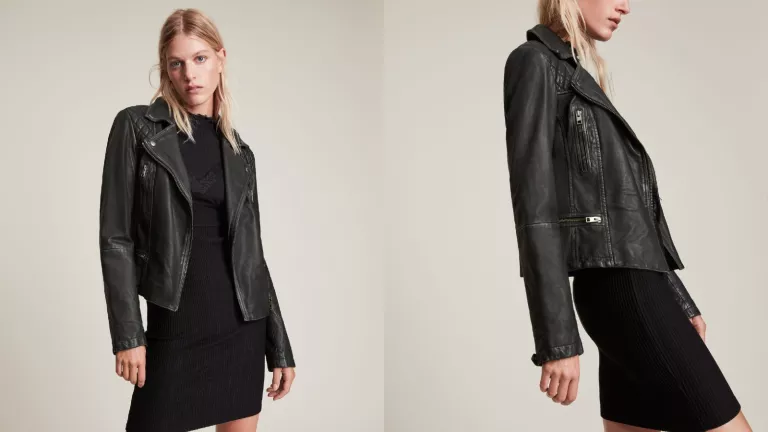 If you don't want to have to do the hard work of wearing in your leather jacket, then the Cargo biker is the one for you. Given a deliberately distressed finish, this All Saints leather jacket brings the vintage vibes in droves. With a strong rock and roll aesthetic, this leather jacket is undoubtedly more suited to casual wear, such as pairing with your best jeans for the weekend. The lived-in feel made it really soft and I loved the more relaxed style. Arriving rolled for a unique finish, the Cargo is what well-loved leather jackets look like. Packed full of detail I also really liked the diamond-quilted shoulder paneling and zip cuffs as it added an authentic and tougher feel to the design. This is definitely a style best worn with a band t-shirt and your best skinny jeans. The higher hem at the back and the elongated front is also great for highlighting hourglass body shapes as, although it has a more relaxed fit it still offers waist definition.
MORGAN 2-IN-1 LEATHER BIKER JACKET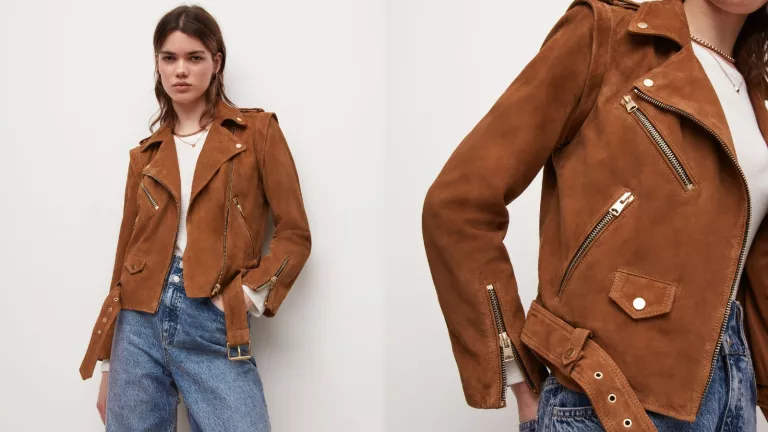 A leather jacket plays a key role in your capsule wardrobe so why not invest in a style that works even harder. The Morgan is fashion innovation meets style gimmick. Popular back in the '00s, there used to be skirts and trousers that zipped off at different lengths, giving you multiple ways to wear from just one item. Fast-forward to 2022 and the fashion trends 2022 have delivered a heavy dose of style nostalgia with the Morgan 2 in 1 jacket.
Transitioning from a leather jacket to one of the best gilets, the Morgan jacket features concealed zips at the shoulder that can be undone to remove the sleeves of the jacket. This makes this jacket the most versatile of all the jackets I tried on. In the fall and early spring, wear with the sleeves for added warmth, but come late spring, or festival season remove the sleeves and start experimenting with how to style a gilet. In a neutral tan hue, the Morgan is lighter and brighter than many of its All Saints leather jacket counterparts.
Cut to the same silhouette as the Balfern it offers a really neat finish, highlighting curves without being skin tight. It has multiple pockets and a buckle at the waist, although many fashion editors will tell you that leather jackets aren't made to be worn done up, it's nice to have the option.
Available in three shades, you can choose from black or white leather, or brown suede. I personally really like the brown suede and loved how discreet the zips at the shoulder head were. You really wouldn't know, unless you were in the know.
AYRA LEATHER BIKER JACKET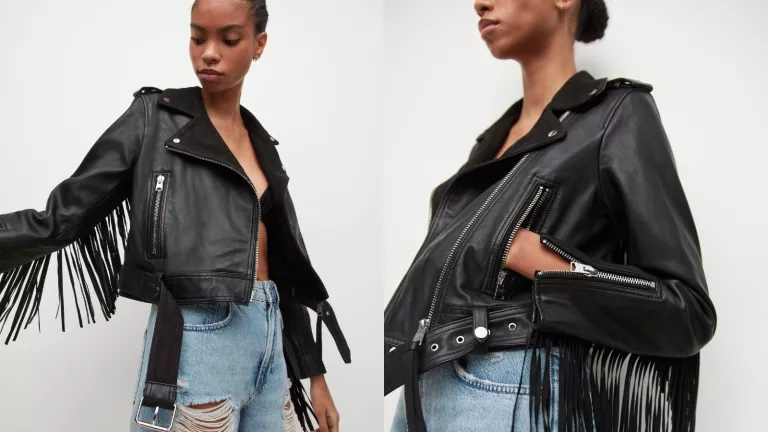 Need a leather jacket that really makes a statement? Then the Ayra could be the one for you. Ideal for wearing to a festival this summer, the fringed back and sleeves will be ideal for dancing. Adding instant attitude to any outfit, I'd style this with my best dresses or over a midi skirt and tee to offer a more androgynous finish to feminine silhouettes. The slightly cropped and boxy shape makes it ideal for those with a shorter stature and great with any of the best petite dresses. The tasseled design comes in three colors, white, black and copper-red – which is a lovely way of wearing a darker leather jacket that isn't black.
While I definitely think the tassels make this a standout piece, the Ayra also comes in plain black if you like the shape but want something a little less showy. Buttery soft, the jacket features a contrasting suede collar, packing this design with plenty of extras. The tassel detailing might make some hesitant, but fringing is synonymous with the '60s and '70s and doesn't date this jacket, instead, it offers a delightfully vintage aesthetic.
ELORA BIKER JACKET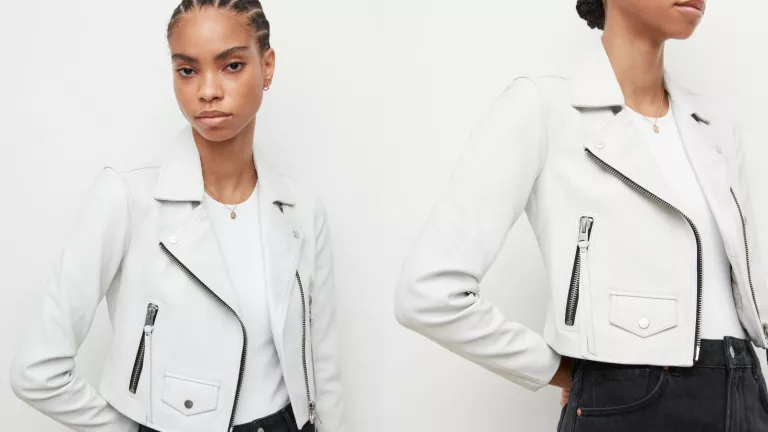 The Elora is the biker choice for petite women. With an extremely cropped shape, it works well for those with a shorter torso, hitting high up on the waist for a neat and streamlined finish. In a summer-ready white, details are kept to the absolute minimum, with three pockets and a simple zipped front. The white hue is ideal for those early spring days when the sun is making its first proper appearance of the season, but of course, as with the best white trainers, white leather goods can mark easily, so you'll want to think carefully about where you wear this leather jacket. Crafted from lambs leather, it's one of the softest, butteriest styles All Saints offer. While not the most classic of designs I really love the shaping of this style. Biker jackets can be quite bulky and heavy, but the shorter design makes this seem lighter and more tailored. Due to the design, this jacket fits smaller than the others so if you want to wear it with even slim fit knitwear, you'll want to go up a size. You could certainly style this over a dress for office and summer parties too, giving it more versatility than say the casual Cargo design.
ALL SAINTS LEATHER JACKET REVIEW VERDICT
When it comes to leather jackets, I still think that All Saints are up there with the best. While you are looking to spend at least $375 / £299, there is plenty of great choices in that price bracket and you won't feel like you have to spend extra to get the best designs. The brand has really considered different tastes and needs, with both smart and casual options. I found that All Saints jackets came up true to size across the range although depending on the style, I trialed a combination of my normal size and the size above. I sized up on the longer line jackets to give them a more relaxed feel. It is important to consider how you would style your leather jacket, if you plan to wear one in the winter, you might want to size up to fit knitwear underneath too.
Like with the best designer heels or leather comfortable flats, the leather is always a little tougher at first, but as leather ages, it softens, often molding and taking on your silhouette, creating an almost customized look and this is definitely true of the All Saints leather jacket. While the leather is gorgeously soft, you will have to wear your leather jacket in to truly make it yours, but always make sure that your jacket fits you well across the shoulders and stretch your arms in front of you and above your head to make sure you're comfortable, if your jacket is too tight, it will rip at the back and armhole seams.
My favorite All Saints leather biker has to be the Elora. At 5ft 4, I'm on the cusp of petite, and the cropped shape and tapered arms made me feel like it was made just for me. The leather is almost indescribably soft too. Owing to the nature of the design, the fit is snugger than the other jackets in the range, so you'd need to size up to fit anything more than a fine knit beneath it.
The only real disappointment at All Saints is its sizing range. In 2022 we're seeing some of the best plus models, curvaceous influencers in the form of the best fashion bloggers and best plus size clothing brands come to the fore and unfortunately the All Saints jackets still only size UK 2-16. Fitting true to slightly snug, I wouldn't recommend them for anyone over a size 16.
HOW MUCH DO ALL SAINTS LEATHER JACKETS COST?
Craftsmanship at this level doesn't come cheap, and All Saints' cheapest leather jacket will set you back $375 / £299. The price climbs to $659 / £399 for more detailed pieces, peaking at $1,399 / £899 for a shearling jacket with leather trim.
Calculating the potential cost-per-wear, as well as looking at how many different ways you can style your All Saints leather jacket, can help to justify the price tag.
WHAT ARE THEY MADE FROM?
As the name suggests, All Saints leather jackets are crafted from high-quality leather or suede.
All are made in India, and how the leather is sourced and dyed varies from jacket to jacket, depending on the desired effect and style. The type of leather used is dependent on these factors too. Lambskin leather has a softer touch and finer grain than sheepskin leather, but can be more prone to marking.
To ensure the fabric feels deliciously soft and suitably luxurious, all leather All Saints use is pre-treated before being transformed into your new jacket. The leather is substantial enough to make you feel reassured about the quality, but not so hefty that it detracts from its signature, cool fit.
HOW SUSTAINABLE ARE ALL SAINTS' LEATHER JACKETS?
In a world where fast, throw-away fashion has become the norm, All Saints are going against the grain by creating jackets that are made to last and last.
"When designing our leathers one of our key considerations is in the durability and timelessness of our designs, explains Catherine. "We believe in the longevity of our products. A leather jacket should last a lifetime and becomes more beautiful with age and wear." A sustainable message, and one that we hope other brands adopt in the future.
As for the manufacturing process of the jackets, and the processes used, All Saints are working hard to ensure it is as ethical and sustainable as possible.
"The leather we use is a by-product and we are focussed on making conscientious decisions for every detail and selection," says Catherine. "We are also a member of the Leather Working Group, the number one globally recognized organization representing responsible leather sourcing to the industry and to consumers. Many of our leather products are also created using chrome-free tanning and a large proportion have linings made from recycled materials."
Not sure what chrome-free tanning is? It's a process of treating leather, which rose to popularity as it is far quicker than vegetable tanning. Unfortunately, it has been proven to negatively affect both the environment and the workers who carry out the process – hence why All Saints are moving away from it.
HOW COMFORTABLE IS AN ALL SAINTS LEATHER JACKET?
All Saints' leather jackets feel luxurious from the first touch. The leathers are buttery soft, and the suedes are velvet-like in texture, making them a joy to wear. The fits are comfortable from the first wear, and will only soften and give the more you wear your jacket. With some styles, the metal details can get in the way a little, but this comes with the territory of a hardware-heavy biker.
ARE ALL SAINTS LEATHER JACKETS TRUE TO SIZE?
All Saints leather jackets run true to size, so if you want some extra slouch and a more relaxed fit, go for one above your normal size. The sleeves are relatively long compared with other jackets I've tried, which may be a problem for petites.
HOW EASY IS IT TO CARE FOR YOUR ALL SAINTS LEATHER JACKET?
As the leather All Saints uses hasn't been coated in plastic, it's porous and will happily absorb everything it comes into contact with. Grease from make-up, oil from hand cream and alcohol from perfume are some of the main culprits for causing permanent marks. Rain, humidity and sunlight can all distort and fade the fabric, too.
It is possible to buy water-resistant sprays that coat your clothes, but as All Saints doesn't endorse this, you wouldn't be reimbursed by them if anything goes wrong.
If you do want to get your jacket cleaned, All Saints recommends using a specialist leather or dry cleaner who can care for it properly.
To keep your jacket good as new in the meantime, don't try to remove marks at home and store it in a breathable dust bag when you're not wearing it.
Having said that, the beauty of a leather jacket is often in how it ages and the distinctive and unique details the fabric has picked up as you've worn it. If it's a lived-in look you're after, then minimal care can reward you with maximum impact.