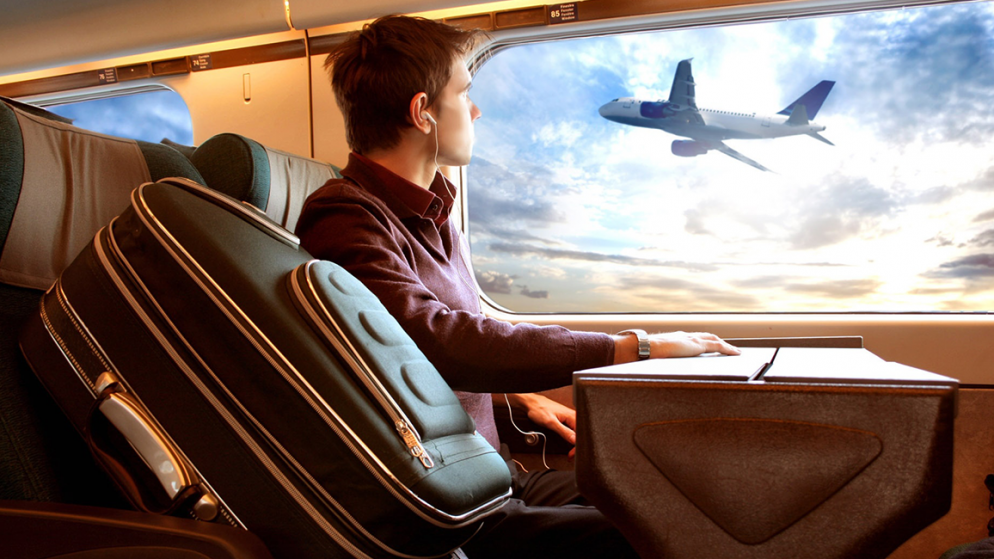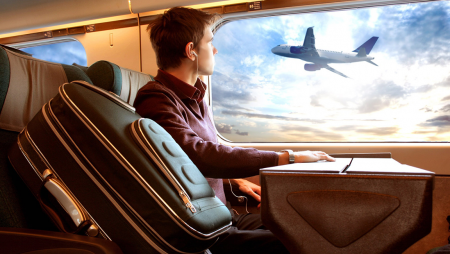 Our content is reader-supported. If you click on our links, we may earn a commission.
Etihad airways is renowned as the only airline to employ 'flying nannies'. On a recent trip to london via abu dhabi from sydney, we found out just how family-friendly the airline is.
Fast facts
Flyer: cara wagstaff
Airline: etihad airways
Route: sydney to london
Stopover: abu dhabi
Aircraft: airbus a380-800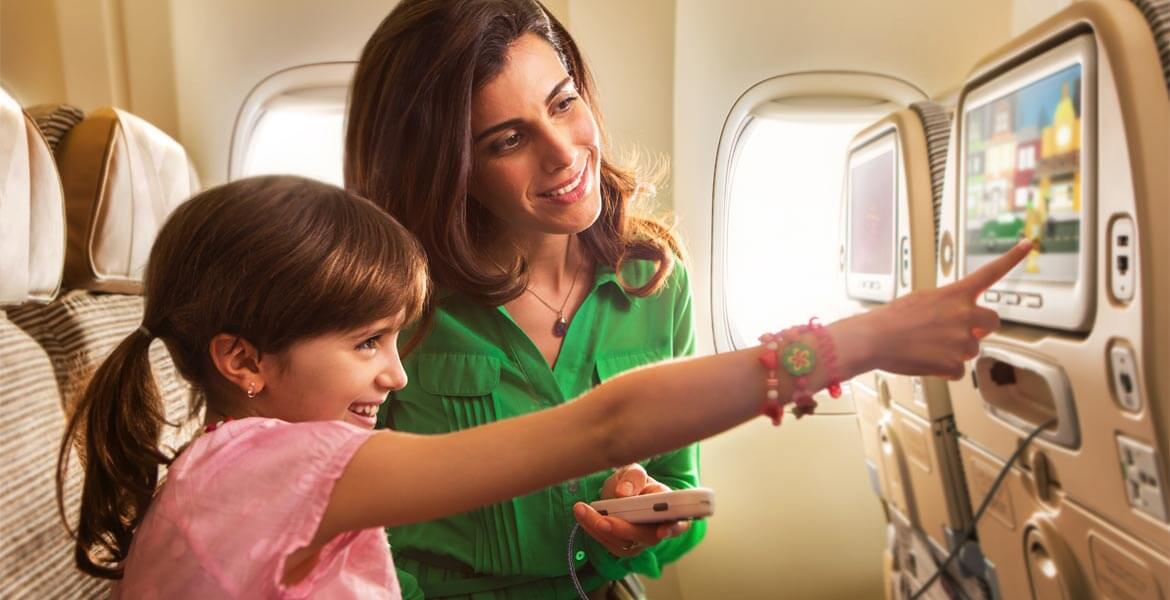 The seat
The aircraft's economy class is in a 3-4-3 configuration and i am lucky enough to have a row to myself in the second cabin on the lower level. The flight attendant tells me the flight is only half full. A rare and memorable score for me!
My first impression is that the seat and surrounding area feels a lot more spacious than the other airlines i am used to flying with, and a quick check of the specs tells me why: each seat is 48 centimetres wide while (the distance between the back of your seat and the back of the seat in front) is 79 centimetres.
The window is large and i'm feeling lucky again as i'm seated in front of the wings and enjoy uninterrupted views for take-off, landing and the sea of clouds in between.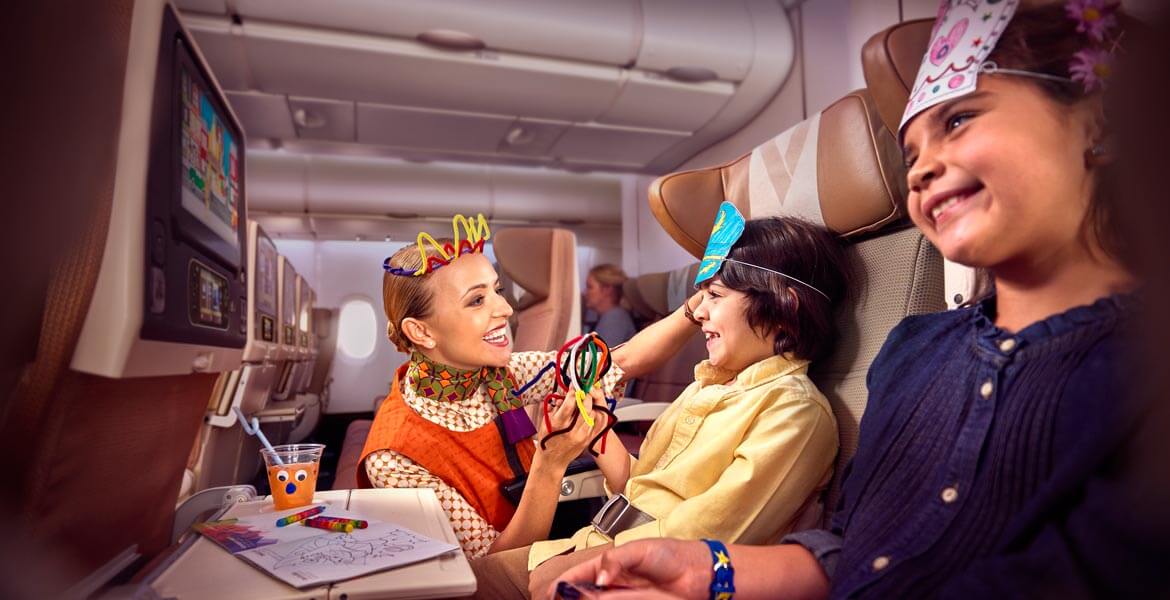 The entertainment
Etihad's e-box entertainment system boasts a seemingly endless library of movies, tv shows, magazines and audio recordings. Kids will love the dedicated 'just for kids' channel which features disney classics, animated movies, family-friendly tv shows and games. What's more, they'll love the two screens offered; one is on in the back of the seat in front, and the other is a hand-held device which also acts as a remote.
I found the usb charging ports, which are available in all seats, very useful. I could keep my phone charged for the duration of the trip. In flight internet, or 'wi-fly', is also available at an additional cost.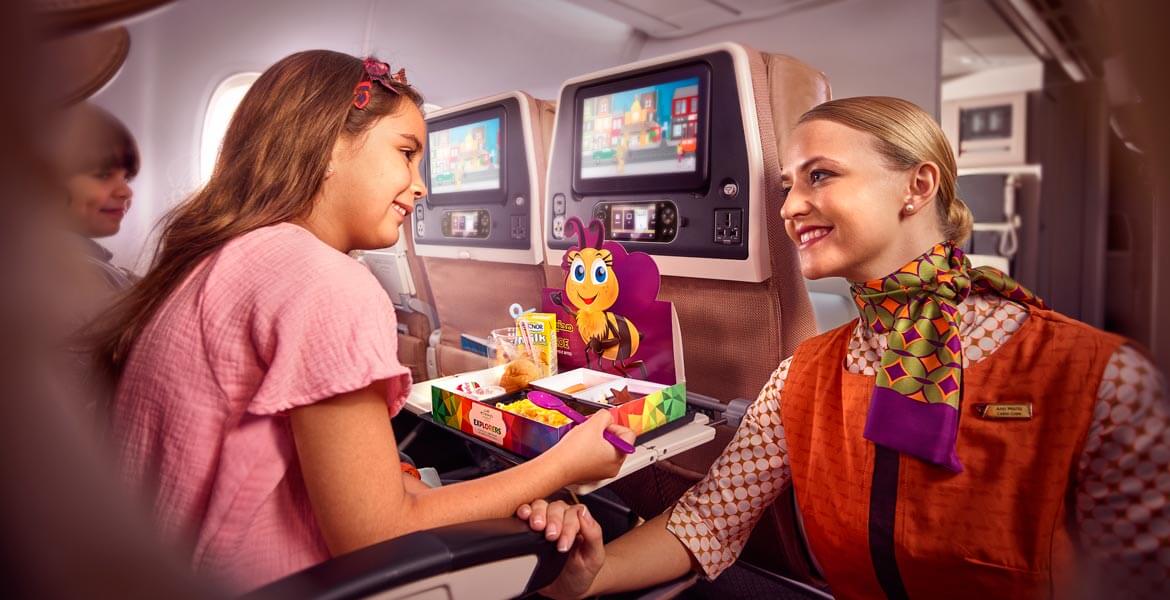 The service
Staff are friendly and attentive, but not so much so that i am feeling smothered. Meal services are fast and efficient, and my satisfaction with the service is only heightened when the lady seated in front of me tells me that this is her fifth long-haul flight with etihad, and she keeps coming back as she finds them very accommodating, whether it's assisting in finding a new seat or having snacks on hand.
As the flight is only half full, once the seatbelt sign is turned off, people start to spread out. I notice the staff reserve a row in the bulk head so that a family who had been separated can be seated together.
For families
Etihad aims to appeal to even the fussiest of eaters with kids' menus available to order ahead of time. Children's meals are served first and come out in boxes with etihad's range of characters including zoe the bee, jamool the camel, kundai the lion, and boo the panda.
Kids over three also receive an activity pack, which includes games and puzzles. To keep tired little ones content, etihad also provides complimentary prams at all gates on landing.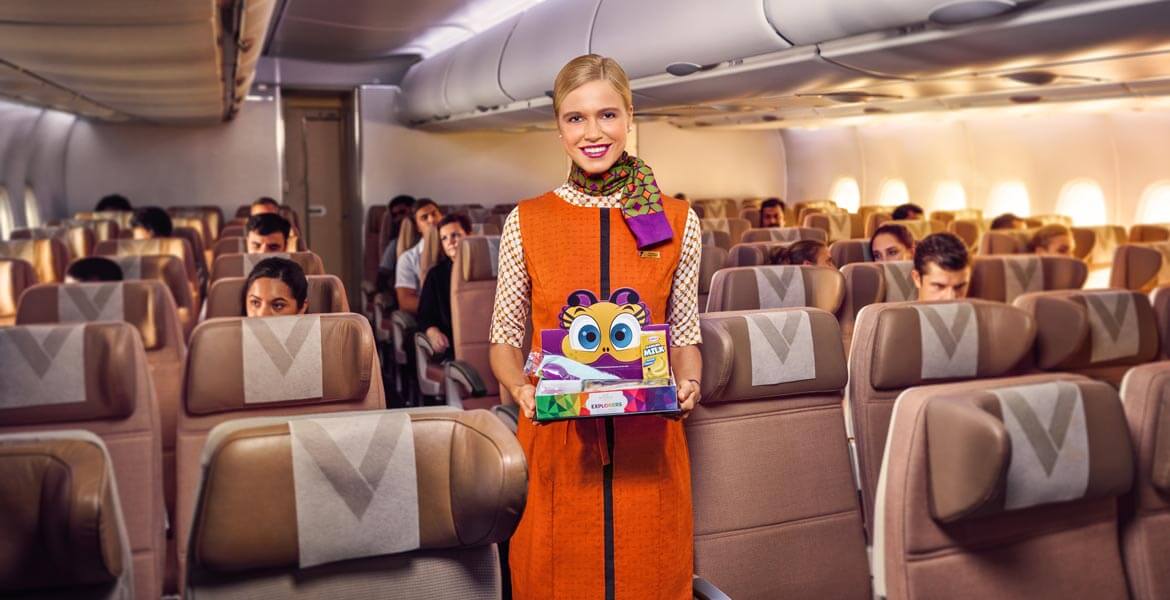 Flying nannies
Identifiable by an orange tunic worn over their uniform, Etihad's Flying Nannies are accredited by Norland, the United Kingdom's childcare nursing college. All long-haul Etihad flights will have at least one nanny on board who can help keep little ones entertained during the flight.
While the nannies do need to look after all of the children on flight, they're able to help get them settled for bed and can offer invaluable advice and support to parents.
I speak with our flight's nanny, who tells me all of the nannies are equipped with a goody bag of games and activities to facilitate face painting and colouring-in competitions, although the kids in front of me seem quite satisfied simply watching Cars on their main TV, and keeping tabs on the aircraft's dash cams on their hand-held devices. Talk about multi-tasking!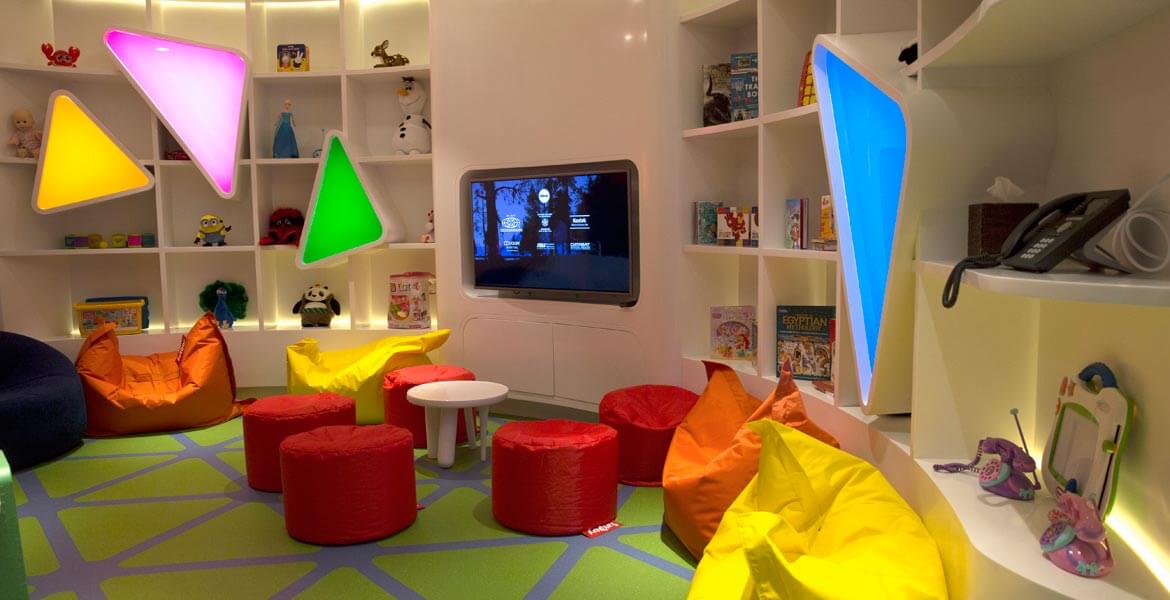 Business and first class
Families flying business or first class or Etihad Guest Gold members can also enjoy Family Rooms in airline lounges. These are stocked with books, toys and a TV, and offer dedicated kids' menus. Each lounge also has a qualified nanny on hand so parents can enjoy the other facilities. I check out the Abu Dhabi Premium Lounge, and it's the largest lounge I've ever seen. Facilities include 5-star dining, Wi-Fi and showers.
The lounge also has an option to upgrade to a private space for families who need extra space, comfort and privacy.
Etihad guest
Etihad's award-wining loyalty program, etihad guest is free to join and available on 28 partner airlines, including virgin, and 150 retail, leisure and travel partners.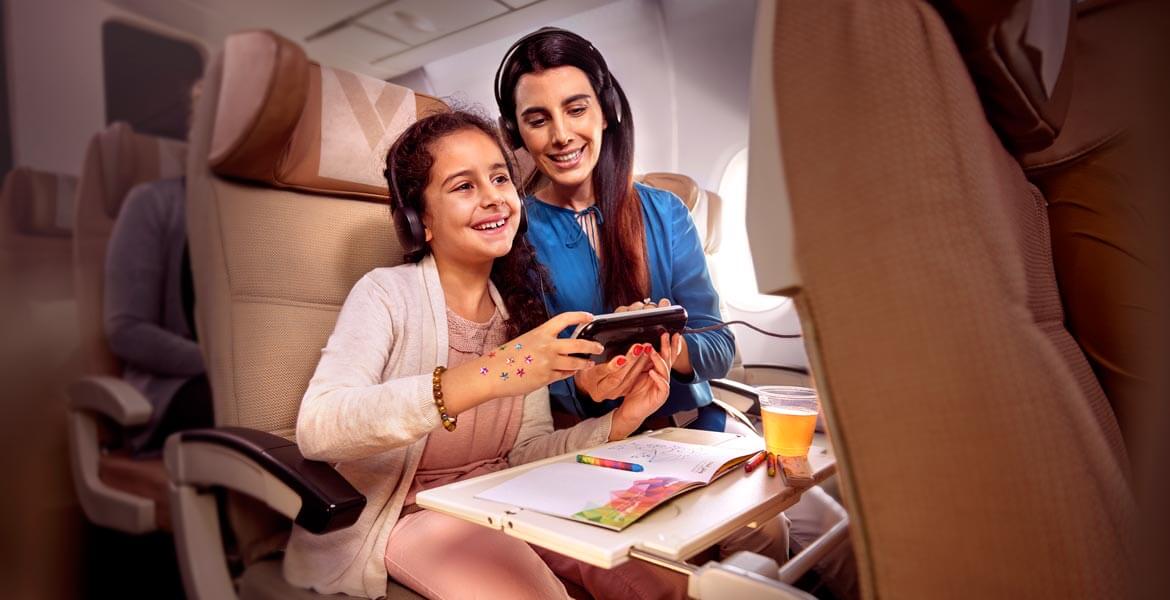 This flight was paid for by the flyer. Images have been supplied by etihad airways.
For our top tips for flying with kids click here.