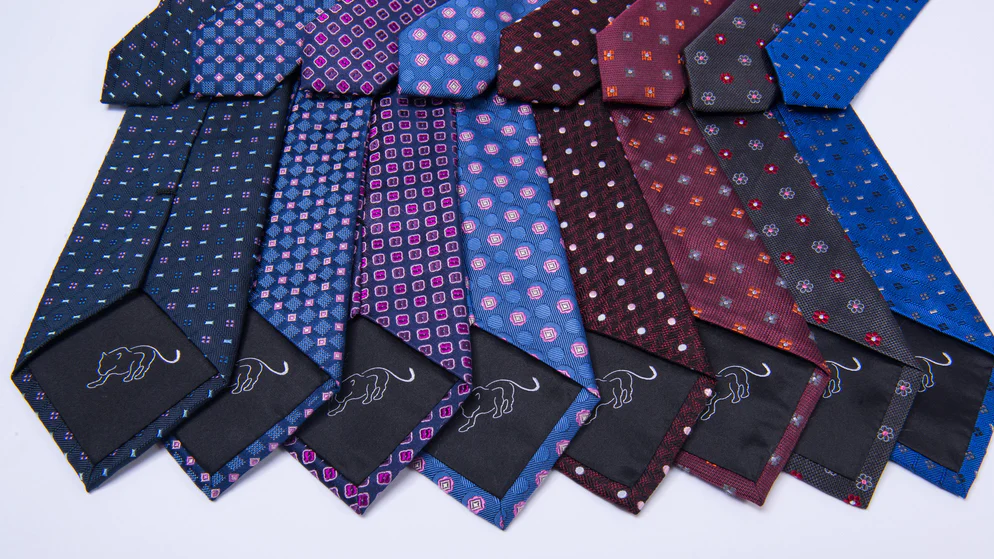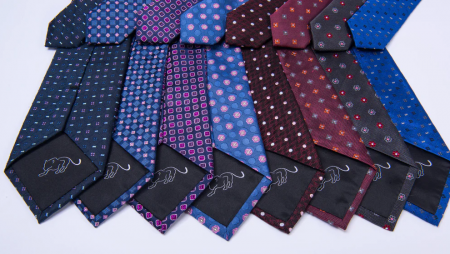 Our content is reader-supported. If you click on our links, we may earn a commission.
If you were to ask them, The Dark Knot is not a tie company. They're in business to bring you the best tie experience possible. And as of early 2017, they've expanded their selection to include an array of accessories like pocket squares, lapel flowers, bracelets, money clips, cufflinks and tie bars.
In this review, I'm going to touch on the elements of a quality tie and give my initial impression of The Dark Knot's standard skinny neckties. Additionally, I will showcase a couple other TDK accessories and lend my thoughts.
If you'd rather watch this review, go on and hit that play button below. If you like it be sure to hit that thumbs up!
I met Rishi well over a year ago at an event called StyleCon (now Menfluential). I remember talking about his company, but what impressed me the most was how friendly and easy to talk he was. He was genuinely interested in getting to know me and what I'm all about. And he wasn't just being cordial because we were drinking by the bar. He still keeps in touch and checks in on me every now and again, and I can honestly say that he's a good friend, always offering invaluable advice. Who knew that we'd be working together a few short years later.
I digress…Okay, back to TDK. Rishi worked in finance for years before finally leaving the corporate world and starting his business. He threw his hat into the menswear ring because he wanted to help gentlemen dress better, something he needed when he first moved to New York in his younger years. And I think with TDK and his style blog, he's succeeding in his mission to equip men with the knowledge to dress better while providing a tie and accessories experience that will stay with you long after your initial purchase.
PACKAGING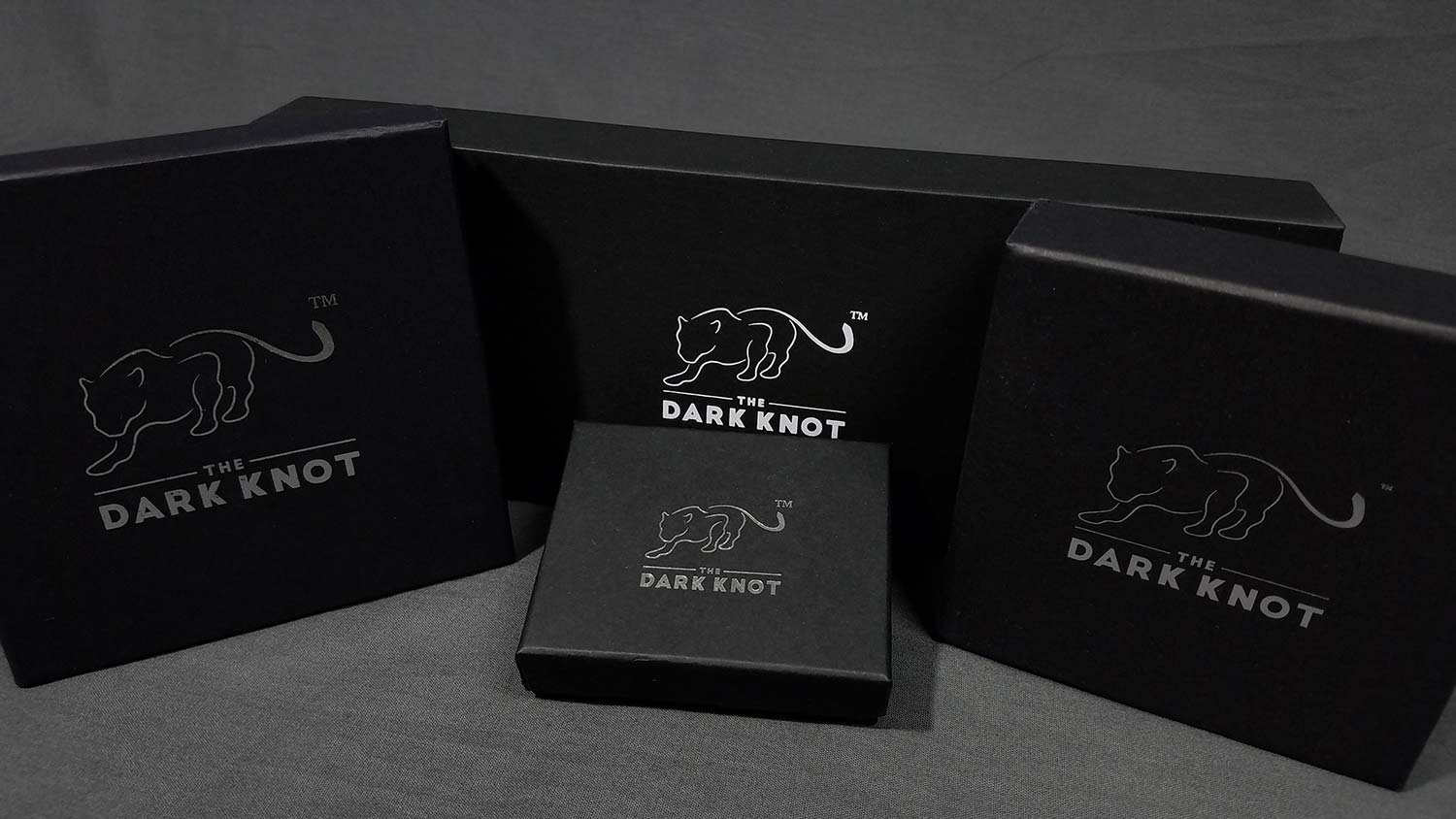 If you ask me, they really knocked it out of the park with the branding. Everything from the name to the white on black aesthetic is on point. It's clean, modern and elegant. Throw in the black panther, and that signifies masculinity and strength, traits all men should embody.
Now, am I just blowing smoke? Let's see as we go in-depth on the construction of a necktie, and other TDK accessories.
NECKTIE CONSTRUCTION
Not too long ago I thought that there wasn't much to a necktie. After all, it's just a piece of cloth that wraps around your neck and drapes down your chest. Little did I know that there's much more to a necktie than meets the eye. A few hours of research later and here are the elements of a quality necktie and my thoughts on how The Dark Knot's standard line of ties hold up.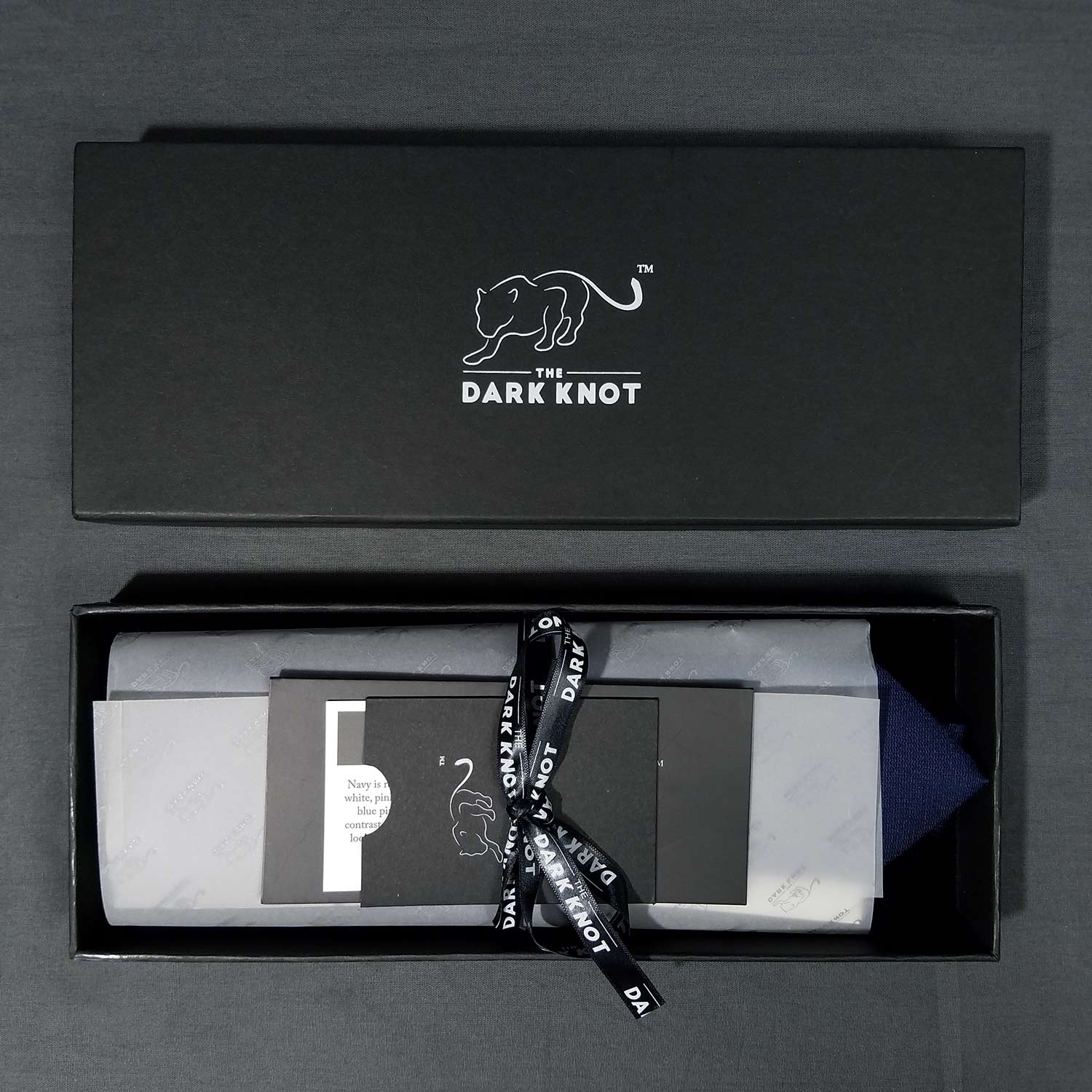 1. TIE SHELL
The tie shell is also known as the envelope. It's the outer shell of the tie that can be made of fabrics ranging from common silks to wool, and tweed or cashmere. Common summer tie fabrics are linen and cotton. Neckties also come in polyester, but you'd typically want to avoid these because many are cheap and poorly made.
The Dark Knot ties are made of premium silk from Chinese factories. China has a rich history with silk, being the first to develop the fabric dating as early as 3500 BC. Today, China remains the world's largest silk producer. According to The Dark Knot, their neckties are constructed of the highest yarn count to ensure fine silk fabrics soft to the touch and precise drape.
My initial impression of the tie's fabric is that it is indeed soft to the touch with a nice sheen that's not too shiny, but a subtle kind of elegance. It definitely feels like a high-quality fabric.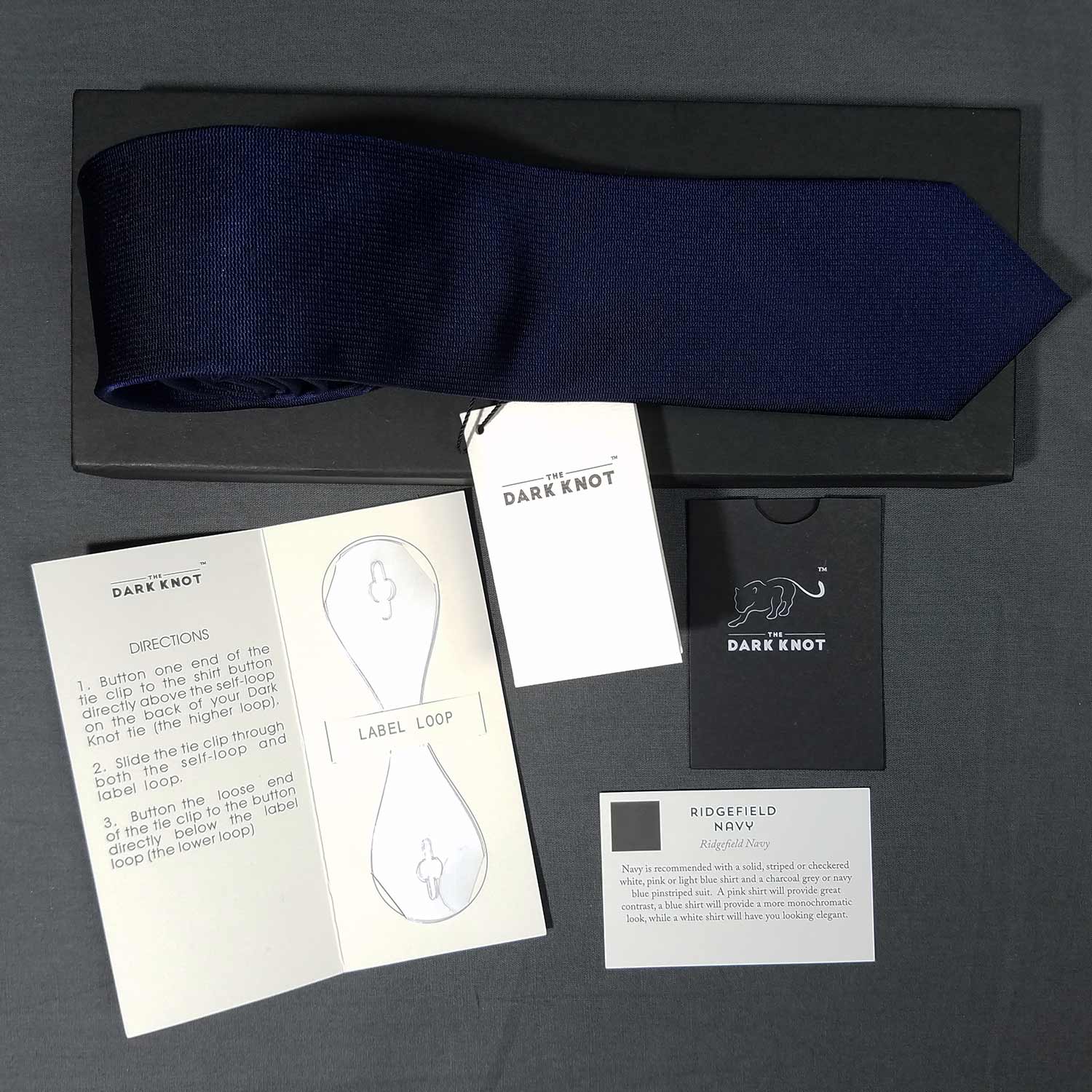 All The Dark Knot ties come with an invisible tie clip along with recommendations on what to wear it with.
2. SLIP STITCH
The slip stitch is thread that you can find running through the back of the tie and should run all the way up the length of the tie. A quality manufacturer uses a slip stitch as a standard. A proper slip stitch allows for flexibility of the material shifting as you are tying and untying the tie as well as keeping the tie together.
All The Dark Knot ties are slip stitched by hand. This allows for a precise and secure enclosing of the tie shell, with affordance so that the fabric can twist and move as you tie and adjust your tie. I have cheaper ties with a slip stitch that seems like it could fall apart over time with wear and tear.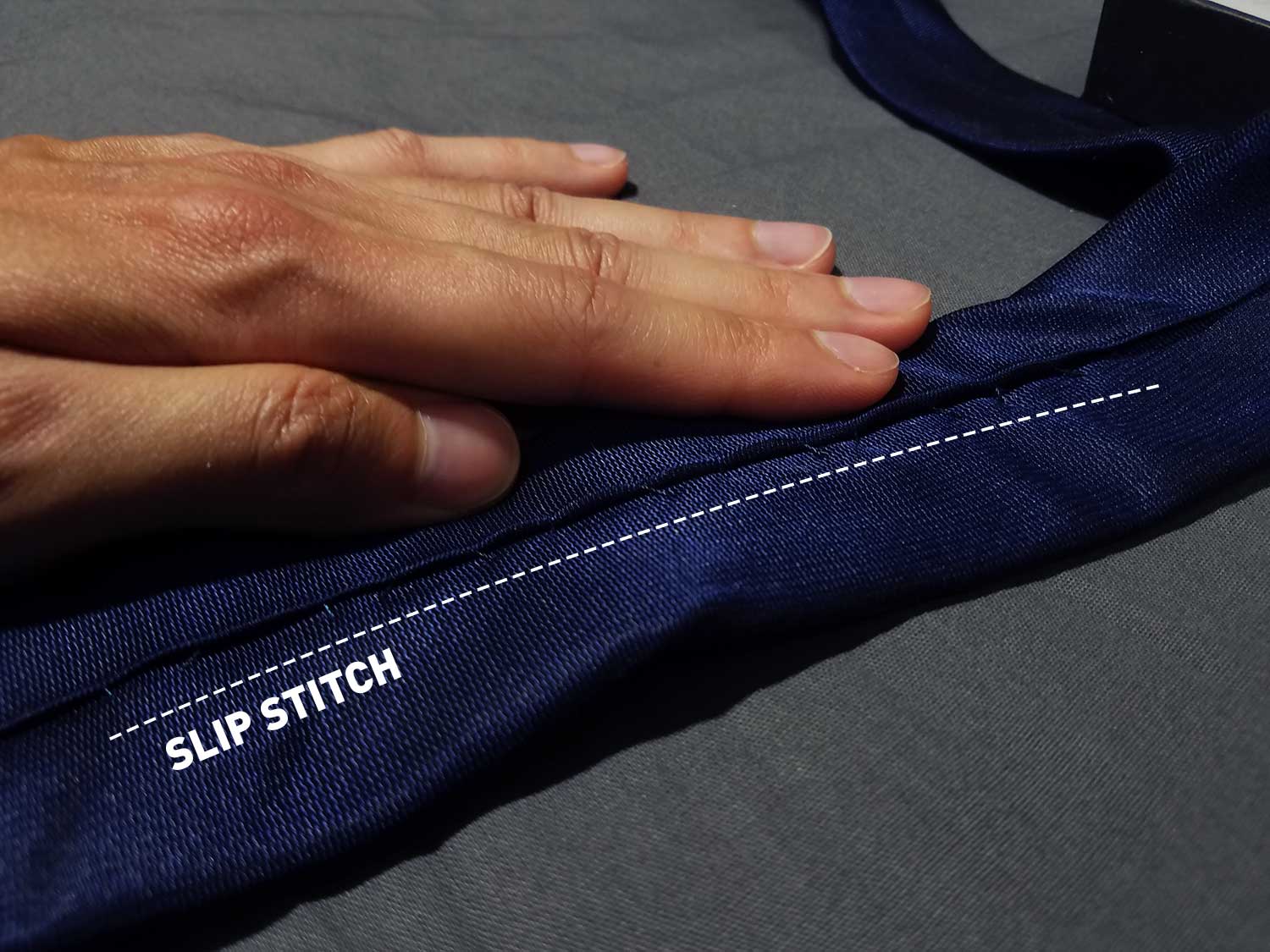 3. BAR TACK
The bar tack is the small piece of thread that holds the backside of the tie blade together. You can find near the bottom of the tie. A high-quality bar tack is reinforced, meaning the thread used is thicker and tightly secured.
The thicker the bar tack the more durable it will be. Cheaper neckties are often constructed with a thin piece of thread holding the back of the blade together. The Dark Knot ties have a noticeably thicker than most bar tack that feels secure.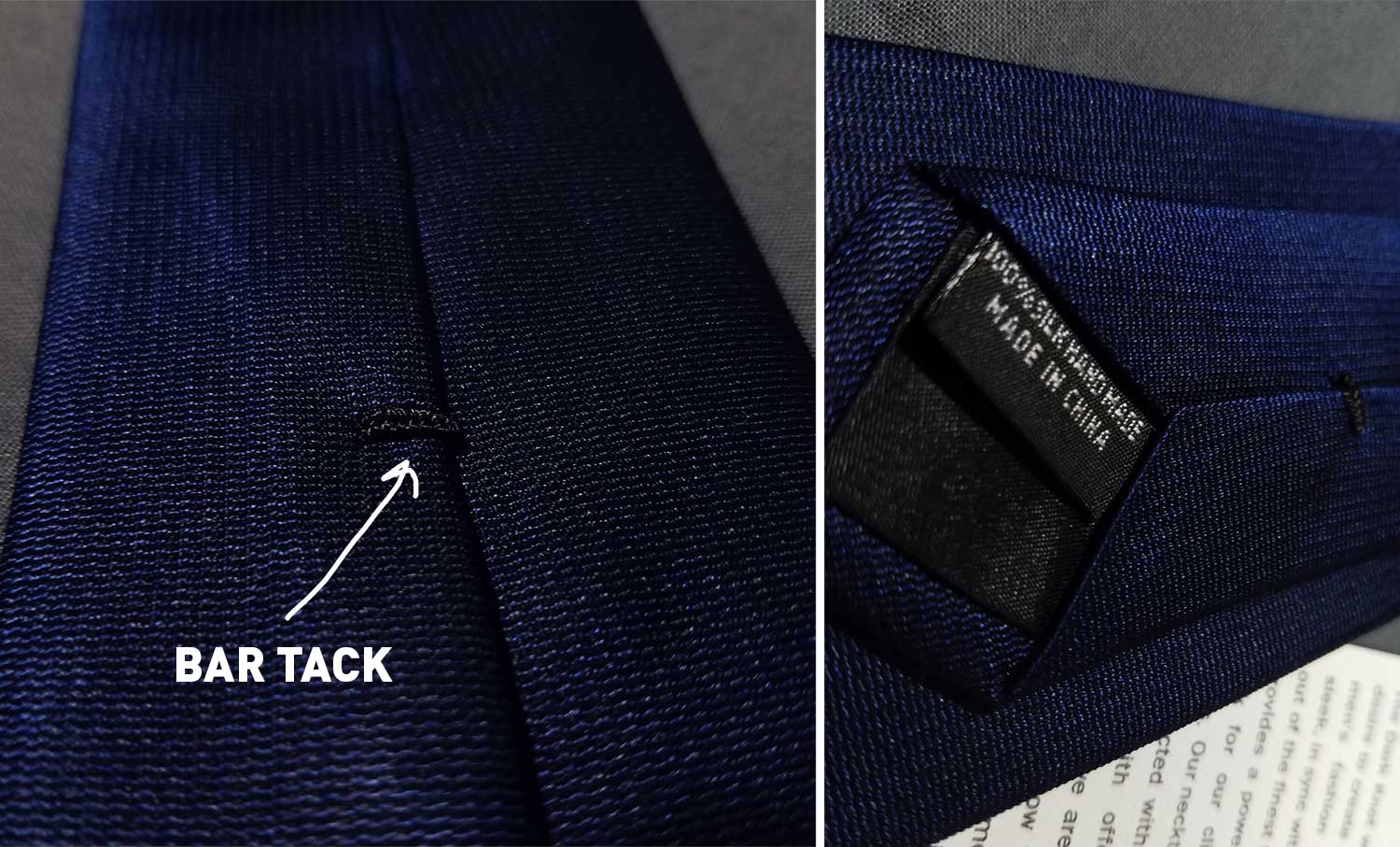 4. TIPPING
The tipping is the fabric along the bottom backside of the tie. Lower quality ties skimp on fabric and opt for polyester instead of silk for the tipping. High quality ties will have silk tipping or consist of the exact same fabric as the tie shell itself.
The Dark Knot doesn't skimp on quality. All of their ties are constructed with silk tipping. The logo is also stitched on the back of the tipping as a nice detail that most tie companies overlook or simply don't bother.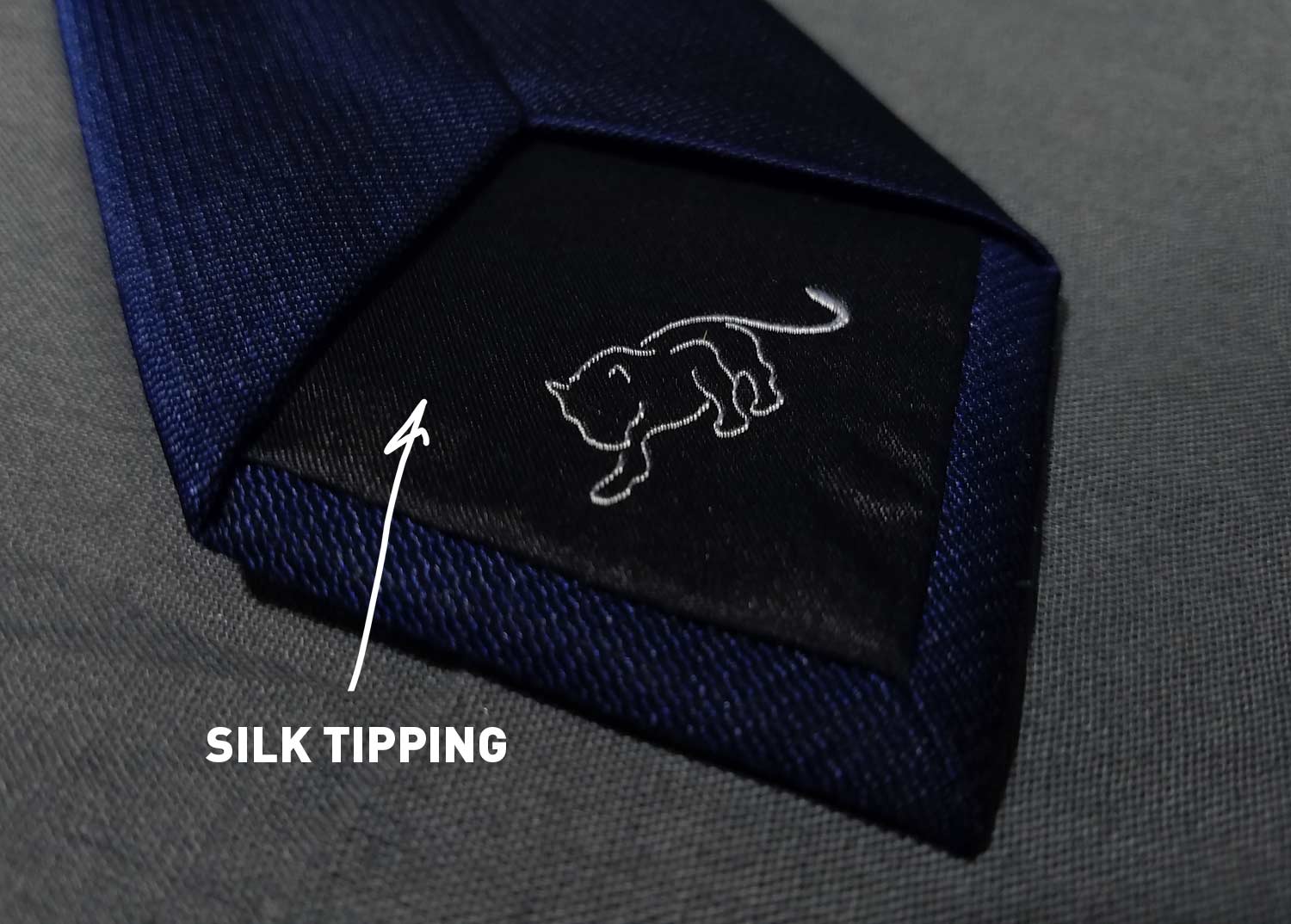 5. KEEPER
The keeper can be found on the back of the tie. It's the loop that the skinny end of the tie is meant to go through to keep it from showing. You will usually find a keeper with an additional loop with the brand's logotype just below it on most ties. Many stylish guys like to forgo the loops completely and let the smaller blade hang beside the larger one in a nonchalant manner.
The Dark Knot's keeper and loop is folded through the seam, reinforcing the material. This ensures that the keeper and loop will not fall apart after extended use like many cheaper ties with keepers simply sewed on with thin fabric.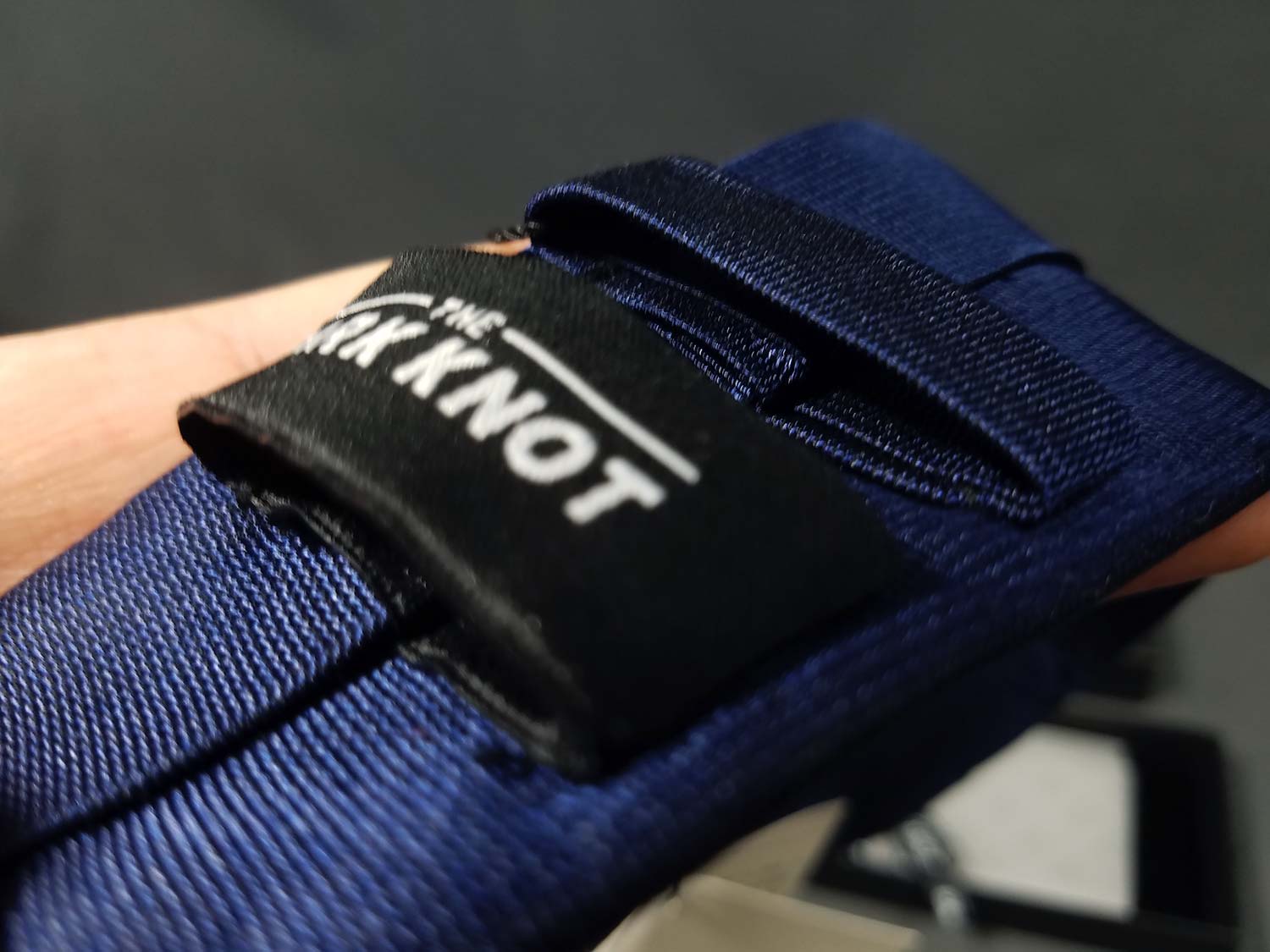 6. INTERLINING
Interlining is the material that the tie shell wraps around that ultimately gives the tie its shape. Many brands use polyester which is not entirely bad, but doesn't give the tie the memory it needs to find its shape again. A strong, high quality interlining will give the tie the memory it needs to retain its shape. High quality ties have a pure wool interlining and because wool has more "memory" than other fabrics, it can regain its original shape after enduring wear and tear overtime.