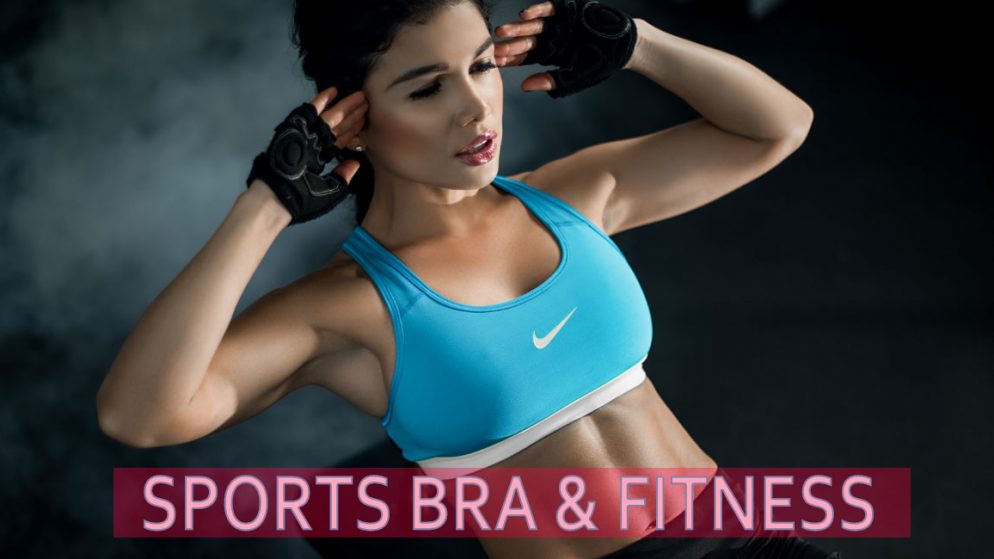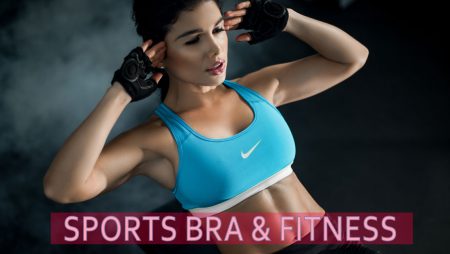 Our content is reader-supported. If you click on our links, we may earn a commission.
Anyone with a large chest like mine knows this to be true: big boobs are no walk in the park. From chronic back pain to low-cut shirt spillage, being "blessed" up top often feels like a curse. While I've grown to adore my curvy figure, finding clothes that love it back is still a challenge. This is especially true for the gym, where I need my active wear to perform athletic feats alongside me.
While comfy during a leisurely walk, a built-in shelf bra just isn't going to cut it for my H-cup breasts during a sweaty high-intensity workout. Running, jumping, and weightlifting begs for a certain level of serious security from my sports bra (my chest, while fabulous, is no match for gravity.) My never-ending hunt for a high-impact sports bra and limited student budget led me to Amazon where I found the Syrokan Sports Bra ($28). With more than 4,000 5-star reviews from fitness enthusiasts of all boob shapes and sizes, I decided I had to take the plunge (pun intended) and try it out, too.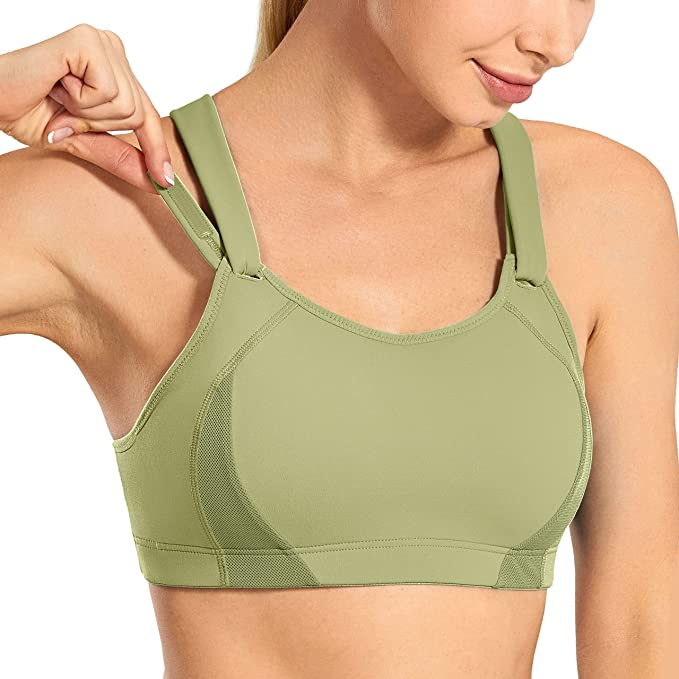 Amazon, Syrokan Women's Sports Bra — $28.00
Available sizes: 32B-40H, 42B-G, 44C-F
Finally, a bra as strong as I am. Available in 27 colors and patterns.
This bra is arguably the most supportive bra I've ever worn—underwire included. What sets the Syrokan bra apart from others is its customizable features. It comes equipped with adjustable velcro straps that latch in place just below your shoulders, allowing you to literally lift your breasts up on a whim, according to your preference. And while you might be sneering at "Velcro straps," don't. It's still flattering and stylish enough for you to wear it alone as a top, only with unmatched support. For a more snug, no-budge feel, tighten up the straps to secure them higher up over your shoulders; for lower-impact workouts, secure the straps closer to your breasts.
There's no XS through XL sizing here; the Syrokan uses bra size measurements, ranging from 32B to 44H, which is hard to find on and off Amazon. It also comes with hook-and-eye closures, adding some much-needed back support for HIIT workouts, plus a super-wide band, keeping your under-boob area and upper back fully covered while you move.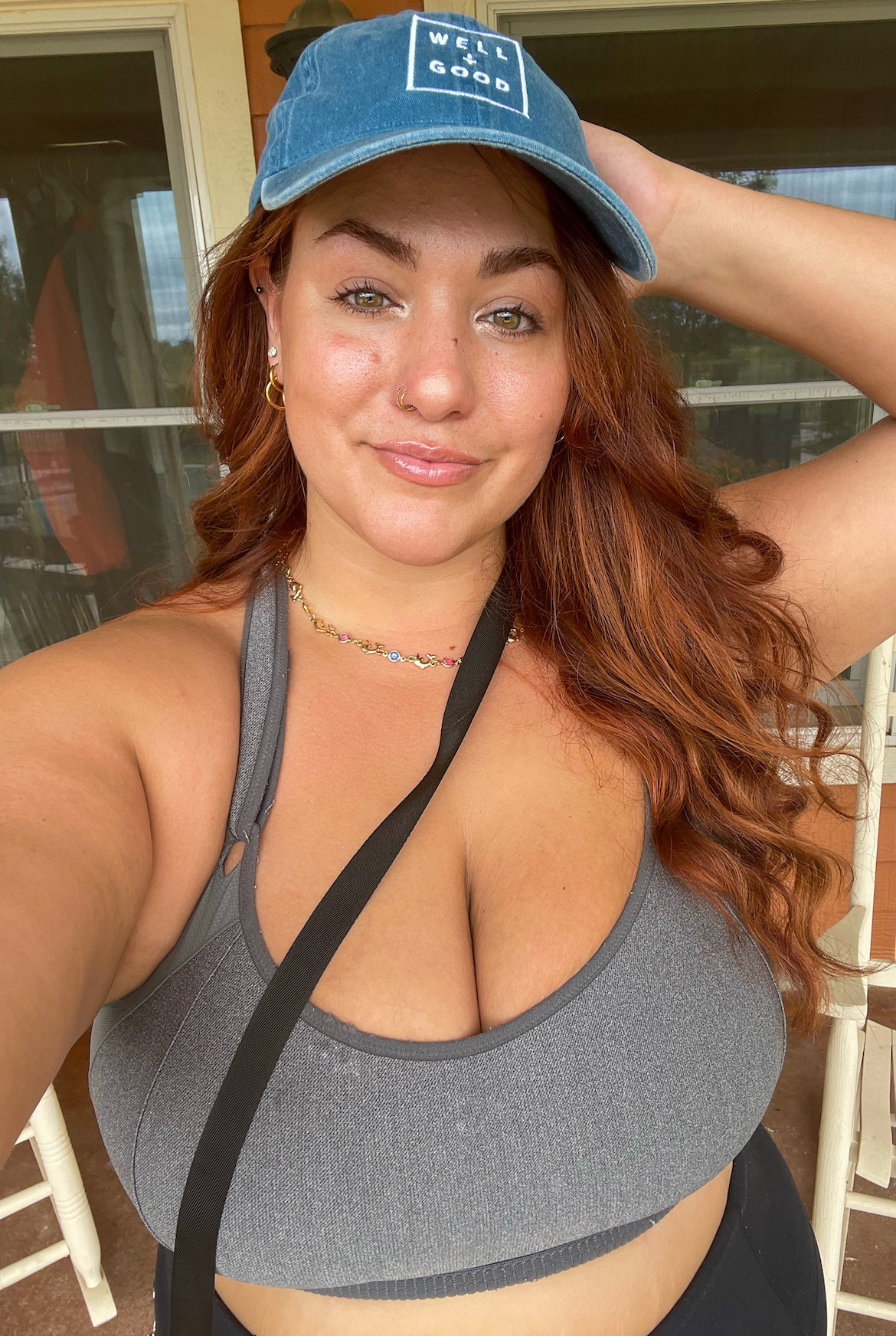 I also appreciate the thin layer of padding that comes stitched into the bra, adding extra nipple coverage without using pesky removable pads. It's surprisingly breathable for the amount of structure and support it provides, thanks in part to the moisture-wicking mesh inserts on the sides. As for the material, this bra is made with a stretchy-yet-durable mix of polyester and spandex, an ideal activewear combo that has kept my Syrokan bra going strong for months now.
Something to keep in mind is that this bra is only available in cup sizes B-H, unfortunately excluding some shoppers. And while the sizing is pretty spot-on, some reviewers report that the bra fit too snug for their preference. For me, the tightness is a plus, since I don't want any extra boob movement during my workout.
Like I said, the Syrokan has over 4,000 reviews with many users praising it as the sports bra of choice for large breasts. "It has been the only bra I've found that actually works, and I've had it for 2+ years," attests one Amazon reviewer. "I bought  three different sports bras on Prime Day and this is the only one I kept—now gonna buy more," says another. "I ordered the 34E and it's cute and my favorite bra to run in. It's super adjustable and the straps are pretty wide so they don't cut into my shoulders…You won't regret buying this!"
A fellow happy customer, I echo their sentiments—I can finally say that I've found a dependable sports bra that's just as strong as I am. If you've been on the hunt for a supportive sports bra for large breasts that *actually* fits, check out the Syrokan here.