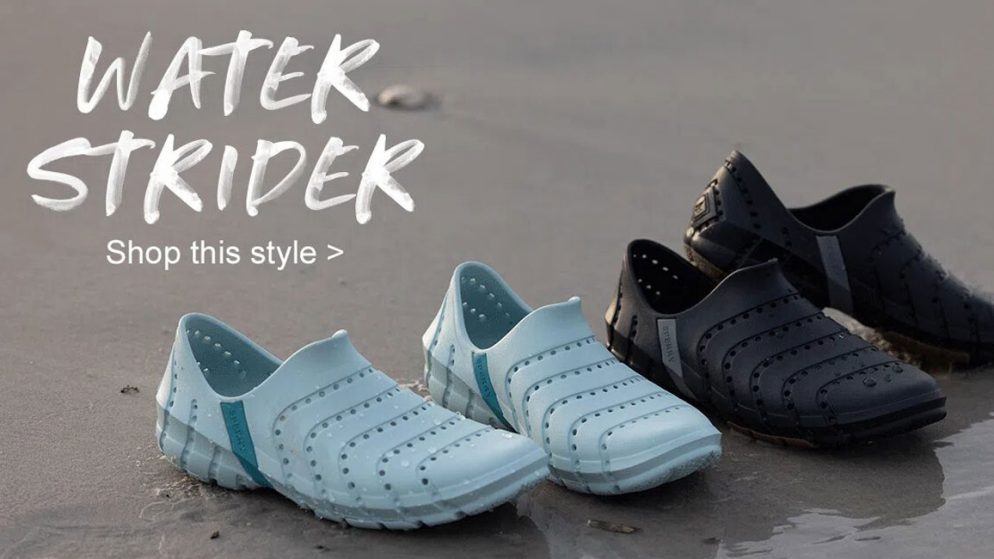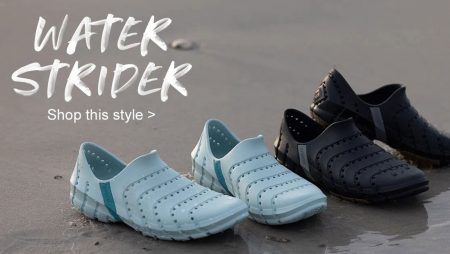 Heads up: Our content is reader-supported. This page includes affiliate links. If you click and purchase, I may receive a small commission at no extra cost to you.
To get a closer look, I ordered a pair when Sperry first announced them early in 2022. After testing them in the lake and rivers, as well as while stand-up paddle boarding, this is what I learned:
The biggest benefit to the Sperry Water Strider shoes is the EVA material that provides a slip-on shape that doesn't absorb water. They protect your feet, dry fast and are surprisingly durable.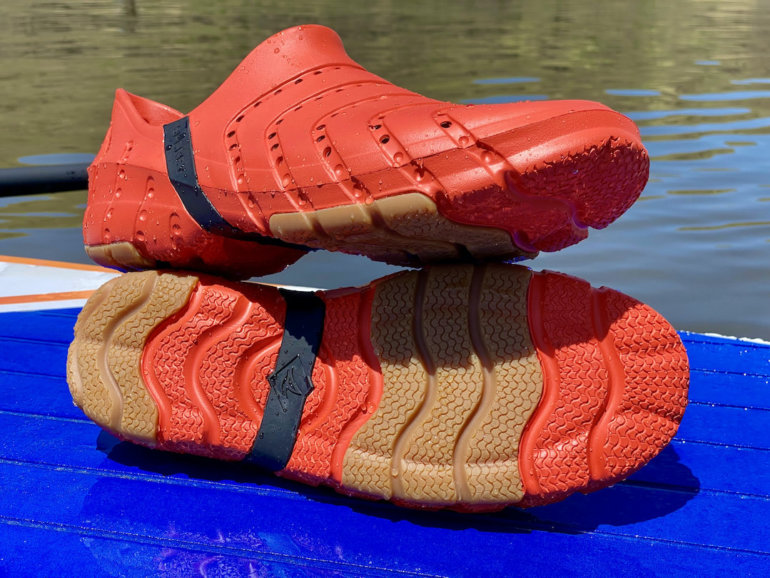 Sperry also does a nice job of creating a foot-friendly design that stays on your foot while you're playing in the water. The heel shape somehow manages to cup my heel and keep my foot on the footbed of the shoe — even when wet. Sure, there is a little slip and slide inside, but the EVA is soft and smooth.
The Water Strider forefoot is also low enough to help keep your foot in place without feeling tight. The toe box is roomy, too.
Overall, I was pleasantly surprised by how well the Sperry Water Striders fit, especially when I was tromping through water on sandy and rocky beaches.
Drainage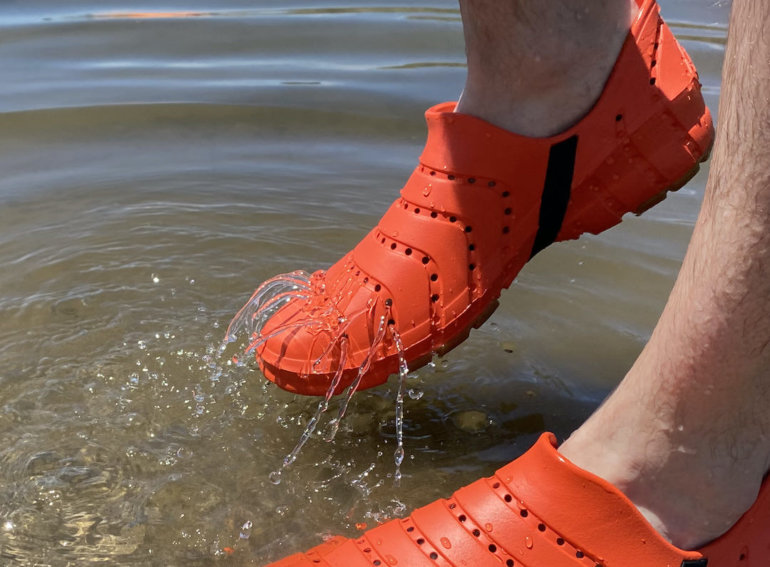 The Sperry Water Striders aren't the best draining water shoes, but they don't have to be. They're meant to be wet all the time while you're in the water. Still, the dozens of exterior holes make sure that most of the water in the shoe exits fast while stepping out of the water. There is always a bit left in the bottom of the footbed — the footbed doesn't have any built-in drain holes — but you squish most of it out was you walk and your foot dries.
Shop the sporty Water Strider series at Sperry and get FREE Shipping!
Support
The rubber outsole under your heel and forefoot give the Water Striders a boost of durability and structure to the footbed.
The result is that the Water Striders are surprisingly supportive and reasonably agile. They're not as supportive and agile as more shoe-like water shoes like the Under Armour Micro G Kilchis or the Columbia PFG Tamiami, but for a mostly one-piece EVA foam water shoe, they're very good.
I think the contrast color bar that wraps between the heel and the forefoot provides a bit of extra structural integrity to the Water Striders, but I didn't tear the shoes apart to find out for sure.
Traction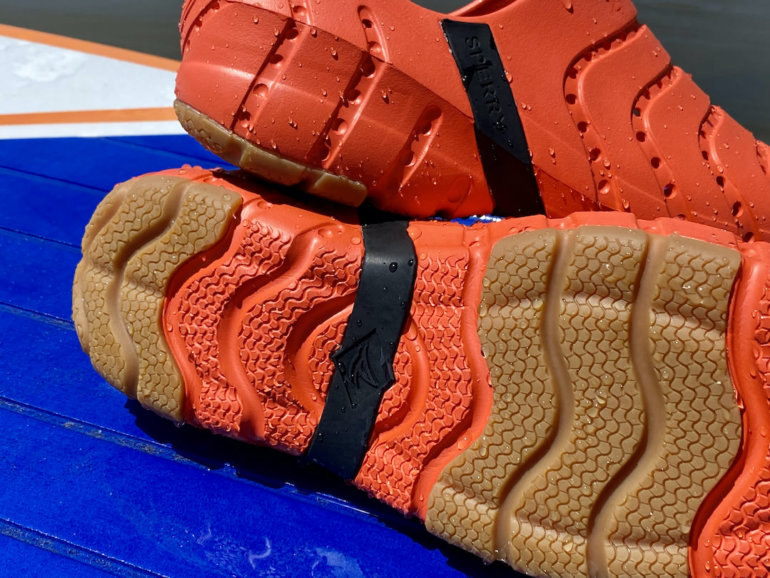 The Sperry Water Striders have the best traction I've seen out of competing EVA-type foam sandals and water shoes. The EVA has small grooves that mimic true siping, but the rubber uses Sperry's Adaptive Wave-Siping — and it delivers surprisingly good traction on slick wet surfaces.
The Sperry Water Strider traction is quite a bit better than what you typically get from Crocs Classic Clogs — and that's one of the reasons why I decided to give them a try.
Sizing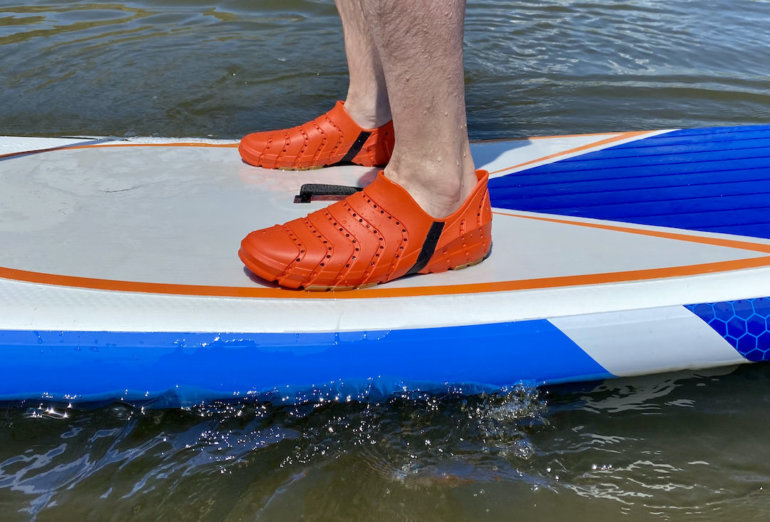 Sperry recommends that if you're a half-size that you size down. I agree. In my experience, the Sperry Water Strider water shoes fit 1/2 size big.
For example, I typically wear a size 14 but my foot is closer to a 13.5 — but virtually no one manufactures size 13.5 shoes. I sized down to a size 13 water strider and the fit is great when I'm barefoot but too tight if I wear socks.
Why would I wear socks in such a water shoe? For travel to and from the river, lake or pool, I sometimes appreciate the warmth and comfort of socks — which I shed before I get wet. Because the Water Striders dry so fast, you could easily put on dry socks for the walk or drive home.
If you're a full size, for example, a size 12, if you ordered a size 12 I believe you'd have enough room for socks while also enjoying the barefoot fit.
Competition & Alternative Options
There are many cheap foam-type water shoes available on the market, but I avoid cheap Croc knock-offs in order to have better durability and fit. Frankly, when I'm playing around water and slick surfaces — or friends and family are — a few extra dollars for decent footwear is usually worth it. If you like the Sperry Water Striders but aren't quite sure, check out these alternative water shoe options:
Crocs Classic Clog — It's hard to go wrong with the Crocs Classic Clog. They're surprisingly durable, surprisingly comfortable, and you can find them just about anywhere, online or in retail stores. Crocs offers many colors and style variations. For use as a water shoe, the biggest drawback is the mediocre traction and support. They tend to fit a bit big and sloppy (which is comfortable) but not particularly sporty for active use. The heel strap helps, but leaves your heel exposed to rocks if you're playing on rocky shores. We recommend Crocs for casual water play only — but recognize how awesome they are for all-around comfort.
Vans Slip-On TRK — The Vans Slip-On TRK is functionally most like the Sperry Water Striders, but the style is decidedly classic Vans. They're made with a one-piece design with plenty of water drainage holes and offer good overall foot protection.
Under Armour Micro G Kilchis Fishing Shoes — The Under Armour Micro G Kilchis Fishing Shoes deliver a whole different class of water shoe. They're lightweight, hydrophobic, and drain super fast. The biggest benefit is the dry shoe-like design with laces that help you dial in the fit no matter what you're doing in the water. They're also comfortable to wear dry — and you can even do some light hiking in them to get to the water. We're big fans. Read our full UA Kilchis review here for more detail.
Columbia PFG Tamiami Shoe — The Columbia PFG Tamiami Shoe is more similar to the UA Kilchis than the Sperry Water Strider, but the functionality is all water shoe. They have fantastic traction more traditional shoe-like construction. If you want a water shoe that's also at home around town and on the occasional trail to a hidden beach, check out the Columbia PFG Tamiami Shoes.
The Bottom Line
The Sperry Water Strider water shoes are surprisingly comfortable-yet-nimble on your feet. While rubber/foam style water shoes tend to fit looser than traditional water shoes with laces, the full-coverage Water Striders do a great job of staying on your foot, even when wet. They do, of course, fill with sand like most every other water shoe, but rinsing the sand out is super easy. All-in-all, highly recommended.