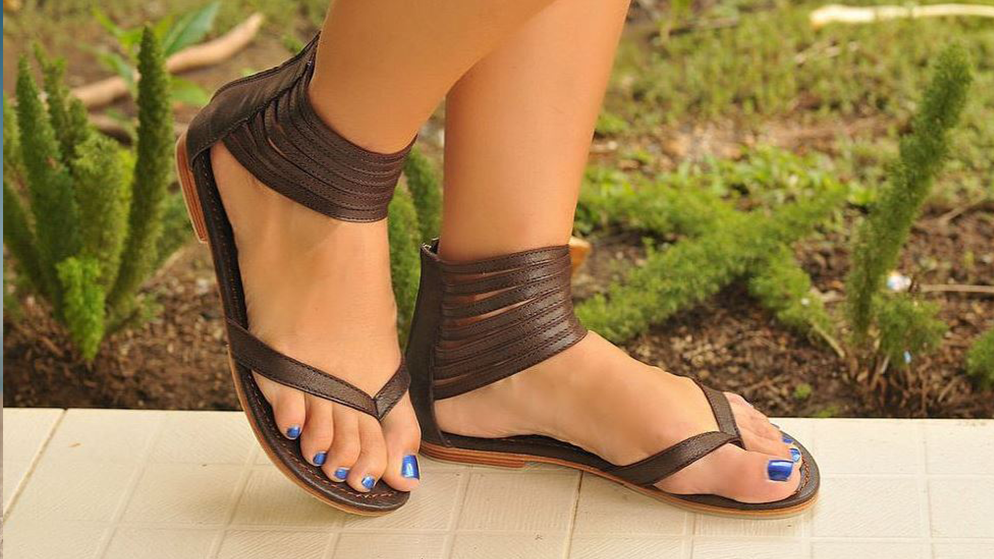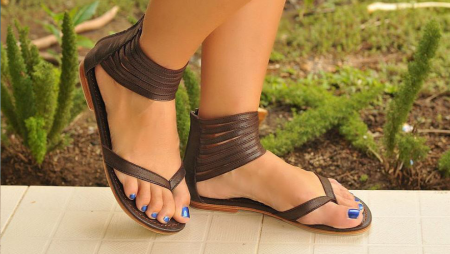 Our content is reader-supported. If you click on our links, we may earn a commission.
About Oofos
If you've been meaning to ditch those cheap flimsy flip flops that never cared for your feet, enter oofos. This recovery shoe brand is targeted towards people who want to get their steps in every day without straining their feet, people who walk to work every day, find their feet hurting in regular shoes1—this comfy footwear caters to a range of customers, with products ranging from sandals, clogs shoes to boots for men and women
Oofos focuses on providing their customers with comfort while not having to sacrifice style. Oofos prides itself in donating a percentage of every customer purchase to breast cancer research, which gives them major points in our books. This oofos sandals review will go over some of their most popular footwear, the company's reputation, customer feedback, promotions, and more, to help you decide if they're worth the buy.
Overview of Oofos
Comfort and endurance were always top priorities by Oofos back in 2011, when the recovery footwear brand was founded by CEO Lou Panaccione. For many years, Oofos' brand leader, Duncan Finigan, had been a marathon biker and runner. She knew early on that good footwear is essential for exercise
In 2014, Duncan was diagnosed with stage four breast cancer. She was faced with the decision to either keep her medical situation private or go public with it. With no cure to treat her diagnosis, Duncan went public and became a contributor to the cause, rather than accept defeat..
The company then created the oofos project pink division, where their technologically advanced comfort shoe is purchased with proceeds going to the dana-farber cancer institute and the jimmy fund. "our company mission was 'make you feel better,' and here we had an important part of our family that needed help and needed to feel better. That made it personal," said lou panaccione.
Sadly, in spring of 2019, duncan passed away after a four hard year battle against her diagnosis. Oofos continues to celebrate their former director's legacy by contributing a portion of their sales to breast cancer research. As of 2019, oofos has donated over half a million dollars to the dana farber cancer institute.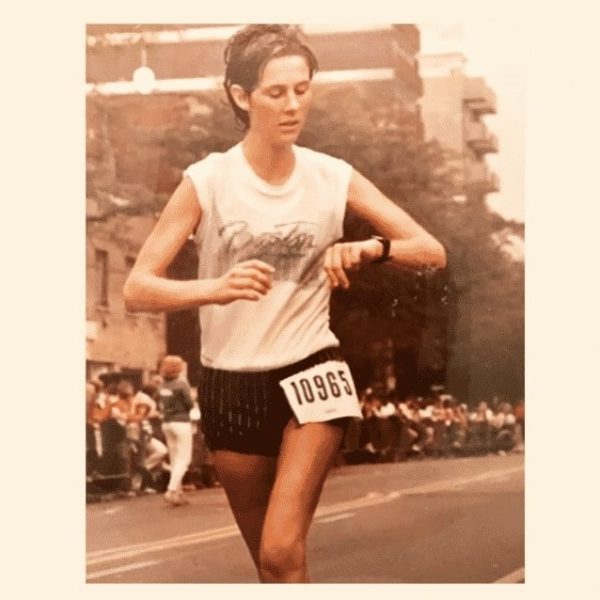 It's quite inspiring and heartwarming to see a business so dedicated to honoring the memory of their lost leader, and to supporting the community affected by breast cancer, as they continue the fight that duncan began.
Passion is ultimately what makes a brand like oofos genuine and trustworthy. This oofos sandals review commends this company on being transparent with their customers about where their money goes.
Oofos Technology
While all footwear design is influenced by comfort to a certain extent, this is the very soul (and literally, the sole) of oofos. Their products are created to reduce pressure on feet and joints while on the move, with a special proprietary material called oofoam® technology.
In their own words, "oofos absorb 37% more impact than traditional foam footwear," by designing shoes to support foot arches in a way that reduces exertion up to 47%. These figures were taken from a 2018 university of virginia study, which evaluated the effectiveness of oofos shoes. You've got to admit, that's pretty cool.
Arch support is an often underrated aspect of running shoes, but it can make a big difference in your comfort and performance3. The arch of your foot helps to absorb impact and distribute your weight evenly, and so a shoe with good arch support can help to prevent injuries and improve your overall running form.
Pros
A wide variety of comfortable footwear for both men and women
Sandals are lightweight, machine washable, and resistant to water, bacteria, and odor
With every purchase, some of the proceeds go into funding breast cancer research
Highly positive customer reviews, including ones from medical professionals
Free business and priority shipping in the us
Points reward system
Cons
Pricier than most retail footwear stores
Some customers report problems with the sandals breaking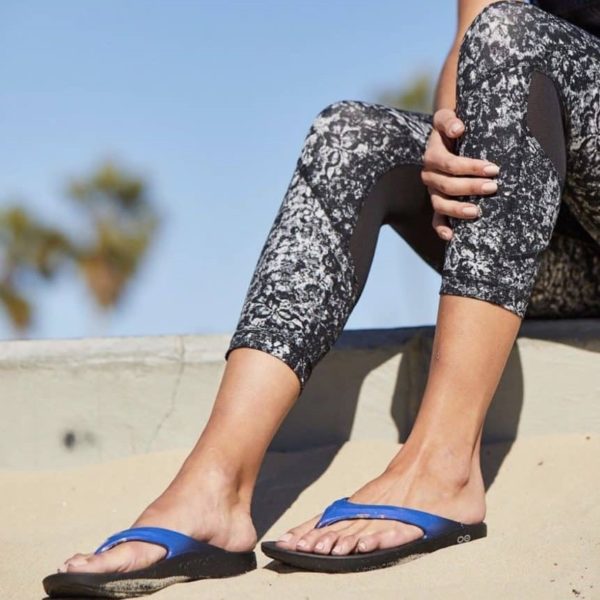 Oofos sandals are lightweight and resistant to moisture, so they're perfect to wear by the beach or pool—and while showering at the gym, because who knows what lives on the floors in the bathroom4. They prevent bacteria buildup and minimize odor, so if you catch a whiff of stinky feet in the room, you'll know it's not you. Oofos sandals are very easy to keep clean—just toss them in the washing machine on a low cycle or wipe them down with a washcloth and mild soap.
Oofos Women's Sandals
Oofos offers their sandals in a range of designs to choose from. Whether you prefer a pair of gorgeous ooahh sport slides or the classic, brightly colored thong sandal, customers can take their pick.
Oofos sandals come in multiple different colors and patterns—from a pretty shade of bright pink to summer lit yellow to leopard print, each design embodies a different aesthetic to go with casual or workout outfits.
OOlala Sandal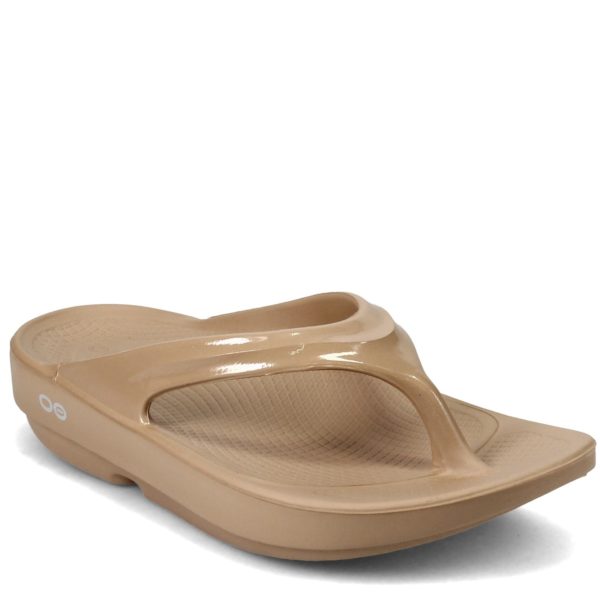 Taking a long stroll down the beach harbor can seem relaxing at first. I don't know about you, but down the road, my feet get exceptionally sore from walking such long distances. But instead of grabbing the usual pair of cheap beach slippers (that may not even last you the journey), check out the women's oolala sandal in taupe.
Casual and comfort don't always add up to ugly. This oofos topseller shows that functional and laidback sandals can be fashionable. These tan flip flops are not only summer casual, but are extremely comfortable using oofos' revolutionary oofoam™. They're not the usual boring old beige flip flop—the look is slightly elevated with the glossy strap.
This model has a more narrow footbed compared to the ooriginal sandals, which makes it a more feminine and sleek design. If taupe isn't your color of taste, try red, teal, camo, green, black, leopard, gray, white, navy, or yellow. You can purchase a pair for $59.95
OOlala Luxe Sandal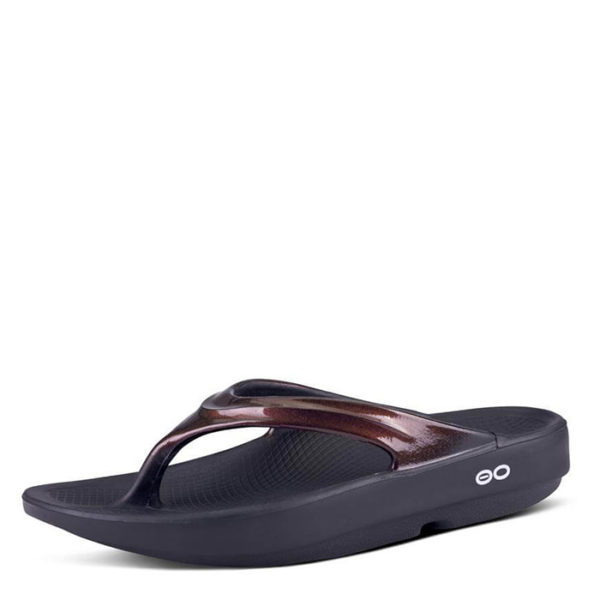 The oolala luxe sandal in cabernet is practically made for city walking. With its narrow footbed and dark tones, this sandal is the perfect choice between style and comfort. Its luxe vibe comes from the shiny, almost metallic-looking burgundy strap. Notice how it has a pretty thick heel, so it'll give you some inches too!
Designed with oofos' impact foam, the sandal's black insoles paired with the shiny burgundy straps are admittedly more classy than $2 slippers. Why sacrifice function for fashion when you can have both? And of course, with luxe being in the name, all of their models come in stylish and sophisticated designs. Patterns range from snake, camo green, leopard, metallic, latte, calypso, glitter, atlantis, duncan to cabernet. The oolala luxe sandal retails for $64.95.
OOahh Sport Flex Sandal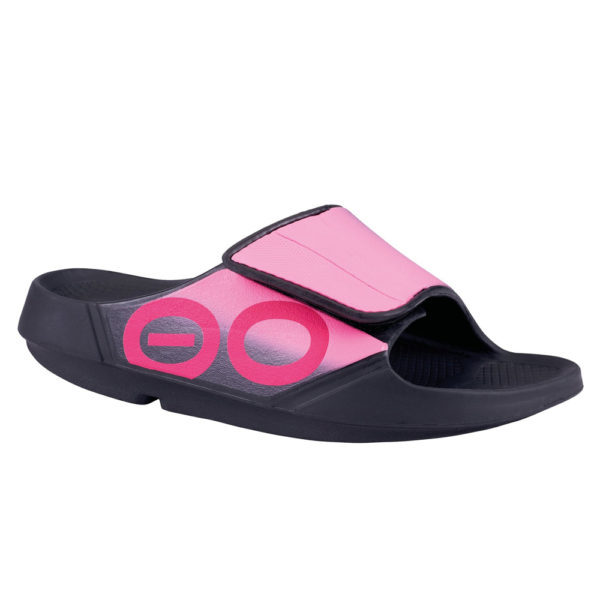 There's the soccer cleat, the bulky running shoe, and then there's the slick, but casual athletic sandal. Introducing the ooahh sport flex sandal, which will have you looking fly as you head into yoga, head out for some beach volleyball, or just feel like rocking an athletic aesthetic. These sporty slides are available in bright pink or black, with the oofos logo adding a nice element of design.
There's no worry in having the slipper come loose, as there is an adjustable velcro strap so that you can have the most secure fit possible. This flex sandal was created to reduce stress on your joints and in your feet with their revolutionary foam. Are you saying ooahh to these? Because i am. Slip on a pair for $79.95.
Oofos Men's Sandals
Men can enjoy oofos' comfortable and stylish sandals too. Who says you can't look great when going paddle boarding with the boys or playing volleyball down by the beach? Not us.
Oofos has a great inventory of colors and designs to choose from. From chill slides to thongs, the subtle hues for men range from army green sport sandals to all black
OOahh Slide Sandal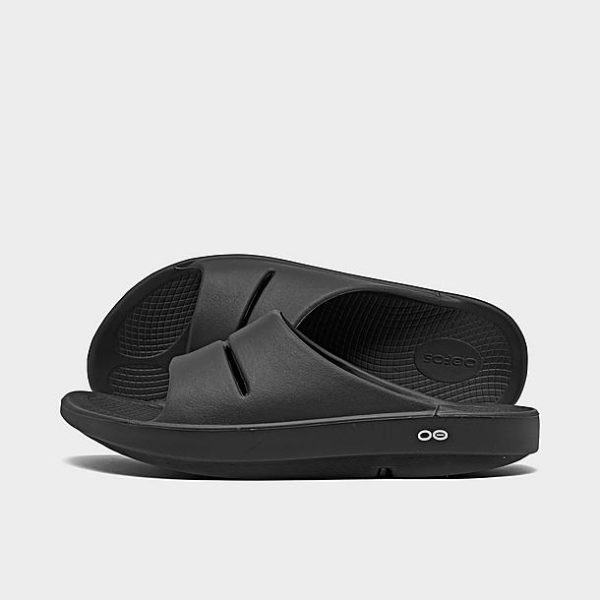 Everyone needs the basic black sandal, since this shade matches everything. I always look for something to easily slide on when taking a quick trip to the convenience store or getting my mail from the post box. The men's ooahh slide sandal is the perfect go-to for those can't-be-bothered days, relaxing on the dock, wearing on the boat—remember, oofos sandals are water resistant.
Made with their signature foam, these slides can basically go with any outfit. You can purchase these sandals for $49.95.
OOriginal Sport Sandal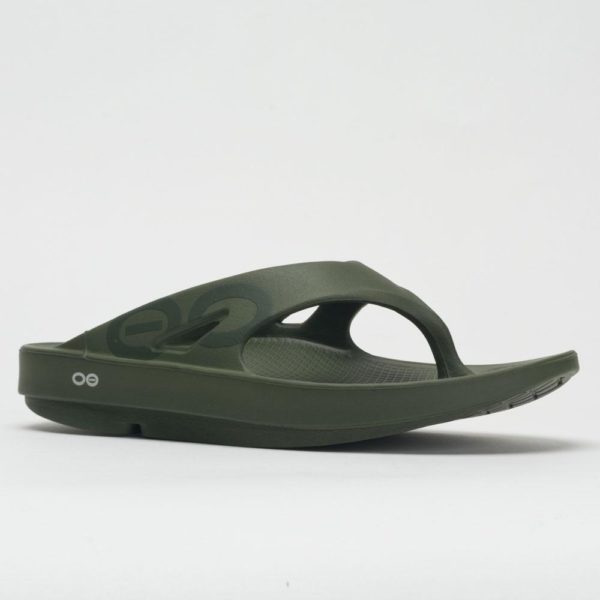 Featuring a matte forest green color, i can't help but think that the men's oorignal sport sandal is the perfect camping shoe. With its earthy hue combined with functional foot support for comfort, i'm sure that these sandals are on point for drag the canoe down by the water or go fishing at the lake.
Even though these oofos flip flops are monotone, they've still got something a little interesting to them: the barely-there oofos logo keeps them from being too basic. Take your pick in color as you can choose from matte forest green, mocha, blue, gray, black, navy and white.You can get these laidback pairs for $59.95.
OOahh Sport Flex Sandal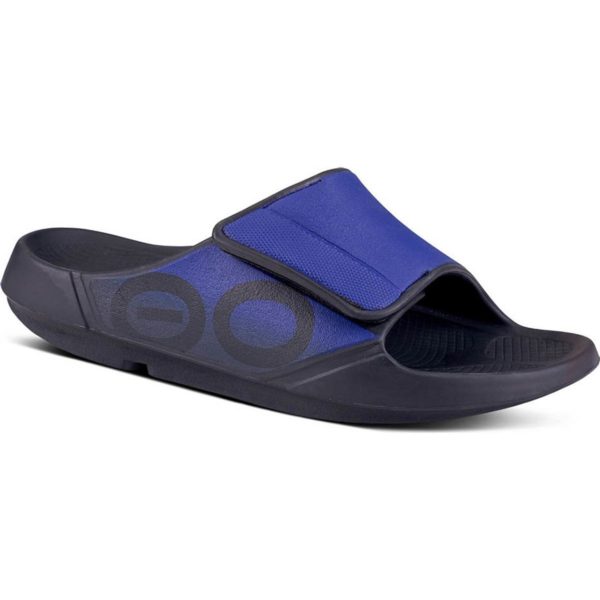 The ooahh sport flex sandal is a definite upgrade from the ooriginal sport sandal model. Designed with athletic guys in mind, these slides feature a sweet sapphire-colored adjustable strap for a customized fit and to prevent slippage. They've got the subtle and sleek oofos logo to make the one-color model more interesting as well.
Integrated with sole foam for comfort, these are no ordinary flip flops. Their secure fit makes them suitable for activities like water skiing, and if you're running late, you can definitely get away with speed walking or jogging (though not for long distance).This model comes in a variety of designs such as blue, black, gray and white. These oofos sandals are priced at $79.95.
Oofos Sandals Reviews: What Do Customers Think?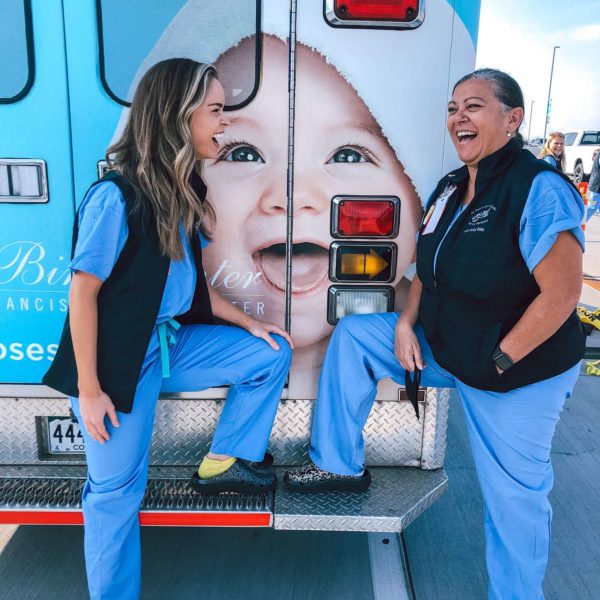 Overall, oofos sandal reviews are overwhelmingly positive. On their company website, customer reviews for their footwear generally include how comfortable they are to wear, especially for people on the go like nurses and those who have joint problems.
Oofos also showcases 5-star reviews from medical professionals, who also speak positively about the health benefits of wearing the sandals. "the majority of my patients that try oofos have reported that their hips, low back, and of course their feet have felt better," says micheal boyle, one of oofos' recovery experts.
On trustpilot and amazon, oofos reviews for their sandals are raving as buyers frequently comment on their comfort and helpful customer service. In terms of complaints, the only problems i could find dealing with their company is that there were a few issues of the shoes cracking and breaking. Some buyers said that their sandals only lasted for a few months, oof.
Are Oofos Sandals Worth It?
This oofos sandals review is adamant in saying that comfort is never out of style. I'll often splurge on forever items i know i'll wear countless times. Throughout this oofos sandals review, i think that these sandals are worth the price. While spending upwards up to $80 on a pair of slides can on the surface seem unreasonable, you're getting a sandal that's designed to keep your walks or runs pleasurable. I take my afternoon strolls quite often, and i can't tell you how many outdoor sandals i've gone through.
While some customers have commented on their sandals cracking, the positive reviews are way more common. Overall, this oofos sandals review concludes that the brand is a worthy recovery shoe brand. Listen to their advice on going a size up if you are usually a half size, as some buyers have noted that getting a size too small. It's also a great feeling to have that a portion of your money go towards funding breast cancer research.
Oofos Promotions & Discounts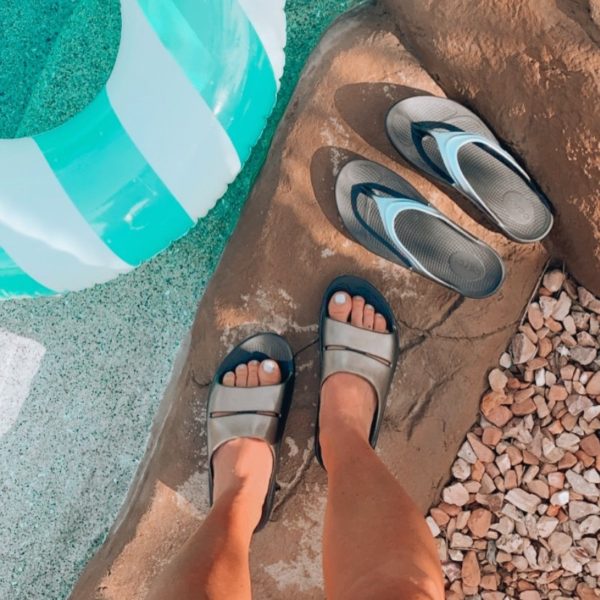 This oofos sandals review brings some good news: you can get $5 off just by creating an account on their website. By logging in, buyers can accumulate points by simply writing a review, or liking them on the social media pages. For instance, people can get 15% off their first purchase by telling a friend.
Oofos also has a vip section, where exclusive members who've earned more than 250 points have access to more desirable rewards. The oogold account allows customers to earn 1.25 points on every dollar spent if they've collected 500 points. Additionally, oofos has a sale section on their website, where buyers can get as much as 30% off a selected model.
Other than these, i haven't come across an oofos promo code or oofos discount code
Where to Buy Oofos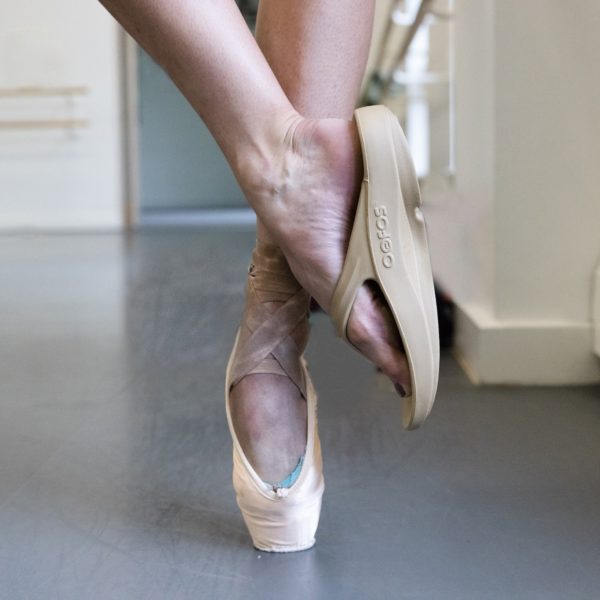 For this Oofos sandals review, I've found a few places where buyers can purchase their footwear:
Online via Oofos.com 
Oofos Amazon
The Running Room
Jack Rabbit
Zappos
The Oofos website includes a store locator where customers can find a store near them that sells their sandals.
FAQ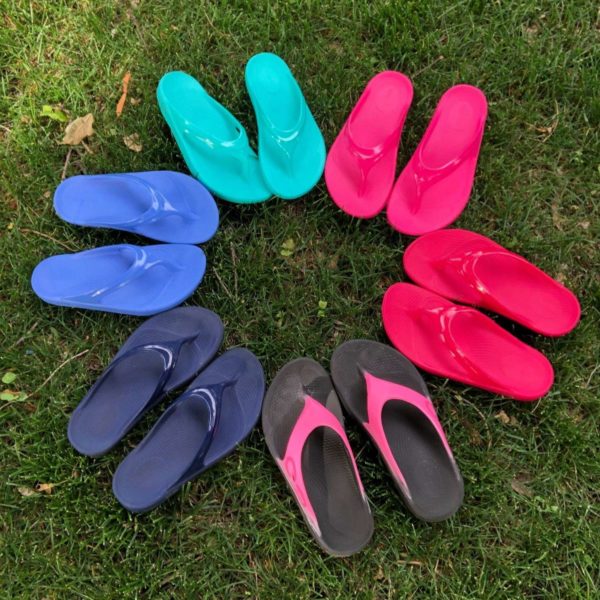 According to our oofos sandals review, the brand suggests that women with half sizes should size up for the best fit. Men with half sizes, on the other hand, should size down for a better fit. Oofos men's shoes are available in sizes 2-14, and women's shoes come in sizes 4-16.
Oofos Shipping Policy
This oofos sandals review has found out that the company has multiple international partners, so customers can place their orders by going to their american, australian, canadian or european websites.
In terms of shipping within the us, oofos has numerous shipping options for buyers to choose from. Ups business shipping and usps priority shipping are free, while one or two day shipping is charged.
Oofos Return Policy
Whether customers have bought their shoes online or in-store, they can return or place an exchange within 30 days of order. Luckily, oofos offers free returns, and you can expect a full refund within 20 business days. However, one to two day shipping charges cannot be refunded.
Oofos recommends that if you've bought their product in a store, it's best to return them there. Customers can start the return process by accessing the return portal at oofos.Com/return.
Oofos Warranty
Every pair of oofos shoes, bought through their website or an authorized seller, is covered under warranty for 6 months from the date of purchase. This covers the toe post or strap breaking, peeling, or premature wear within the first 3 months of purchase. Normal wear and tear, squeaking, exposure to heat (shrinkage), misuse of the product, and shoes purchased from third-party sellers like amazon, and are not covered.
If you believe the ooofos product is defective, email a completed warranty form to [email protected] including photos that show the product in its entirety, the bottom of the soles showing thread, the defective area, proof of purchase, and the size of the shoe. If oofos approves the return, warranty exchanges will be replaced with the same style, color, and size.
Contact Oofos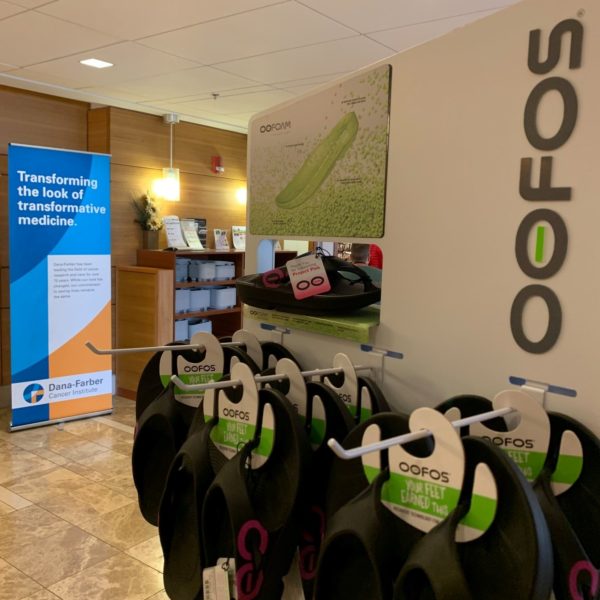 If you have a question that is beyond this oofos sandals review, you can contact their company by:
Emailing customer service: [email protected]
Submitting a request on their website
Phone: 1-888-820-7797 monday through friday / 9am – 5pm est
References
1.Buldt, a.K. And menz, h.B. (2018). Incorrectly fitted footwear, foot pain and foot disorders: a systematic search and narrative review of the literature. Journal of foot and ankle research, 11(1). Doi:10.1186/s13047-018-0284-z.
2.Sun, x., lam, w.-k., zhang, x., wang, j. And fu, w. (2020). Systematic review of the role of footwear constructions in running biomechanics: implications for running-related injury and performance. Journal of sports science & medicine, [online] 19(1), pp.20–37. Available at: https://www.Ncbi.Nlm.Nih.Gov/pmc/articles/pmc7039038/.
‌3.Butler, r.J., davis, i.S. And hamill, j. (2006). Interaction of arch type and footwear on running mechanics. The american journal of sports medicine, 34(12), pp.1998–2005. Doi:10.1177/0363546506290401.
4‌.Mukherjee, n., dowd, s., wise, a., kedia, s., vohra, v. And banerjee, p. (2014). Diversity of bacterial communities of fitness center surfaces in a u.S. Metropolitan area. International journal of environmental research and public health, [online] 11(12), pp.12544–12561. Doi:10.3390/ijerph111212544.