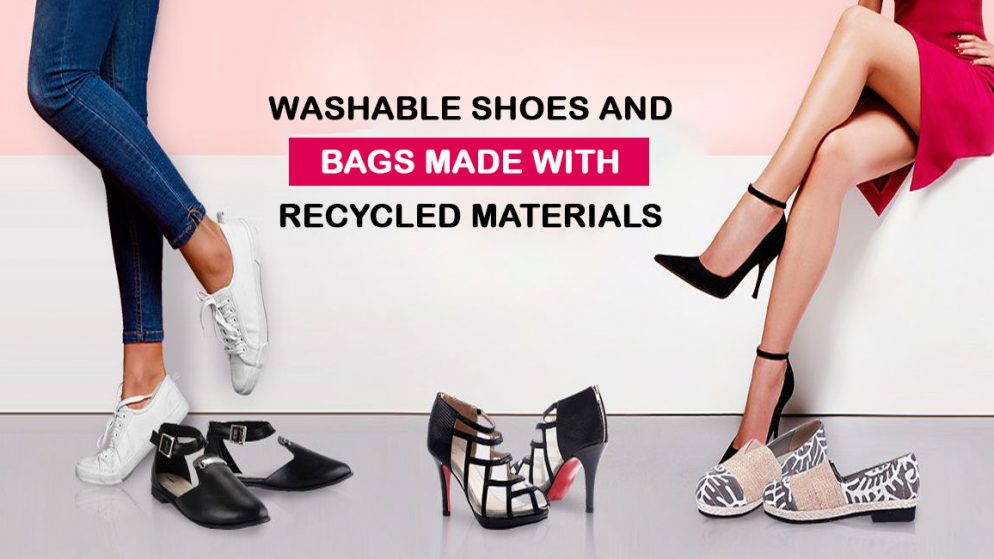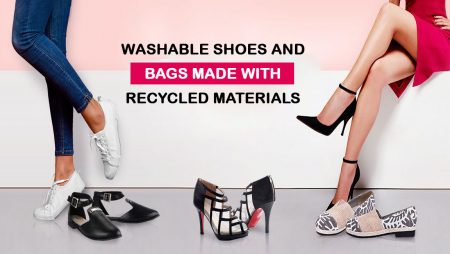 Heads up: Our content is reader-supported. This page includes affiliate links. If you click and purchase, I may receive a small commission at no extra cost to you.
**This post contains affiliate links. If you use these links to buy something we may earn a commission.** Thanks
With the changing climatic and environmental conditions all across the world, it's time to take the environment seriously. Some brands have already started making eco-friendly and sustainable products in order to save the ecosystem and environment for the coming generations. Sustainable products have become the need of the hour to control the carbon emissions and exploitation of the resources. One of the popular shoe brands offering sustainable products by following responsible practices is Rothy's. The leading eco-friendly shoe brand puts the planet on priority while designing different types of shoes. It collects eco-friendly materials and transforms them into wardrobe staples that look stunning and comfortable respectively.
How Did the Brand Start Its Journey?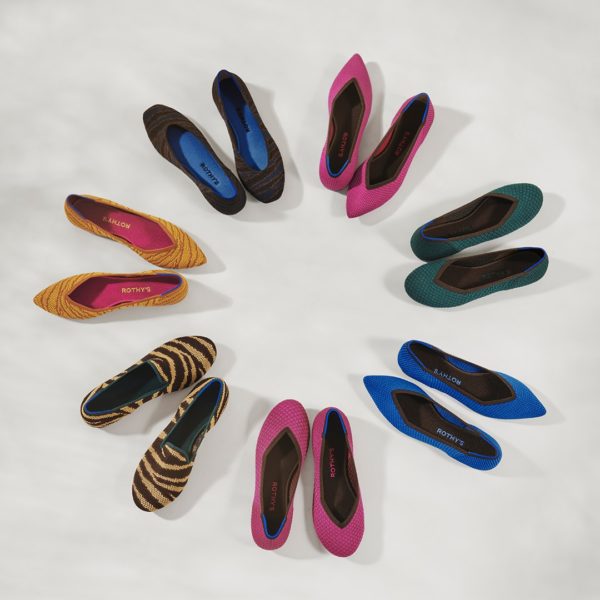 Shop Now At Rothy's
The brand was founded in 2012 by Roth Martin and Stephen Hawthornthwaite. In 2016, the duo launched a brand with eco-friendly shoes. Slowly and gradually, they started making handbags and opening stores in New York City, Boston, D.C., etc. Currently, it has over 520 employees in various departments to take the company forward and do every day's operations.
The brand came to the limelight through it's incredibly creative and eco-friendly shoes such as recycled plastic flats for women which became an instant rage on social media. People started liking the brand of its mission to reduce environmental exploitation and carbon emissions for the betterment of nature and coming generations.
Hence, the brand never looked back and started rolling out different styles of shoes, including sneakers. The best part is that the brand's recycled plastic sneaker comes with a Vans-driven slip-on look featuring a recycled plastic upper. The brand also uses many more eco-friendly materials such as recycled foam insoles, carbon-free rubber & TPU, vegan adhesives that are non-toxic in nature, and recyclable outsoles.
However, the main material that the brand uses to make sustainable shoes is plastic water bottles. To date, it has already reused/recycled over 35 million plastic water bottles to make eco-friendly shoes.
What's All the Brand Is Famous For?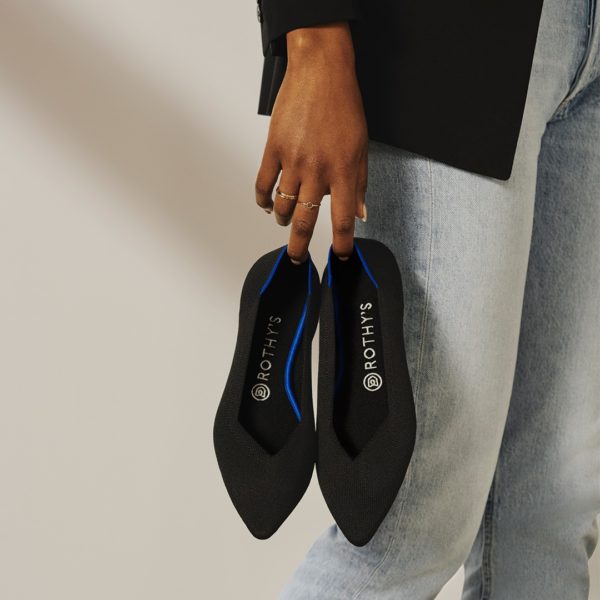 Rothy's leaving no stone unturned to make sustainable shoes for the greater good of the society and environment.
Rothy's is known for making the most comfortable work flats that are quite popular among people, including on markets and social media platforms.
It's also quite famous for its incredible range of slip-on sneakers that start from $125. Every pair of sneakers is easily washable, breathable, and comes in vibrant colors.
Every pair is so comfortable that one doesn't need to worry about blisters, etc.
Rothy's shoe collection is very versatile, comfortable, breathable, and requires low maintenance.
How Does The Brand Make Its Shoes?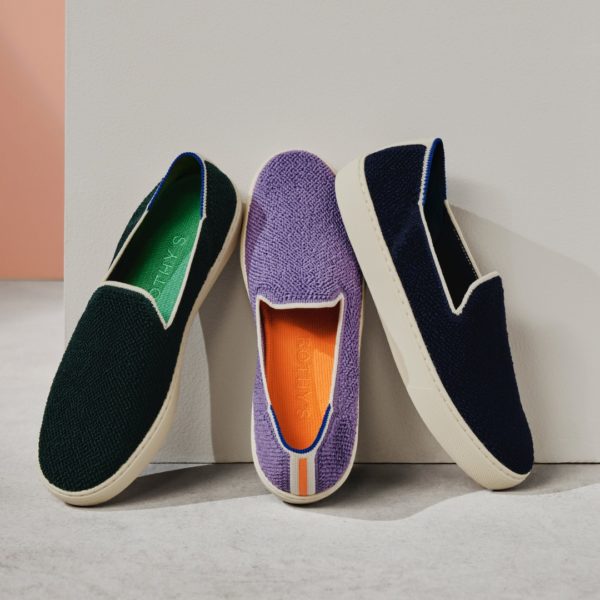 Most Rothy's shoes are made out of recycled plastic and other sustainable materials. As per the official figures of the brand, it has nearly used over 37 million plastic bottles to make a thread for its shoes. Most of the plastic is being used from the ocean which is again a very good sign for the environment.
The brand also uses Merino wool which is nothing short of high-quality wool used by premium brands to make shoes. It also uses carbon-free rubber and vegan leather to make soles.
The brand has literally complete control over waste management because it uses sustainable packaging boxes in its factories to make the entire process sustainable and eco-friendly.
What Does The Brand Offer?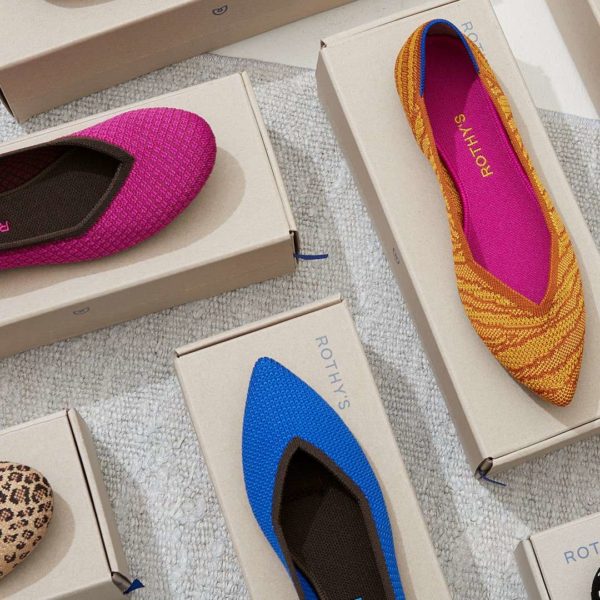 Rothy's offers different styles of shoes for men, women, and kids. Whether it's the office-ready collection, a casual collection, a neutral collection, or the summer collection, one can find out a versatile range of styles, designs, and colors in every collection for men, women, and kids.
Along with that, the brand also offers different types of sustainable bags, including totes, handbags, belt bags, clutches, pouches, travel bags, wallets, card cases, tech accessories, and the care kit.
Most Popular Shoe Styles of the Brand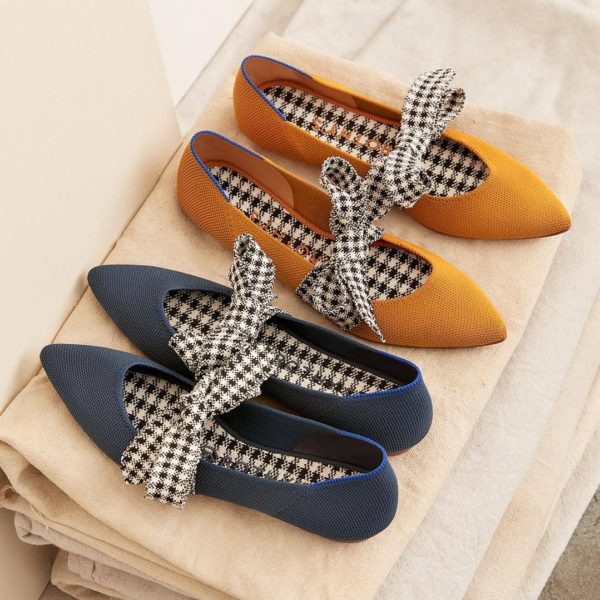 Rothy's known for its multiple styles now. However, there are 5 most popular styles that have made the brand an instant sensation among sustainable shoe lovers. The best part is that all the styles cost between $125 and $165
The Point – it's a ballet flat along with a pointed toe
Loafers – It's quite similar to the flat but rounded in shape.
The Flat – It is a standard round toe flat.
Sneakers – It's the most popular style which is quite minimalistic at the same time.
Can You Machine wash them?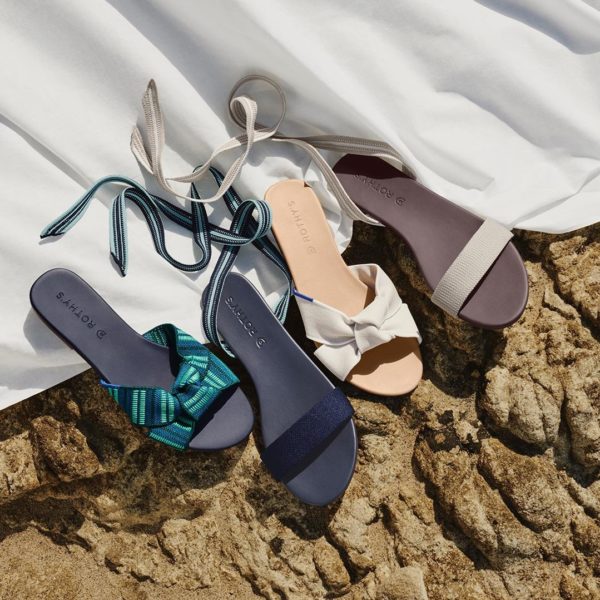 Well, the answer is yes and no. One can machine-wash them but it needs to be done delicately to avoid any kind of damage to the shoes.
Don't' expect incredible clean after a wash and a brand new pair of shoes. If you are having a light-colored pair of shoes then it will take some time to take out the stains from the material.
In fact, one has to air dry them for a few days before wearing them for any occasion. Hence, it's better to have a couple of pairs in your wardrobe to avoid any kind of inconvenience.
How to Buy Rothy's Shoe Collection?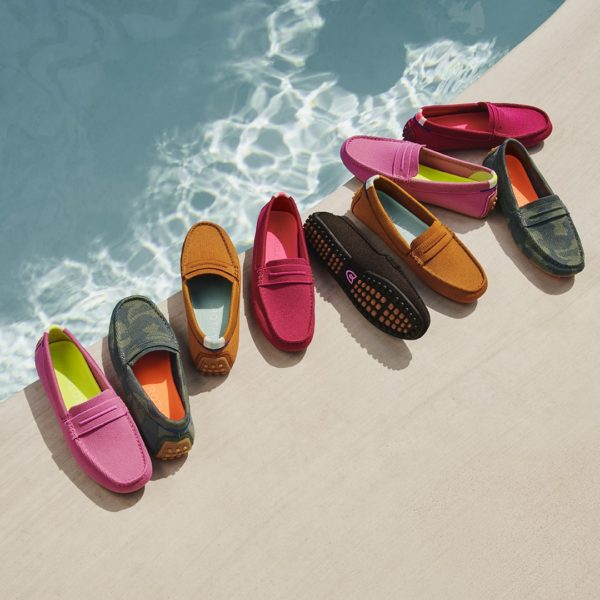 One can easily buy Rothy's shoes online as well as at offline stores. The brand has its own online store from where one can find out exclusive collections and all types of styles without beating around the bush. On top of that, one can also explore various offers, sales, and discounts while buying them online.
However, if you want to buy them at their offline stores then check out the stores in Boston, New York, Washington D.C, Chicago, Atlanta, Scottsdale, Los Angeles Area, etc.
Are Rothy's Shoes Expensive?
Yes, they are slightly expensive compared to other fast-fashion brands. The main reason behind the premium pricing is the brand offers quality shoes made up of recycled materials. Every pair of shoes is sustainable and eco-friendly. One doesn't need to worry about durability as every pair lasts for years. As per the customers' reviews, the brand has been offering highly durable and quality-driven sustainable shoes.
Essential Sizing Tips
The brand's sizing is quite spot-on. Every pair is stretchable. Hence, shoes will surely stretch after a few weeks and adjust as per the size of your feet. Hence, the brand offers a true-to-size collection.
Offers & Discounts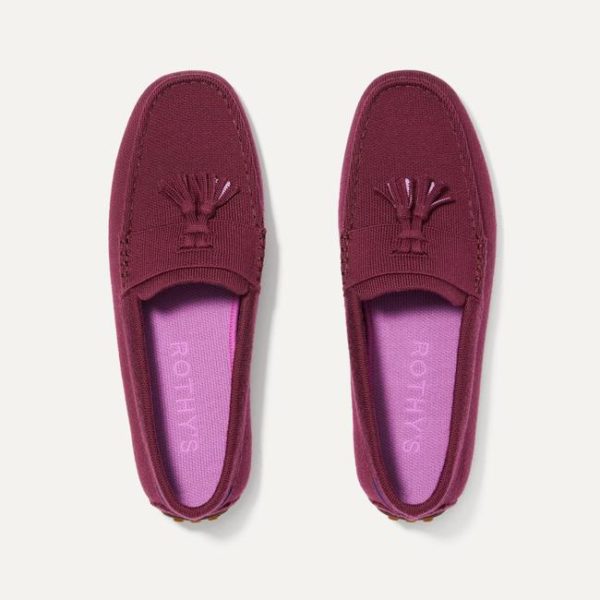 The brand offers limited offers and discounts. But, they are quite interesting and solve the purpose to save a few bucks on quality shoes. Right now, the brand runs:
 Discount Program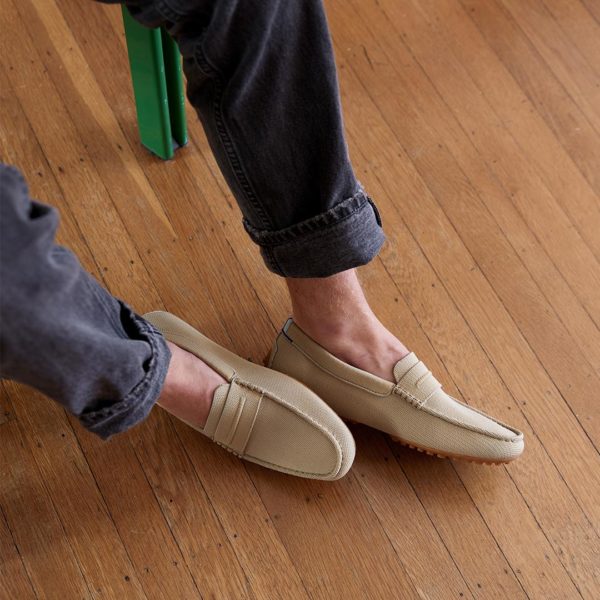 To grab amazing offers and discounts of 20% on all products just visit the Discount Program and verify your eligibility to let us reward you with our offers and discounts.
Free shipping & returns
The brand doesn't hesitate to offer free shipping and returns.
Refer-a-Friend
If you will tell your friend about the brand then it will reward both of you with $20 for your next purchase.
Who Should Buy Rothy's Shoes?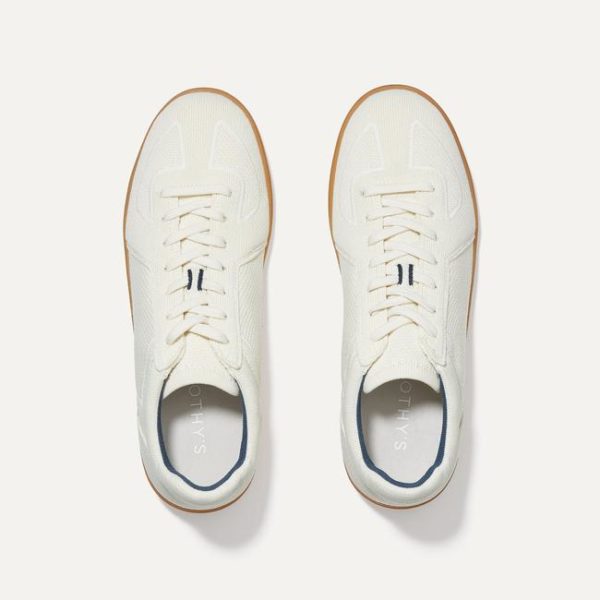 Rothy's shoes are meant for people who want sustainable and super comfortable shoes to wear for any distance. Whether it's Pointed Toe Flats or Pointed Flats, one can wear it to walk any distance without worrying a little. In fact, one doesn't even need to wear socks as shoes don't cause blisters. They are super comfortable.
However, it's better to pick dark colors over light colors. It's easier to wash stains from dark colors than from light colors. The darker colors don't show many stains and dirt after washing. And, at least buy two pairs of shoes to keep yourself in a safe spot.