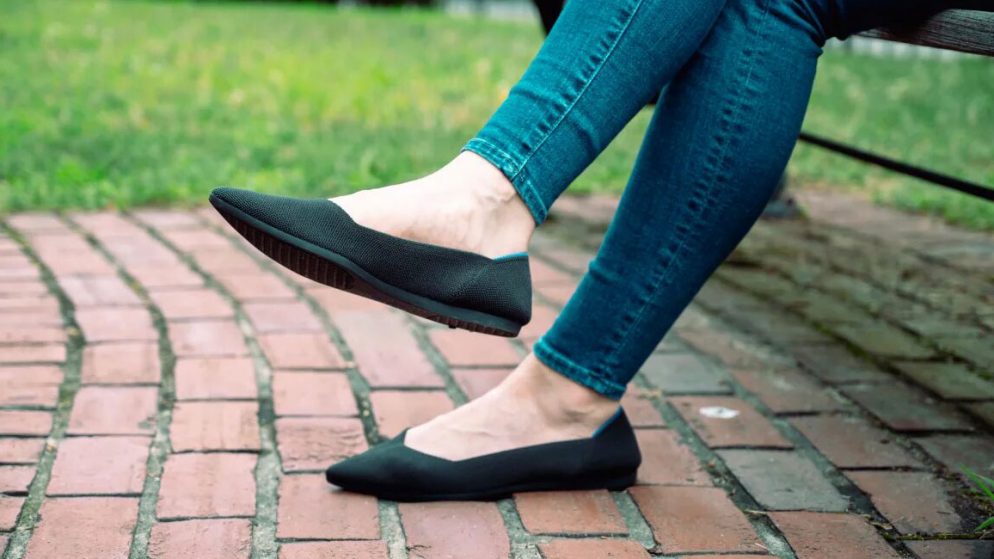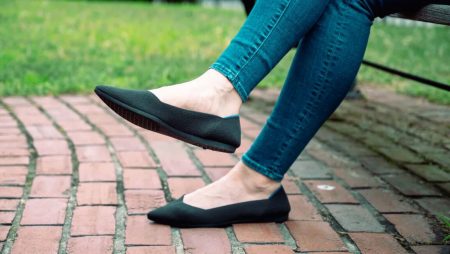 Heads up: Our content is reader-supported. This page includes affiliate links. If you click and purchase, I may receive a small commission at no extra cost to you.
**This post contains affiliate links. If you use these links to buy something we may earn a commission.** Thanks
My full Rothy's review! This is everything you should know before purchasing a pair of shoes from this popular brand.
As a longtime Tieks enthusiast, I was intrigued by a company that produced lightweight flats that were washable and more sustainable than Tieks.
I sat on that intrigue for a good couple of years before I finally bought a pair of Rothy's earlier this year to test them out for myself.
In this detailed Rothys review, you'll get the full rundown of what I love about my Rothy's flats and what I don't after my first-hand experience of wearing them all over the Bay Area.
By the end of this post, you'll also have everything you'll want to know before purchasing a pair for yourself. Let's dive in!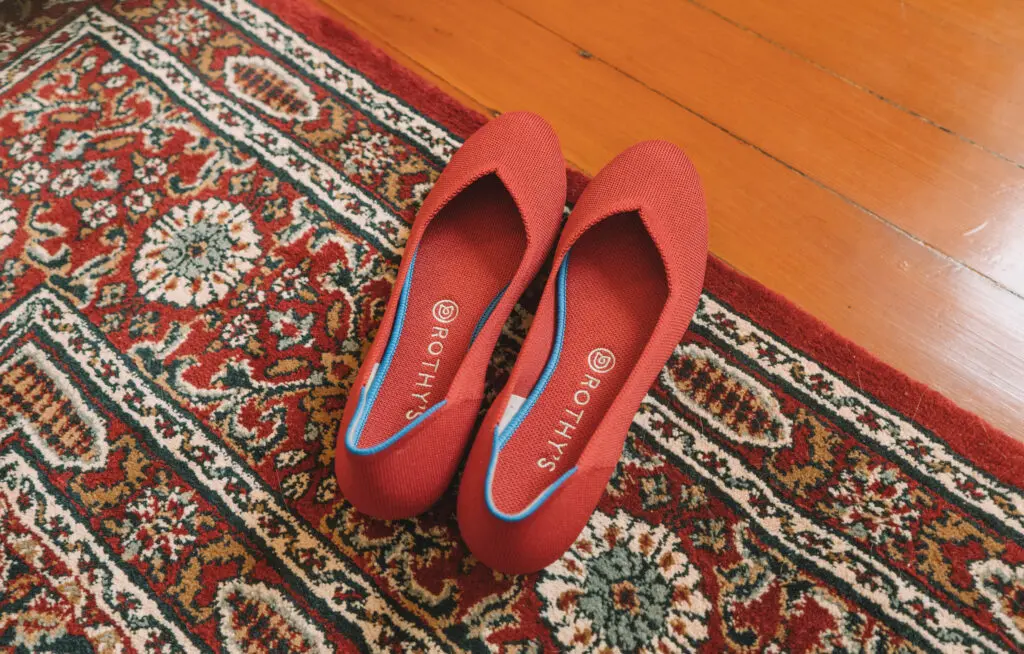 Shop Now At Rothy's
A Quick Look at Rothy's as a Company
Founded in 2012 by Stephen Hawthornthwaite and Rothy Martin, Rothy's is a San Francisco-based brand (heyooo!) that focuses on direct-to-consumer fashion that's sustainable.
Even though they were founded in 2012, they didn't officially launch their first shoe line of women's ballet flats until 2016.
Rothy's is most well-known for its stylish flats for women but they've since branched out to men's shoes, as well as sneakers, handbags, and even masks since 2020.
Rothy's Shoes Review: My Experience With Rothy's Flats
For my pair of Rothy's, I bought The Flat in Scooter Red.
For these shoes, I wanted an everyday flat that could keep up with my lifestyle of walking everywhere and that could be paired with most of my wardrobe.
I was in the market for red ballet flats to really make my outfits pop at another level, especially my work dresses and slacks.
This is how my pair of Scooter Red Rothy's flats held up to those expectations.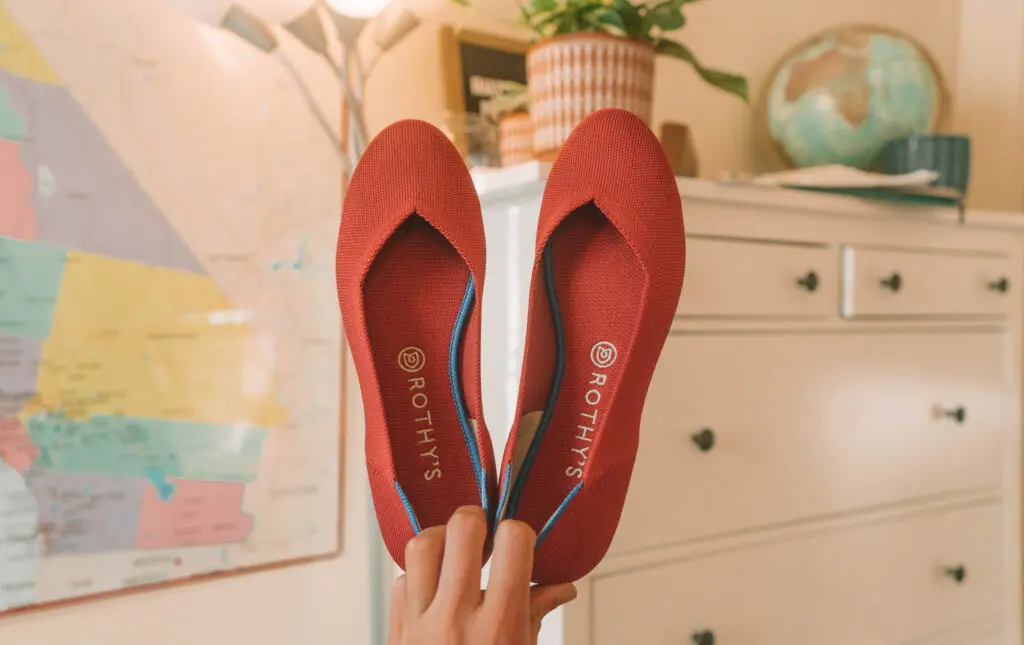 Pros
Style & Versatility
Besides Rothy's sustainability efforts, the first thing that drew me to their shoes is how stylish and versatile they seemed.
The Flat is a fairly standard design for flats but with the added bonus of material that really forms around your feet nicely.
I like ballet flats that cover my toes properly (e.g. none of those toe lines!) and don't come up too high on the heel. The Flat is the perfect balance of coverage without feeling like it's too much.
I also found the Scooter Red color to be a great addition to my current wardrobe.
It's hard to go wrong with ruby red flats. I mean, who doesn't want to feel like Dorothy? And this bold red color goes with a surprising amount of colors.
I especially love wearing them with black outfits and dark denim to have that statement pop of color on my feet.
The Flat is easy enough to dress up or down. It's easy to pair with work clothes but also with a dress for a date night out.
When I'm investing in a nice pair of flats the versatility aspect is huge. I want to be able to wear them with most things in my closet to make it feel like they were worth the cost.
And so far, my Rothy's flats have definitely come through in terms of being a versatile and stylish addition to my wardrobe.
Comfort & Breathability
As soon as I slipped on my Rothy's flats, I knew they were some of the most comfortable flats I've worn to date.
The closest saying that comes to mind is that they "fit like a glove." If my feet wore gloves, that is.
I actually find them more comfortable than my Tieks shoes with the design of the shoe and how well it fits my feet.
Since Rothy's aren't made from leather, they're also a lot more breathable.
They're much more comfortable to wear on hot days because they're lightweight and my feet can actually breathe.
I've been wearing my Rothy's flats for a good few months now and I haven't needed a break-in period.
This is kind of amazing because my feet are usually very sensitive to new shoes. They fit perfectly out of the box and I've worn them for hours on end without getting blisters.
The only thing I'd mention about comfort is that they might not be as comfortable for people with wide feet or who need extra support.
If one of those describes you, I'd recommend ordering a ½ size up or buying comfortable inserts, respectively.
I go into more options below in the sizing section if you want more recommendations for different kinds of feet.
Sustainability
The sustainability factor is a big part of Rothy's branding and, especially in this day and age, an important thing to a lot of consumers, myself included.
Unlike other shoe brands that use more traditional materials, Rothy's are made from single-use plastic water bottles and marine plastic.
In fact, they've helped keep 100 tons of plastic from the ocean and other waterways, instead using that plastic as the signature thread in their shoes and handbags.
They also use algae-based foam on the Strobel boards of their shoes.
Algae blooms are a renewable resource and a byproduct of global warming.
They can cause negative environmental effects when left unchecked, so it's a renewable resource that actually helps the environment when it's taken.
Lastly, their outsoles are made with 35% renewable materials and Rothy's insoles are made from 30% recycled rubber and plant-based oil.
It's impressive when a company takes sustainability to this level.
And I love the fact that they not only use renewable materials whenever possible, they're also cleaning up the environment while they're at it.
Variety of Options
This can be said for a lot of shoe companies but I love the variety of options that Rothy's offers.
They have the usual classic colors but also some unique colors and patterns that I haven't seen often on shoes.
Add on top of that the many styles of shoes and handbags that Rothy's offers and it could be a one-stop-shop for anyone who's a Rothy's enthusiast.
Just to give you an idea, they currently have 13 different styles of women's shoes that come in a variety of colors and patterns and two styles of men's shoes.
They also offer a good variety of options for handbags and other extras like masks.
Sometimes too many options can be a bad thing but I love how unique each of the options are for different styles and colors of Rothy's shoes.
Easy Returns & Exchanges
I've never come across a shoe company that makes returns and exchanges as easy as Rothy's does and I really appreciate it.
Literally, all I did was put in a request for a return on their site, walk to my local FedEx, and hand the guy behind the counter the shoes without a box or anything.
Rothy's calls this their "Happy Returns," where you don't need to print out any packing slips or use the original packaging.
All you have to bring is the shoes and a QR code on your phone that confirms the exchange or return.
It was a stark comparison to a pair of Merrell Moab 2 hiking boots that I purchased at a similar time as my Rothy's and that I had to return for the next size up.
Merrell is still clearly in the early '00s with their return policy.
They not only made me print out a packing slip and buy a box that I could return the shoes in (because I couldn't just send them in the shoebox they came in), they also charged me a fee to return the shoes.
Rothy's returns and exchanges, on the other hand, were so unbelievably convenient. I'm hoping other companies start doing better with this soon too.
Machine Washable
One of the more unique aspects of Rothy's is that they're washable.
Although this is becoming a more common thing for sneakers, like Allbirds Tree Runners and Allbirds Wool Runners, I haven't come across this very often for flats and nicer shoes.
Rothy's are easy to put in the washing machine when they need to be freshened up a bit.
This is especially good because they can stain easily and start to smell after a while (more on that in the cons section).
And because they're washable, this also means they're waterproof!
Not in the sense that they keep your feet dry, they're still flats, but this means that water won't ruin them like it might for leather flats.
If you get caught in the rain while you're wearing Rothy's, all you have to do is throw them in the washing machine when you get home or simply let them air dry.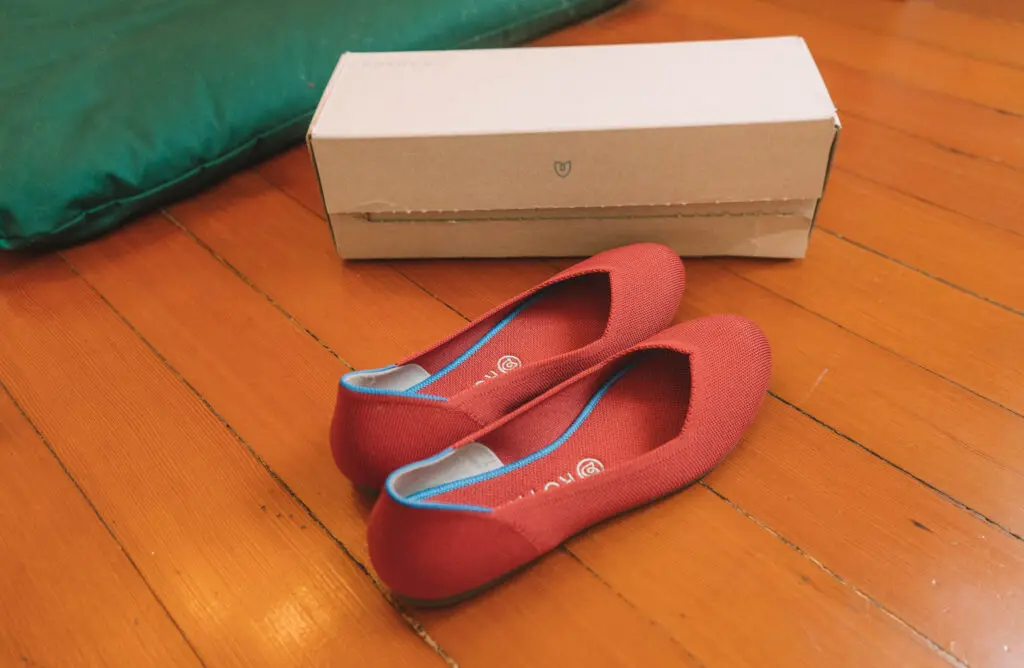 Cons
Although there are clearly a lot of things I love about Rothy's, there are some things that are not so great about these shoes.
These are my top cons for Rothy's as a whole.
Cost
Probably the biggest hindrance to Rothy's is the cost of their shoes. They're not quite designer shoes but they come at a somewhat hefty price tag of $125-$165.
This might seem like a lot for a pair of flats, but, as I say in all of my shoe reviews, I always look at a quick cost-benefit analysis.
I break down how much I think I'll wear them and how long they should last and compare that to the price.
So, if I wear these shoes 1x per week for 3 years that comes out to $0.80 per wear for $125 shoes, which isn't too bad.
They Stain Easily
Another aspect that I'm not a huge fan of is how easily they stain.
This is specifically for the mesh material that is on the majority of Rothy's flats, as well as their loafers, sneakers, and Chelsea boots.
In terms of my own Rothy's, I've already noticed a small black smudge on one of my flats after a few months of wear. I've tried putting a little water on it but I haven't been able to get it out yet.
I haven't tried putting mine in the washing machine yet but I've heard that dirt and grass stains don't always come out in the wash.
And, just in general, the material that's used for Rothy's seems to pick up stains a lot easier than my Tieks or Birdies do.
With this in mind, if you're worried about staining, I'd recommend going for a darker color where you won't notice smudges as much.
They Can Get Smelly
I haven't experienced this myself yet but I read a lot of Rothy's reviews before I purchased a pair myself and one consistent con that I came across is that the shoes can get smelly.
Not everyone experiences this with Rothy's but if you're prone to smelly or sweaty feet, it seems like the materials of the shoes can sometimes give off a slightly pungent smell.
Luckily, once you wash them it seems like the smell goes away pretty easily.
Another way to combat smelly Rothy's is to wear them with no-show socks for a little extra odor protection.
Other Rothy's Shoes Styles
Rothy's has expanded their shoe line a lot from just their original work flats, here are a few more options to check out.
The Point
The Point is Rothy's signature pointed toe flat. These are a little fancier and more of a statement piece than the traditional Rothy's flats.
The pointed toe look isn't for everyone, but these can be ideal work flats that are versatile enough to pair with slacks or dresses.
The only downside to these compared to the rounded toe flats is that there isn't as much room in the toe box. This just means your toes might feel a little more crowded than they would for the regular flats.
The Square
The Square is very similar to The Flat and The Point, just with a square end as opposed to pointed or rounded.
Again, it just depends on your personal style and what type of look you like best.
The Loafer
Loafers or "slipper flats" have started to gain traction in the past year or so, especially since 2020 and that cozy work from home life became more of a thing.
Rothy's loafers are more covered than their three styles of flats. So if you're looking for a cozy loafer look for your shoes, this is a good option.
With that said, if you're interested in loafers, I actually prefer Birdies loafers over the Rothy's version.
The Sneaker
Rothy's sneakers are slip-on shoes that are perfect for a more casual or sporty outfit.
They're not quite as easy to dress up as Rothy's flats or loafers but they're ideal as a kick-around shoe for backyard summer hangouts or exploring a new city.
This is basically Rothy's take on the classic Vans slip-ons or the Allbirds Tree Loungers and Allbirds Wool Loungers.
With that said, if you're looking for a cozier shoe, I'd recommend the Allbirds versions since they're so freakin' cozy with the way they use merino wool.
The Chelsea
Rothy's take on the Chelsea boot is refreshing and unique. They don't even offer it in the classic black color.
Rothy's version comes off as a sportier and more eco-friendly shoe with Rothy's signature mesh material compared to the usual Chelsea style.
There are also a number of fun colors and patterns they have on offer with The Chelsea.
The Merino Styles
Merino wool has become a huge deal in the past five years with a lot of shoe companies, such as Allbirds or Baabuk, using merino wool as a signature material.
And that's for good reason. Merino wool is one of the coziest materials you can use in a shoe.
As a longtime Allbirds wearer, I can attest to just how comfortable it can be on your feet.
This is why it's exciting that Rothy's has released their own version of merino shoes.
They now offer the following styles in merino wool: ankle boot, flat, loafer, mary jane, point, sneaker, and square flat.
The Bubble Slide
The Bubble Slide is one of Rothy's trendiest shoes right now.
I've been seeing it a lot on Instagram and it's been mentioned quite a bit on the Girl's Night In newsletter (which is a fun newsletter to join if you're not already subscribed).
These are the ultimate summer slides that take literally no work to put on.
You just slip them on and you're ready to go for those easy summer days, whether you're at the pool or walking around town.
More Rothy's Styles
There are a lot of Rothy's shoe styles, here is the full list of the other styles offered by the company.
Rothy's Sizing Tips, Fit & How They Should Feel
How Does Rothy's Shoes Sizing Work? Should I Size Up or Down for Rothy's?
Rothy's claims their shoes are true to size, which I think is mostly right with some caveats for different styles. It also helps that they offer half sizes in most Rothy's styles for a better fit.
In terms of my personal experience with Rothy's flats sizing, I'm usually between a size 9.5 and a 10 (unfortunately, I have one foot that's almost a half size difference in length than my other one).
I tried Rothy's flats in a size 9.5 first and found them to be too small so I exchanged them for a size 10, which was the perfect fit.
And from reading a bunch of other Rothy's reviews for a variety of different styles for both women and men, it seems like Rothy's shoes can run a ½ size too small for a good chunk of customers.
So if you're unsure of which size to get or you're in between sizes, I'd recommend sizing a ½ size up. If you have wide feet, you should also order a half size up for most styles.
Otherwise, what I usually like to do is order two sizes at once, try them both on at home, and then send back the one that doesn't fit as well.
With Rothy's quick and easy return policy, this is super convenient to do (at least if you live in the US).
Do Rothy's Stretch?
No. Rothy's shoes are notorious for not being very stretchy, which is why it's so important that they fit well out of the box.
Are Rothy's Comfortable?
Yes! I find Rothy's to be incredibly soft and comfortable flats. The only thing that might be lacking in their comfort factor is a cushioned heel since they're fairly close to the ground.
With that said, I have flat and narrow feet and they provide just the right amount of comfort that I'm looking for in flats (which are usually not known for being supportive).
How Long Does it Take to Break in Your Rothy's?
This was unusual for me but I actually didn't need to break in my Rothy's flats at all. They were very comfortable from my first few wears.
With that said, it's important to make sure your Rothy's fit right and that they're not too tight or too loose because that's when you get blisters.
I ordered a size 9.5 for my first pair of Rothy's and they were slightly too tight, especially around my heel.
I returned those once I realized how uncomfortable they felt after my first couple of wears around the house and found size 10 to be the perfect fit.
Once I wore my 10s, I didn't need any kind of breaking in. They felt comfortable from my first time wearing them.
How Should Rothy's Fit When I Try Them on?
Rothy's shoes should fit snugly when you try them on but they shouldn't be too tight.
Since the material used in Rothy's shoes doesn't stretch, making sure they're not too tight is important.
At the same time, you shouldn't be slipping around in them, especially for Rothy's flats, because they will likely cause blisters if they're slightly too big.
Do Rothy's Provide Enough Support?
Although Rothy's feel fine to me if I'm wearing them the whole day, they're still flats and therefore not the most supportive for your feet.
If you're someone who needs more of a cushioned insole, Rothy's shoes probably aren't for you since they're very low to the ground.
I've found Birdies shoes to have much better support and cushion for your feet, so it just depends on how much support you think you'll need.
You can also always buy some insoles to put into your Rothy's if need be since Rothy's insoles are removable.
Are Rothy's Good For High Arches?
I don't think Rothy's would have the best support for high arches since the insole is so low to the ground and they don't provide a lot of arch support.
Again, I would recommend going with Birdies shoes instead if you're looking for more support or buying insoles to put into your Rothy's.
Are Rothy's Good for Wide Feet?
I'll be honest, Rothy's flats aren't the best for wide feet.
They have a very narrow insole and the edges of your feet will likely hang over the sides a bit if you have wide feet.
You can try ordering a half size up to see how that fits, otherwise, The Sneaker style would be the best for wide feet.
Their other styles still run on the narrow side so you'd have to order a ½ size up for those to see if they'd fit.
If you're interested in the loafer style, you're better off going with Birdies loafers which are better for wide feet.
And if you're interested in the Chelsea boot style, I'd recommend Thursday Boots over Rothy's for wide feet.
Can You Wear Rothy's With Plantar Fasciitis?
Similar to what I said above, I wouldn't recommend Rothy's for someone who needs another level of support and that's especially the case if you have Plantar Fasciitis.
If you have Plantar Fasciitis, I would only recommend getting a pair of Rothy's if you're willing to invest in a good quality pair of insoles for more heel support.
Can You Wear Rothy's With Bunions?
It might be hard to wear Rothy's flats with bunions since the fit of the shoe is on the narrow side and their material doesn't stretch.
Instead, I'd recommend one of their other styles like their Sneakers or their Lace Ups.
If you're looking for flats that work well with bunions, you should go for Tieks shoes instead for slightly more flexibility on the sides of your feet.
Choosing the Right Rothy's Color and Style For You
How to Choose the Best Color and Style of Rothy's
There are a ton of options when it comes to different styles and colors of Rothy's, so how do you choose?
First, you should figure out why you want a pair of Rothy's.
Are you needing new work shoes? Maybe a statement pair of flats for that next dinner party or date night?
Or maybe you're just looking for an everyday pair of shoes that can go with pretty much anything.
Think about how often you'll likely wear your Rothy's and with which outfits and then you can get a better idea of which style and color to go for.
And although Rothy's has a lot of styles, I'd recommend going for one of their three signature flats (The Flat, The Point, or The Square) because it's what they do the best and it's their signature style of shoe.
Otherwise, you can go for one of their styles of slides (like The Bubble Slide), which are becoming a trendy alternative to their flats.
Rothy's most popular colors are the more neutral ones that go with pretty much everything, like black, grey, navy, and white.
However, their chili red and scooter red are popular options for those who are looking for more of a color pop.
They also have a number of patterned colors as well for those looking for extra oomph and a unique flavor.
Since these shoes aren't cheap, you'll probably want to get a color that you can wear with a lot of different pieces in your wardrobe.
My best advice is to do a quick look at which colors you have most in your closet and get out the old color wheel (if needed) to figure out the best complimentary colors for what you already have.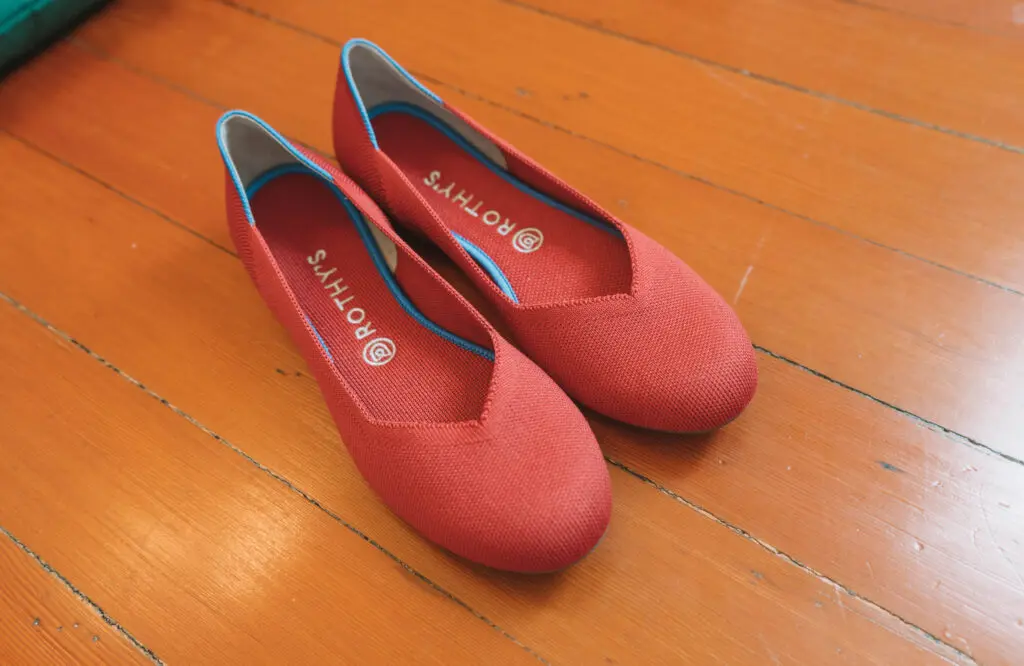 What are the Most Popular Rothy's Colors?
These are the most popular Rothy's colors:
Black Solid (The Point, The Flat, The Sneaker, The Loafer)
You can see the full list of the best-selling Rothy's here.
Rothy's Versatility and How to Style Your Rothy's
How to Style Your Rothy's
It depends on which color and style of Rothy's you purchase, but, in general, their shoes can be very versatile.
For instance, my red Rothy's flats go with almost everything I have in my wardrobe.
You can dress them up or down with anything from jeans, to work clothes, to dresses for a nice night out on the town.
I especially love to wear my ruby red flats with black and darker or neutral colors for that fashionable pop of color on my feet.
Do You Wear Socks With Rothy's Flats?
Yes, you can definitely wear socks with your Rothy's.
Wearing socks can also keep your feet from sweating and the shoes from starting to smell, which is a common complaint with Rothy's.
I'd recommend buying a pair of no-show socks that work well with flats, like these ones.
How Packable are Rothy's?
Although Rothy's doesn't offer foldable flats, their flats are still very lightweight and easy to pack.
Just make sure you cover them with something if you're packing them with other shoes since they stain easily and you don't want dirt rubbing off on them.
Are Rothy's Good Travel Flats?
Yes, Rothy's are good travel flats for the above reasons. I'm excited to take them on some upcoming trips once I start traveling more again.
Rothy's Durability
How is the Quality of Rothy's?
You wouldn't expect shoes made from plastic water bottles to be all that durable, but from what I've read and seen from my own Rothy's, they're shoes that seem to last for a long time.
The structure of Rothy's shoes is sturdy and well-built and they feel like they're worth the cost in terms of the quality – something that's hard to come by sometimes with women's shoes.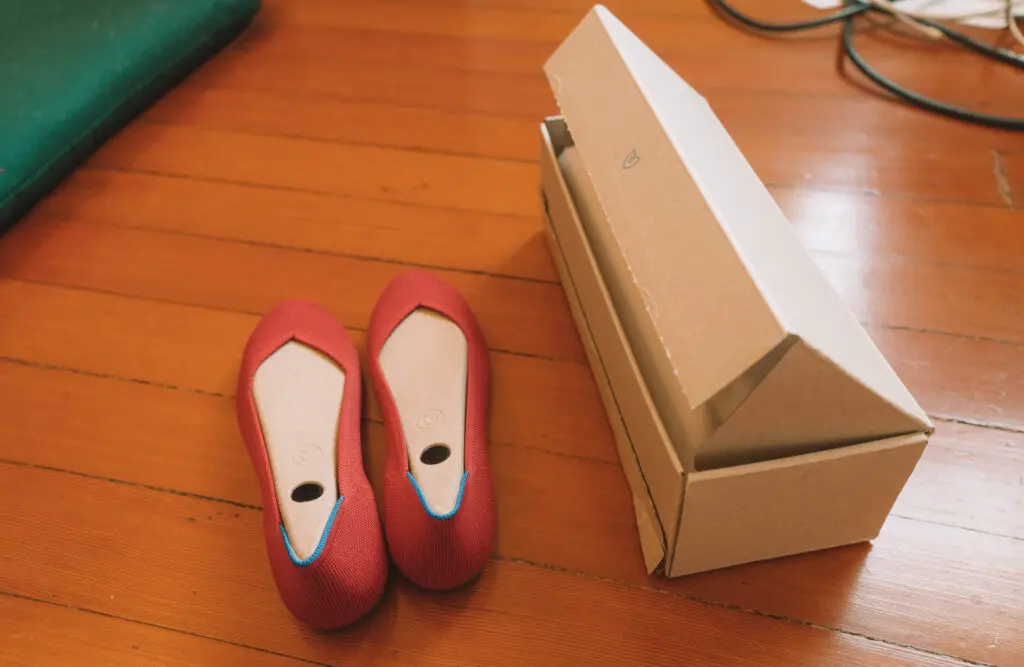 Are Rothy's Waterproof?
Rothy's won't keep your feet dry since they're made from mesh materials and they're flats, but they also won't get ruined in water so I would call them waterproof shoes.
In fact, Rothy's are machine washable so they're meant to be submerged in water and then just air dried.
How Long do Rothy's Last?
I've had my Rothy's for less than a year so I can't give a specific first-hand timeframe.
However, from what I've read in other's reviews, it seems like Rothy's last for at least a few years (if not more) if you wear them 1-3x per week.
Of course, it also depends on how often you plan to wear them per week, how long you wear them each time, and how well you take care of them.
How to Wash Rothy's
Rothy's are machine washable flats so the easiest way to wash them is to simply take out the insoles and throw them in the wash.
Make sure to wash them in cold water on the delicate setting and just use a touch of mild detergent.
Depending on which style of Rothy's you purchase, there can be slightly different and more specific guidelines for washing your shoes. Here's the full article on washing Rothy's by style.
How to Take Care of Rothy's
These are the main tips for taking care of your Rothy's
Rothy's don't like heat – never put them in the dryer or near the heater and try to avoid wearing them in extreme heat.
Only wash them as needed if they start to smell or if you're trying to get out a stain
Protect them from dirt and staining as much as possible – wrap them in a protective cover if you're traveling with them and try to avoid walking through loose dirt, wet grass, or other things that could easily stain them.
Replace the insoles from time to time as they start to wear out – you can purchase replacements here.
Rothy's Return & Exchange Policy
Rothy's has one of the easiest return and exchange processes that I've come across.
They utilize Happy Returns, which means you only have to bring your shoes and a QR code to one of the 2,600 Happy Returns drop-off locations in the US to return or exchange your shoes.
When I returned one pair of Rothy's to purchase a different pair, all I did was go to my local FedEx down the street and have them scan my QR code.
They took the loose shoes and put them in a plastic bag to be returned in and I was done. It was that easy.
Alternatively, if you live near a physical Rothy's store, you can go in person and just drop them off at the store.
However, you'll need to put them in the original packaging to drop them off in person.
For Rothy's returns, you have a 30-day window from the date of purchase to return or exchange your unused and unwashed pair of Rothy's.
Basically, as long as you don't wear them outside, they should be fine to return or exchange within that 30-day window.
You can start a new return or exchange here.
One thing to note is that Rothy's doesn't offer international shipping options, so they also don't have any options for returns or exchanges outside of the US.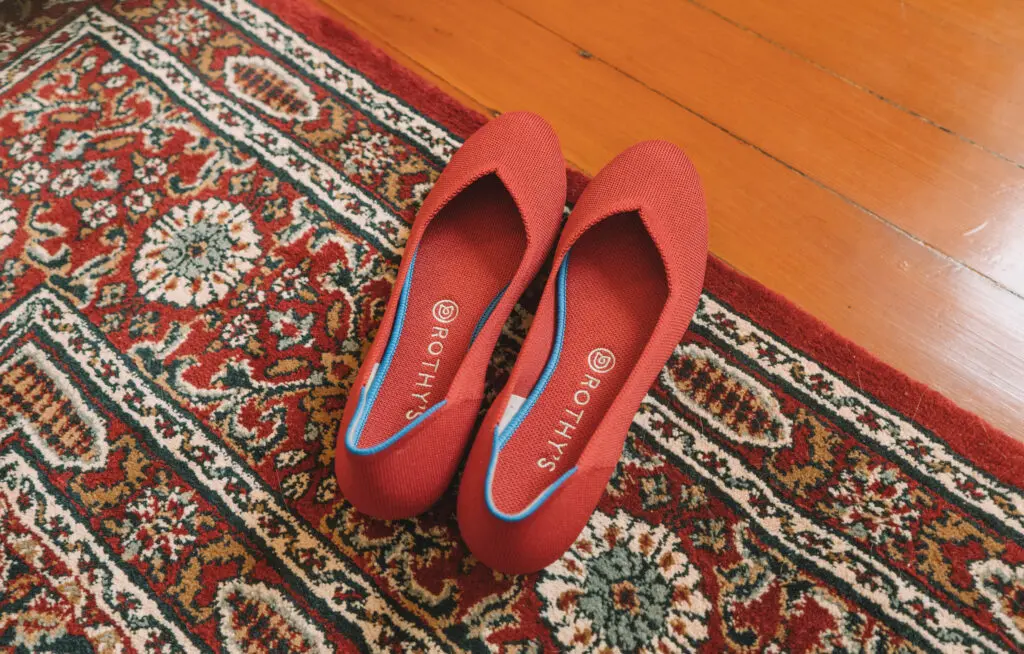 Rothy's Discounts & Coupons
Do Rothy's ever go on sale? Yes and no.
Although there aren't many annual sales or Rothy's promo codes floating around, Rothy's has a discount program for certain groups of people, as well as a strong referral program.
If you're a teacher, first responder, or medical professional, you could be eligible for select pairs of discounted Rothy's that are 20% off.
You can learn more about Rothy's discount program here.
For their referral program, if you refer a friend and they purchase their first pair of Rothy's, they get $20 off their pair and you get $20 off the next pair of Rothy's you purchase.
You can learn more about their referral program here.
Where to Buy Rothy's
The easiest place to purchase Rothy's is through their website.
With their fast shipping (within the US) and easy returns, it's super easy to order a pair or two to try on in the comfort of your own home.
Plus, their online store is where you'll get the most options for styles and colors.
The only other place to find Rothy's shoes is at physical Rothy's stores.
Rothy's has a few small retail stores around the US now, including in San Francisco, Washington DC, Boston, New York City, Los Angeles, and Chicago.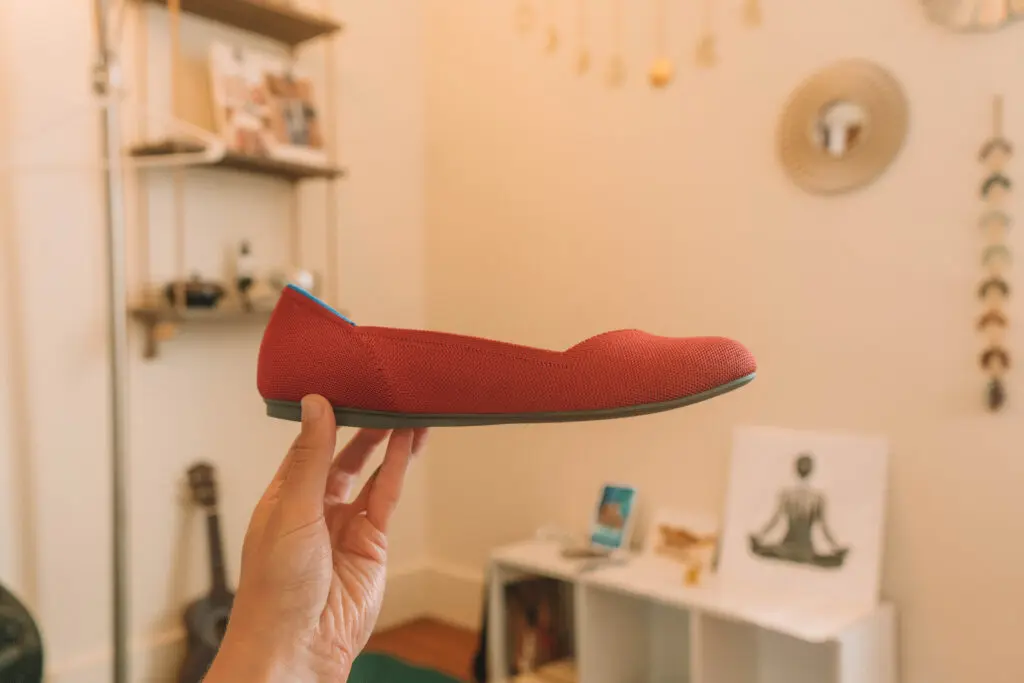 FAQs About Rothy's
What are Rothy's Shoes Made of?
It depends on the style, but Rothy's shoes are primarily made from single-use plastic water bottles that are broken down into flakes and small pellets of plastic.
These are then made into spools of thread that are dyed and 3D knit into every pair of shoes.
There are a variety of other renewable materials used in different styles as well, everything from merino wool to vegan leather.
Where are Rothy's Shoes Made?
Rothy's shoes are designed in San Francisco and made in Dongguan, China. You can learn more about the Rothy's manufacturing process here.
Are Rothy's Really Washable?
Yes, Rothy's are really washable. Just throw them in your washing machine on the delicate cycle without the insoles and let them air dry. And voila! You'll have freshly washed Rothy's.
Why are They Called Rothy's?
It's a mix of the two co-founders' names – Roth Martin and Stephen Hawthornthwaite (whose nickname is "Hawthy").
They put "Roth" and "Hawthy" together and came up with "Rothy's."
Why are Rothy's so Expensive?
Rothy's are on the expensive side because of the quality of the shoes and what goes into putting together each pair.
From using eco-friendly materials to using 3D knitting to cut down on waste, to finishing each shoe by hand, there's a lot that goes into each pair of Rothy's.
Do Rothy's Get Smelly?
Yes, Rothy's can get smelly if you're prone to sweaty or smelly feet.
If you tend to get sweaty feet, I'd recommend wearing no-show socks with your Rothy's to cut down on the smell and wash your shoes as much as needed.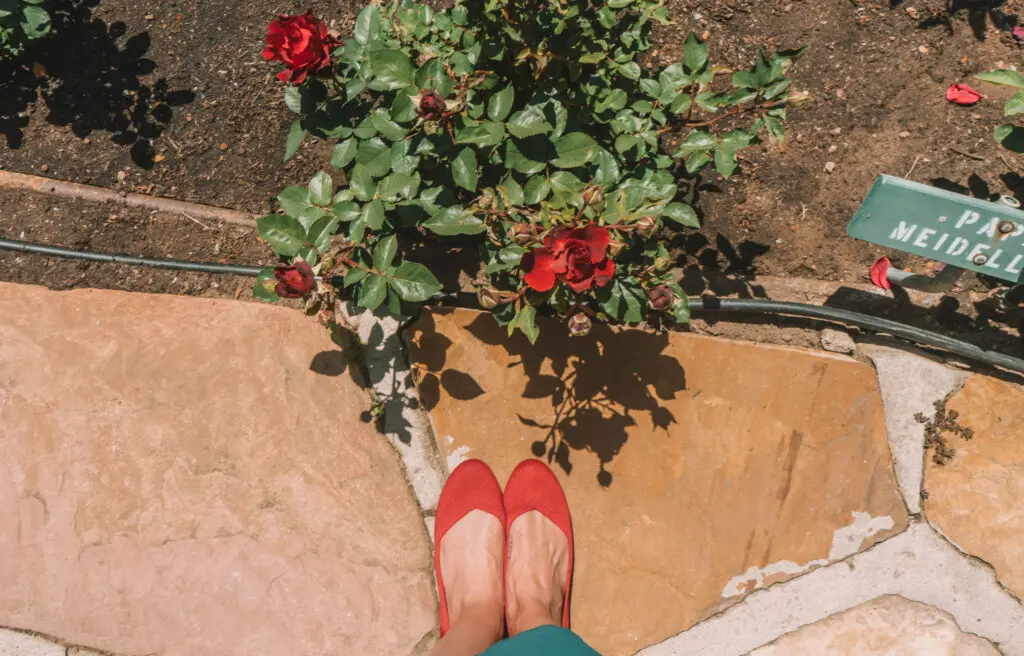 Rothy's Review: So, are Rothy's Worth the Cost?
Yes, as you can probably tell from this Rothy's review, I've been impressed with my Rothy's so far and would recommend them to anyone who's looking for a quality and comfy pair of flats.
I've had my Rothy's for a good handful of months now and I can already say that they're some of the best flats I've owned.
I love how versatile and comfortable they are, while still being stylish and packable for travel.
I also love that they're shoes made from recycled plastic and sustainable materials and overall an eco-friendly brand. The fact that they're machine washable doesn't hurt either.
All of these things combine to make Rothy's very much worth the cost in terms of what I'm looking for in a pair of flats.