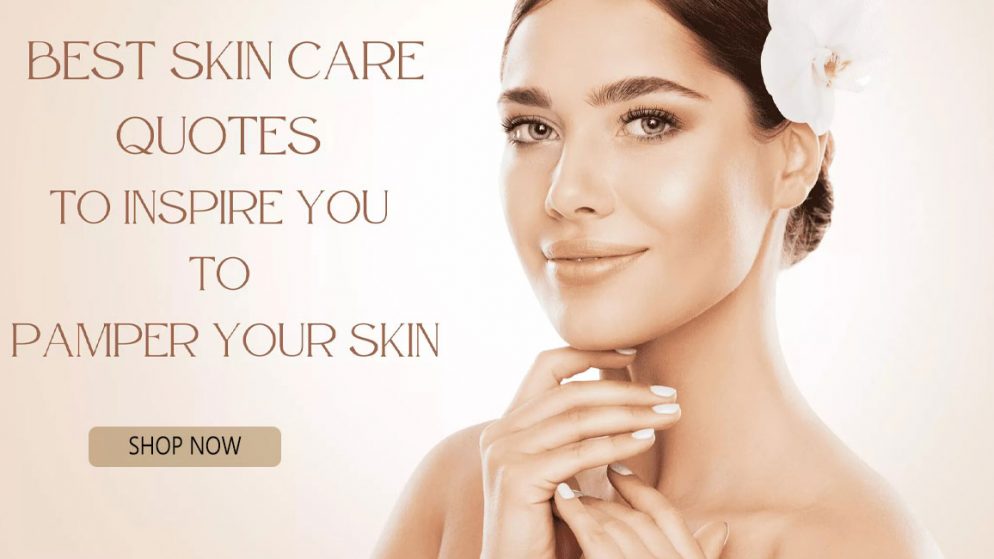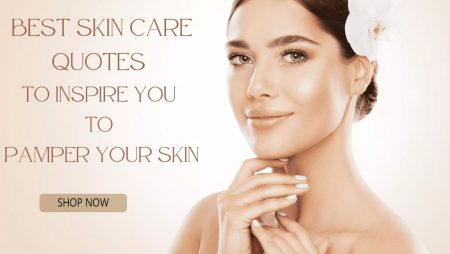 Our content is reader-supported. If you click on our links, we may earn a commission.
Musely enables dermatologists and pharmacists to deliver medical treatments for both skin conditions and skincare online through telemedicine technology. Read more about Musely Reviews here.
In This Review
Overview Manufacturer Collection Treatment Process Working Ingredients Pros Cons FAQ's Final Verdict
What is Musely?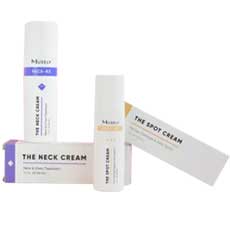 Musely is an online skincare consulting platform run by skincare specialists and medical doctors.
It allows pharmacists and dermatologists to offer specialized medical treatment to people with various skin concerns using telemedicine technology.
Musely skincare consulting platform as its various goods such as Musely Spot Cream, Musely Spot Rx, Musely Face Rx, and Musely Melasma.
This online dermatology treatment clinic claims to treat skin problems ranging from dark spots, acne scars, droopy eyes, large pores, fine lines, to stubborn wrinkles.
Therefore, Musely Skin Care products are uniquely customized to support each other, and that why they are supposedly effective.
Who is the Manufacturer of Musely?
Musely's line of products is all manufactured by the company itself.
The brand supposedly has professionals who decide what ingredients go into what formula to ensure they only come up with result-oriented products.
This brand is driven by a group of qualified dermatologists.
According to the Musely Reviews: What is Musely's Best-Selling Product Collection?
Musely best-selling collections are:
Musely Spot Cream
Musely Neck and Chest Cream
Musely Skin Regeneration Set
Musely Day Cream
Musely Cleanser
Musely Face Rx Treatment Process
Musely is the remedy to all of your skincare woes. If you're concerned about wrinkles or dark spots, Face RX provides an easy and inexpensive solution.
Face-Rx is designed to fix the following skin issues. It contains the following items:
Face
Wrinkles
Pores size
Texture
Fine Lines
Dull Skin
Droopy Eyelids
Melasma
Sun/Age spots
Acne scars
Neck & Chest
Crepey skin
Dark spots
Musely Face Rx Products for Treatments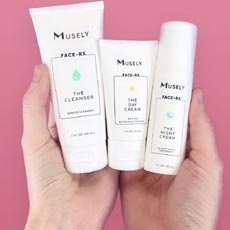 1. Skin Regeneration Set
The Skin Regeneration Set costs $82 for two months, plus a $20 one-time doctor visit. Wrinkles, skin tone, dark spots, and pore size are all handled with this formula. This package contains the following items:
a) The Night Cream (30ml)
Dermatologists developed this tretinoin prescription cream to treat noticeable symptoms of aging.
Hyaluronic Acid and Niacinamide are used to help brighten and hydrate the skin.
The Night Cream is available in three different strengths to suit your skin type:
The Gentle Formula contains 0.025 percent tretinoin and is intended for those who are new to tretinoin and have more sensitive skin.
The Healthy Formula has a concentration of 0.05 percent and is formulated for people with normal skin and low sensitivity.
The Veteran Formulation has a concentration of 0.1 percent and is intended for people who have a high tolerance for prescription skincare
Ingredients – Tretinoin, Niacinamide, and Hyaluronic Acid are active ingredients.
How to use it? – Apply a pea-sized (1 full pump) of The Night Cream to your palm after washing your face and gently rub it into the skin. Apply your favorite oil-free moisturizer afterward.
b) The Day Cream (30ml)
The Day Cream has an SPF of 50 and is a moisturizing mineral sunscreen. The dermatologist-recommended defense against the sun's harmful UV rays is titanium dioxide and zinc oxide, which are contained in this clinical-grade SPF.
Ingredients – Titanium Dioxide 5%, Zinc Oxide 7% are the active ingredients.
Inactive ingredients – Water, Caprylic Capric Triglycerides, C12-C15 Alkyl Benzoate, Dicaprylyl ether, Glycerin, Propanediol, Phenoxyethanol, Benzoic Acid, Ethylhexylglycerin, Glycereth-2 Cocoate, Isostearic Acid, Polyhydroxystearic Acid, Cetyl PEG/PPG-10/1 Dimethicone
How to use it? – Apply a tiny pea-sized sum to your palm after washing and moisturizing your face and gently rub it into the skin. Apply sunscreen every two hours and reapply if necessary.
c) The Cleanser (60 ml)
Deep clean pores without stripping moisture with this ultra-gentle cleanser made with skin-soothing ingredients like cucumber and kiwi.
Ingredients – Water, Sodium Methyl Cocoyl Taurate, Sodium Coco-Sulfate, Sodium Chloride, Cocamidopropyl Betaine, Sodium, Cocoyl Glutamate, Phenoxyethanol, Benzoic Acid, Ethylhexylglycerin, Glycereth-2 Cocoate, Citric Acid, Citrus paradisi (Grapefruit) Oil, Guar Hydroxypropyltrimonium Chloride, Polysorbate 20, Behetrimonium Chloride, Sorbitol, Caffeine, Camellia sinensis (Green Tea) Leaf Extract, Cucumis Sativus (Cucumber) Fruit Extract (and) Zingiber Officinale (Ginger) Root Extract (and) Carum Petroselinum (Parsley) Extract (and) Actinidia Chinensis (Kiwi) Extract (and) Spinacia Oleracea (and) Pyrus Malus (Apple) Fruit Extract (and) Brassica Oleracea Acephala Leaf Extract
How to use it? – Apply a dime-sized amount to your palm and gently massage it into your skin after wetting your face. Towel dry after rinsing with warm water.
Apply a dime-sized amount to your palm and gently massage it into your skin after wetting your face. Towel dry after rinsing with warm water.
eNurse
You can personalize your appointment, monitor your progress on a regular basis, and ask your dermatologist questions using eNurse.
2. The Spot Cream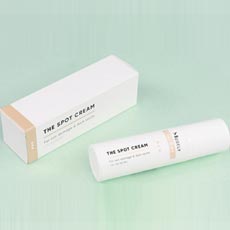 The package costs $60 for two months and requires a one-time $20 consultant appointment. Melasma, sun/age spots, and wrinkles are all handled with this medication.
This cream contains hydroquinone and other wonderful skincare ingredients that help to lighten the skin and blur dark spots.
The product is fantastic, which is why you can buy it. To learn more about it, read our impartial analysis.
The Spot Cream works by preventing the production of melanin in your skin, which creates dark spots.
This cream is available in four different varieties, each with its own set of dynamic fixings:
Erase (Pigments & melasma)
Hydroquinone 12%
Kojic Acid 6%
Niacinamide 2%
Hydrocortisone 1%
Nurture (Skin upkeep)
Hydroquinone 6%
Vitamin C 1%
Niacinamide 2%
HQ Free+ (No Hydroquinone)
Tranexamic Acid 6%
Azelaic Acid 10%
Kojic Acid 6%
Niacinamide 2%
M+ (Stubborn spots)
Hydroquinone 12%
Tretinoin 0.05%
Kojic Acid 6%
Niacinamide 2%
Hydrocortisone 2.5% (for Initial 2-month only)
3. The Neck Cream (50ml)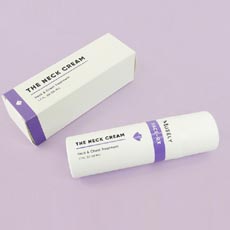 $86 for two months, plus a one-time $20 consultant visit.
It is used to prevent aging, dark spots, and wrinkles on the neck and chest.
It's filled with skincare ingredients that work wonders on a woman's body.
This cream is available in two different varieties, each with its own set of dynamic fixings:
One review says, "My neck has always been one of my problem areas and have tried a various amount of products but when I used Musely's neck cream, it worked its magic and I am so happy that I found something works!"
Another review says, "I am so happy I gave this a try and it's so much cheaper than what I used to get from my dermatologist. My skin looks great and it's only going to get better. I might even wear a v-neck t-shirt this summer."
Neck (Smooth Wrinkles)
Tretinoin .025%
Niacinamide 2%
Hyaluronic Acid 1%
Chest (Remove Dark Spots)
Tretinoin .01%
Hydroquinone 8%
Niacinamide 2%
Hyaluronic Acid .5%
How Does Musely Face Rx Work?
Before you begin Musely treatment, a dermatologist will have to assess your skin condition. To enable the doctor to do that, you have required to upload a photo showing the affected skin along with your skincare history. You will also give information about your goals and if you have had any short-term or chronic skin issues.
Your online dermatologist will do a review using this information to help him understand your actual skin problem. This is what will help him or her to come up with a personalized skincare treatment plan that will suit your needs.
The treatment will include a 60 days consultation with the following skincare orders: first order, five refills, and free access to eNurse.
Musely Ingredients — Are they Safe & Effective?
Musely ingredients are supposedly effective and safe. Also, from Musely Reviews, there are no adverse side effects mentioned by users, which suggests that they are safe.
The active ingredients in Musely products include:
Hydroquinone – This ingredient breaks down melanosomes that exist in the pigmented skin cells. They say the breaking down of these cells to reduce dark spots that form on the skin.
According to Start Pearls, hydroquinone lightens the skin and is one of the effective ingredients used in melasma treatment.
Hyaluronic Acid – It is also known by the acronym HA, and it says to protect the skin from forming wrinkles and fine lines. It also prevents the skin from losing its moisture, making it moist throughout. This ensures that the skin is always hydrated.
The Journal of Clinical and Aesthetic Dermatology says that HA is rich in essential properties that help the skin hold significant skin moisture.
Tretinoin – The ingredient may help the production of collagen, which maintains skin firmness and elasticity. It also claims to increases the turnover of skin cells.
The Clinical Intervention in Aging says that tretinoin works to improve the acne scar treatment and its efficiency and stability. It further notes that the ingredient supports the production of new collagen that reduces the due aging process.
Niacinamide – It is also called vitamin B3 and serves a variety of functions like preventing the appearance of fine lines and wrinkles. It also claims to support the production of ceramide to help the skin hydrated and reduce age stop.
PubMed.gov claims the Niacinamide reduces wrinkles and fine lines, skin hyperpigmentation, and blotches on the skin.
Octasalate – This ingredient handles the production of skincare products that protect the skin from UV rays. According to Toxicology Reports, it uses octasalate in the development of sunscreen products.
What are the Pros of Musely Face RX?
Users get a personalized treatment that targets their actual skin problem
According to the Musely Reviews, Musely spot cream could eliminate wrinkles and lines.
You will have access to Musely eNurse that will help you know the progress of your treatment
There is a dermatologist available for any queries you may have during your treatment journey
No visiting the doctor or lining up at the pharmacist. You can do online every procedure to ensure convenience.
What are the Cons of Musely Face RX?
The products are available upon doctor's approval
There is a doctor's visit fee
As per some Musely Reviews, you may have skin chemical side effects to one of the Musely face Rx ingredients.
Complete the treatment plan to see results
You might find the treatment pricy
Musely FAQ's
Q: How Should You Use Musely Face RX?
A: Musely products apply to the affected area of the skin after cleansing and patting it dry. After that, you can apply the prescribed amount of Musely Spot Cream by applying it on your palm and then run it on the skin. When doing this, ensure that you avoid the medication from touching the areas around the eyes and lips.
Q: How Much Does Musely Cost?
A: The costs of Musely products are:
The Skin Regeneration Set – $41.00
The Dark spot cream – $30.00
The Neck Cream – $43.00
Q: How much does the Musely's doctor fee cost?
A: Musely doctors create a customized skincare formula for each patient and charge only $20 for the consultation. The best part is that you can receive multiple treatment plans in one onetime $20 doctor visit.
Q: Is Face Rx for Women and Men?
A: According to some Musely Reviews, both of them can use. Please go to musely.com to begin your Online Doctor Visit.
Q: What is Musely Return Policy?
A: Musely Skin Care offers a 60 days return policy for its products. It includes a full refund for the entire treatment, excluding the doctor's fee and refills. The refund applies only to the initial prescription.
Q: What is Musely Skin Care Used For?
A: Musely has officially launched in November 2017 in New York City. Musely allows dermatologists and pharmacists to deliver an appropriate medical treatment for a skin condition. They have discovered telemedicine technology for Online skincare procedures.
Q: Does Musely Face Rx Offer a Free Trial?
A: You can buy other skincare products over the counter, but Musely products are available with the approval of your dermatologist. Since it is a treatment plan, there are no free trials for these products.
Q: Is Musely Expensive?
A: According to the Musely Spot Cream Reviews, if you do therapy with Face Rx Creams, it going to be affordable than going to a somewhat physician for OPD. It's going to be pricey than going to additional dermatology centers.
Q: How can I order Musely Products?
A: Please visit musely.com and select Get Treatment to place an order for the Skin Regeneration Set, Musely The Spot Cream, and/or The Neck Cream. If you are interested in over one treatment, the official website recommends ordering them to avoid multiple doctor visit fees.
Musely Reviews – Final Verdict
That Musely products focus on treating age-related skin conditions, makes them more of a medication than simple cosmetic products. Also, since their products are prescribed and not over-the-counter purchases, it makes them even more legit and effective.
Musely Face Rx believes in manufacturing products that are customized to every user. It understands that not all people have similar skin concerns or problems. So, they say there is a need for varied skincare prescriptions and treatment. That is why it offers a personalized prescription and treatment plan that suits the needs of each of its patients.
From Musely reviews, it looks like products from these brands have been able to help people overcome their skin conditions. However, if you are planning to try out Musely Spot Cream, spend some time on their website to learn more about their complete treatment plan and products.
Besides, it also requires you to wait for your treatment suggestion to be approved before you can receive your customized set of products.
As we age the composition, texture and appearance of our skin changes. Signs of skin aging include wrinkles, fine lines, loss of moisture, uneven tone, and dull, tired-looking skin. There are countless anti-wrinkle creams on the market promising to make skin look and feel younger. Many anti-wrinkle creams promise everything short of a facelift or to provide the much sought after "fountain of youth". In reality most are just moisturizers marketed as anti-aging products.
Below you'll find some of the most effective wrinkle serum/cream formulations on the market today, in our opinion.