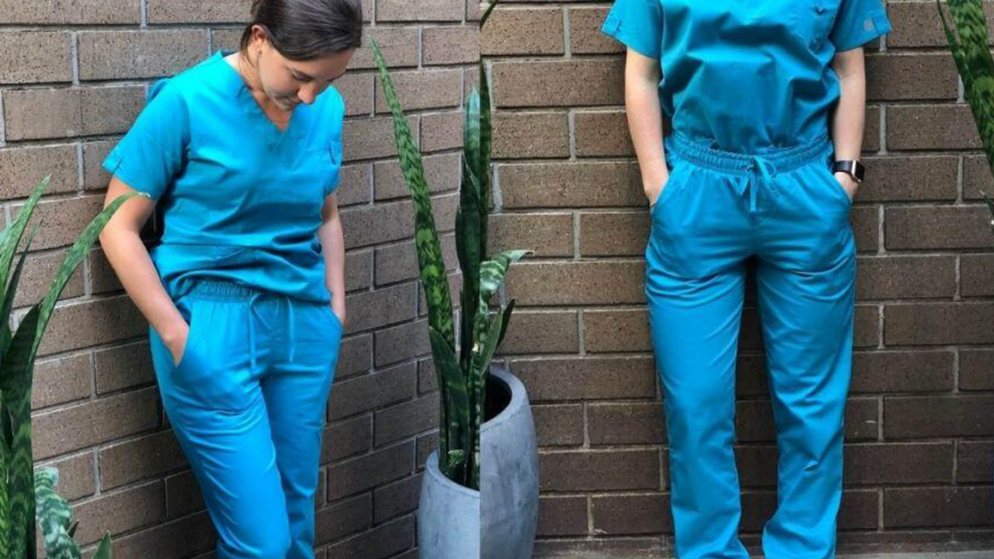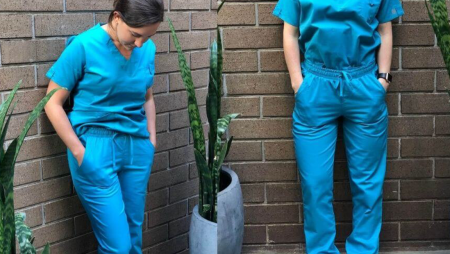 Our content is reader-supported. If you click on our links, we may earn a commission.
About Jaanuu
I've known scrubs to be one of two things: super plain and ill-fitting or covered in childish prints. For some reason, i always thought they had to be that way. Jaanuu proves differently.
Jaanuu makes contemporary medical workwear and accessories for men and women. Their line of lab coats, scrubs, masks, and accessories stands out with its trendy designs and smart and stretchy antimicrobial fabrics.
A quick google check told me that jaanuu is really on to something. The brand has been featured in popular publications like marie claire, good housekeeping, popsugar, and refinery29, while a social community of 700k makes me do a double take.
But even so, i wondered if it was really worth all the attention. If you're wondering too, this jaanuu scrubs review can help. I'll tell you everything you need to know about the brand and its best-sellers, along with customer feedback, a comparison, and more.
Overview of Jaanuu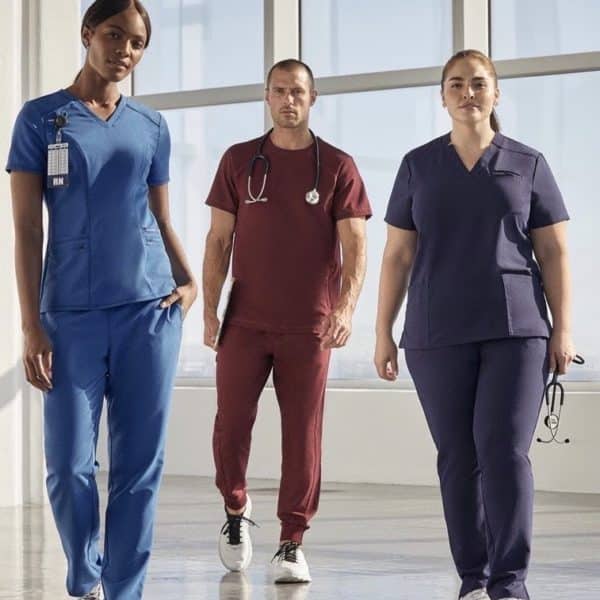 I'm a fan of a solid mission, and while i admire the basic goals medical workers have each day, i like jaanuu's too. "looking good and feeling good while doing good" is the mission of co-founder and ceo, shaan sethi and his sister, dr. Neela sethi young.
The two started jaanuu in 2013 after dr. Neela, a pediatrician, became frustrated with the standard unflattering and uncomfortable uniform worn throughout the medical world—especially hers
Banding together, both jaanuu founders sought to reinvent scrubs in a way that reflects style and function. Totally crushing it in the design department, they've since expanded into other medical gear and accessories.
Wondering about the name? The el segundo, california-based company took its name from the hindi word for life, jaan, "in reverence to all that life challenges us to face, accept and overcome."
Pros
Great range of men's & women's trendy scrubs
Affordable prices
Range of sizes for women (petite, tall, plus) and men (short, tall, extended)
Range of fits (slim, semi-fitted, relaxed)
Free 5 pack of masks on orders of $125
15% off for new customers and share & give $25 deal
Free shipping on us orders over $50 and on canada orders over $125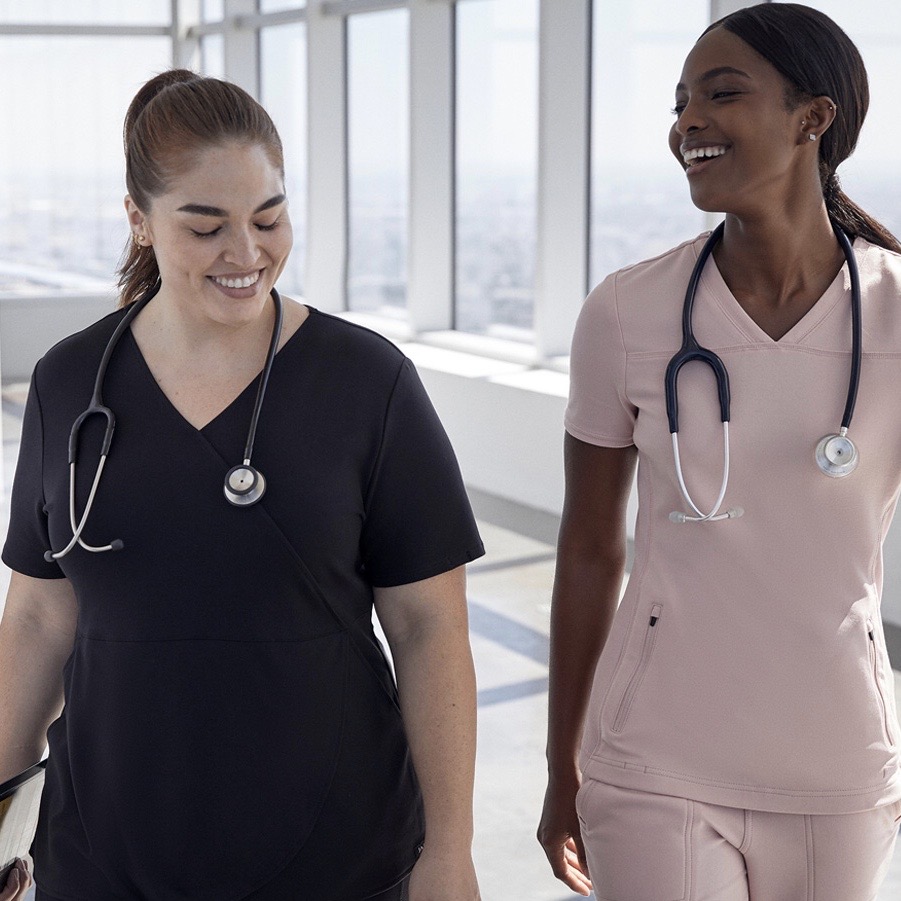 Cons
Only offers shipping to us states, puerto rico, guam, us virgin islands, and canada
Masks do not come with filter lining like their competitors
Hitting up its website, i learned that jaanuu offers more than standard scrub tops, bottoms, and jackets. Medical personnel can shop for underscrubs, compression clothing, and lab coats too. Jaanuu also designs masks, scrub caps, and a lab cart handle cover that you can also use at the grocery store.
In other words, there's a ton of thoughtful designs and pieces within its collection. While i won't take you through all of them in this jaanuu scrubs review, you will find details on some of their bestsellers below.
Jaanuu Women's 4-Pocket V-Neck Top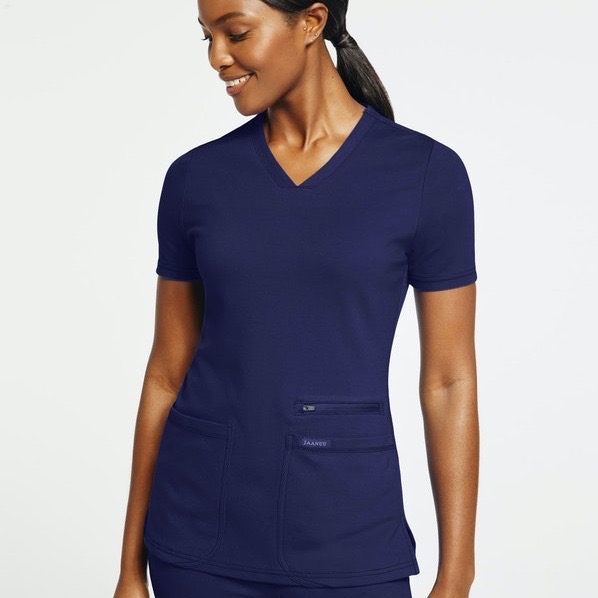 With a classic and sleek look, this jaanuu scrub top has hidden super powers: it's durable and functional too. Made from revolutionary spinryx fabric, it's extremely soft, breathable, and moisture-wicking.
To put it plainly, the women's 4-pocket v-neck is a must for your daily wardrobe. I love pockets, though i don't know a woman who doesn't. This top has 4, including:
2 large curved patch pockets
1 hidden mesh pen pocket
1 rubber tip pocket with mesh lining
Available in a variety of colors, choose between pretty hues like blushing pink and cell blue or stick to classics like black and grey. Add the women's 4-pocket v-neck to your cart for $42. If you'd like to customize your top, or tops for your employees, embroidery services are an extra $14.
Jaanuu Women's Mesh-Enhanced Jogger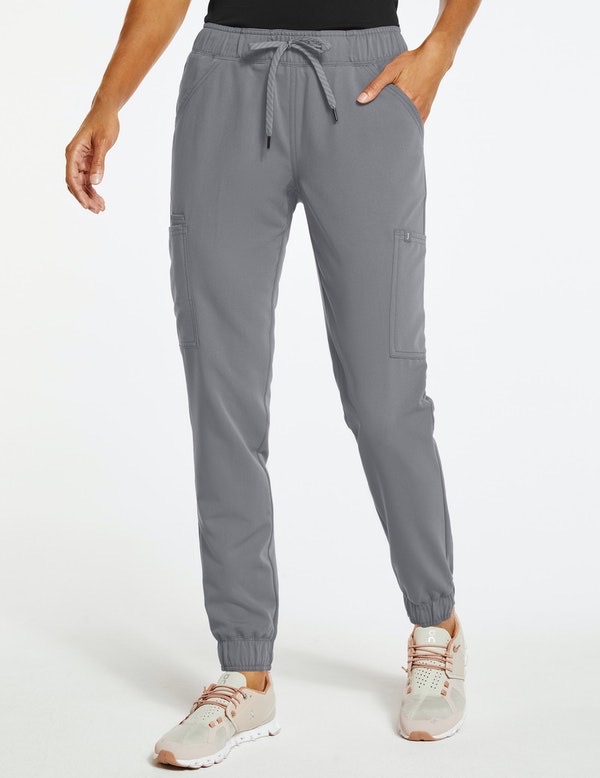 Joggers are the sophisticated version of sweat pants. I love that the design is super comfortable but has a polished look. These jaanuu scrub pants are completely on-trend.
The casual and comfortable jogger design is totally freeing and void of restricting fabric, yet still looks professional. Jaanuu women's mesh-enhanced jogger comes in the brand's 9 core colors and 2 limited edition colors. Choose caribbean blue or hunter green for a fresh look.
These women's mesh-enhanced joggers have a mid-rise drawstring waistline and are made from a woven fabric called, edgeryx™. Constructed with 4-way stretch, they're stretchy and durable to keep you comfortable in high-stress situations.
Why else do these pants make me want to consider a career in nursing? Because they're also fade resistant, wrinkle resistant, and finished with silvadur™antimicrobial technology and come equipped with 9 functional pockets.
My pocket dream come true? If you're digging the design, you can get the women's mesh-enhanced joggers for $54.
Jaanuu Men's 2-Pocket V-Neck Top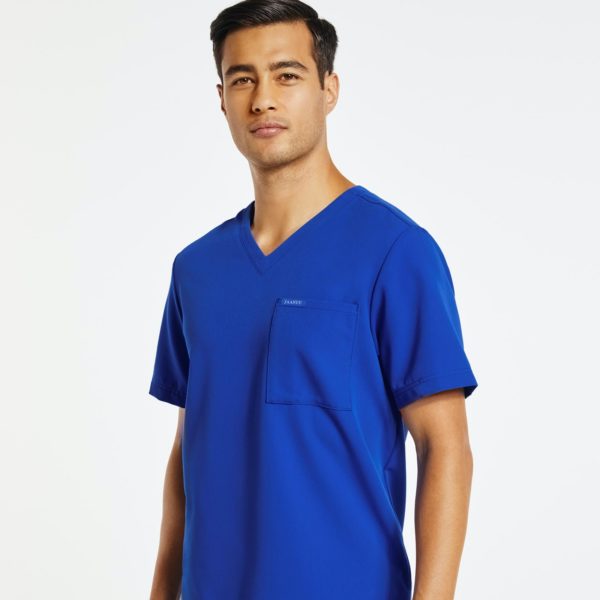 Jaanuu's men's 2-pocket v-neck top is a classic. With its relaxed fit and simple 2 pocket design, i think this top is ideal for men who just need the essentials at work like pen and a pad or a place to hold glasses.
With a classic neckline, this jaanuu v-neck scrub top promises functional performance, durability, and extreme comfort. And since it's made with edgeryx™ technology, you won't have to worry about wrinkling, fading, or hanging onto germs.
I think it's a must-have for any medical professional's closet. Get the men's 2-pocket v-neck in one of 7 core colors for $36. Add embroidery for $14.
Jaanuu Men's Drawstring Jogger Pant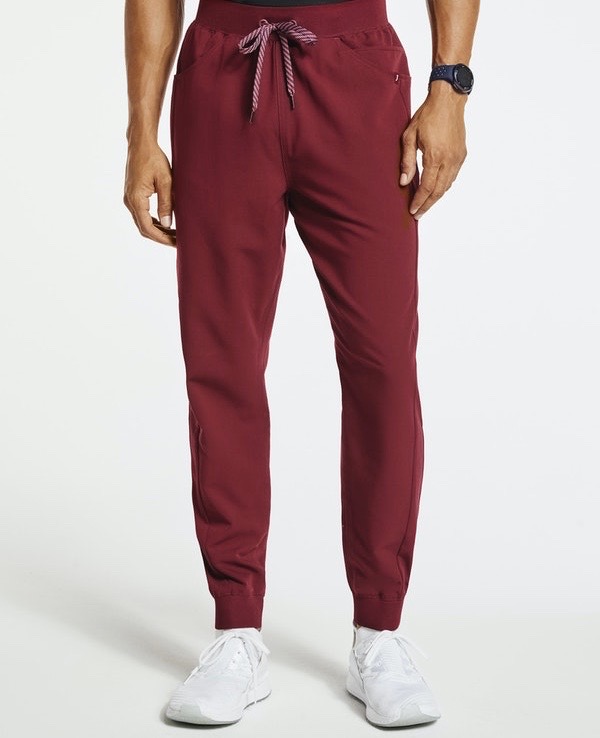 Just like the women's, the jaanuu men's drawstring jogger pant is extremely versatile and keeps up with your hectic job. They're semi-fitted so you can wear them to work, and i think they'd keep up with you on long walks to or from work too.
With durable, sweat-wicking fabric thanks to edgeryx™ technology, these may just be the perfect work pants. Enjoy features like 6 convenient pockets and a range of classic colors like navy and wine.
Jaanuu Signature Lab Coat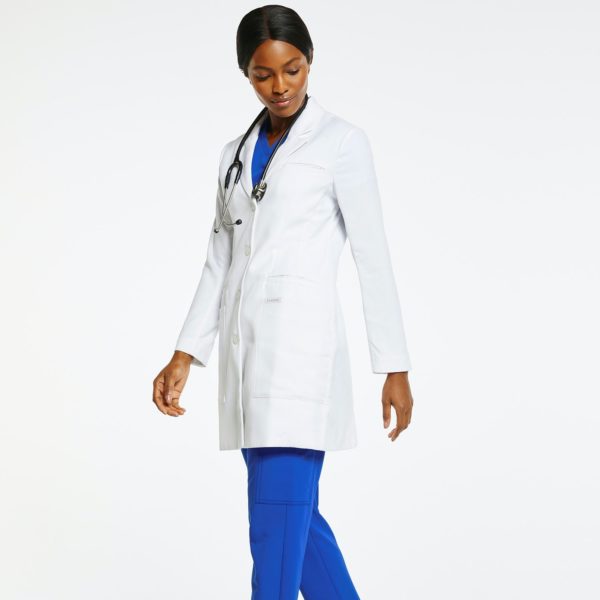 I read that this jaanuu by dr. Neela women's signature lab coat was inspired by the good doctor herself. Designing what she, herself would like to wear to work, this coat blends sleek tailoring with a polished look. I find it classy, professional, and totally flattering.
The jaanuu women's signature lab coat is 34.5" inches long with 7 highly functional pockets, while the semi-fitted silhouette features a four-button closure with a center back vent for ease of movement.
This attractive jaanuu lab coat is built with liquid-repellant and moisture wicking fabric with an antimicrobial finish. It has the same fade and wrinkle resistance too.
The women's signature lab coat only comes in white (obviously) for $149. For a bit of personalization, consider embroidery for an extra $14.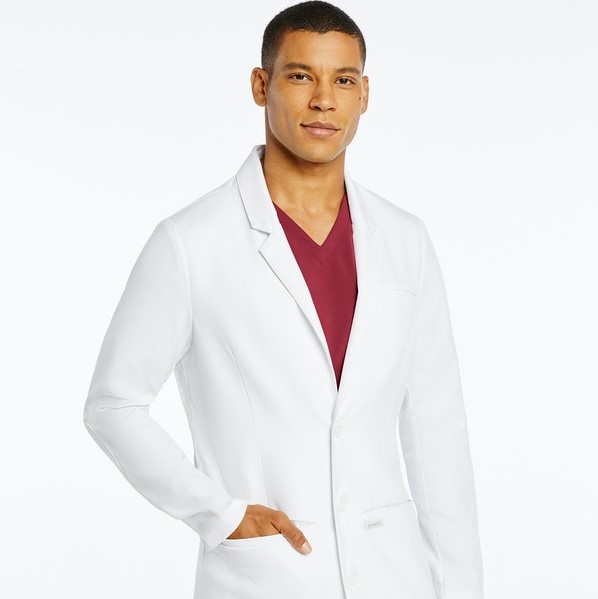 I think the jaanuu's men's signature lab coat has a distinguished look. With a blazer style fit and elbow patches, it's trendy, yet professional—a common theme in the line.
The coat is 36" long and has 5 functional pockets, two of which are roomy enough to hold an ipad. Wow.
It's designed with a three-button front, with the same center back vent and advanced fabric as the women's version, offered for the same price of $149 with optional embroidery.
Jaanuu Masks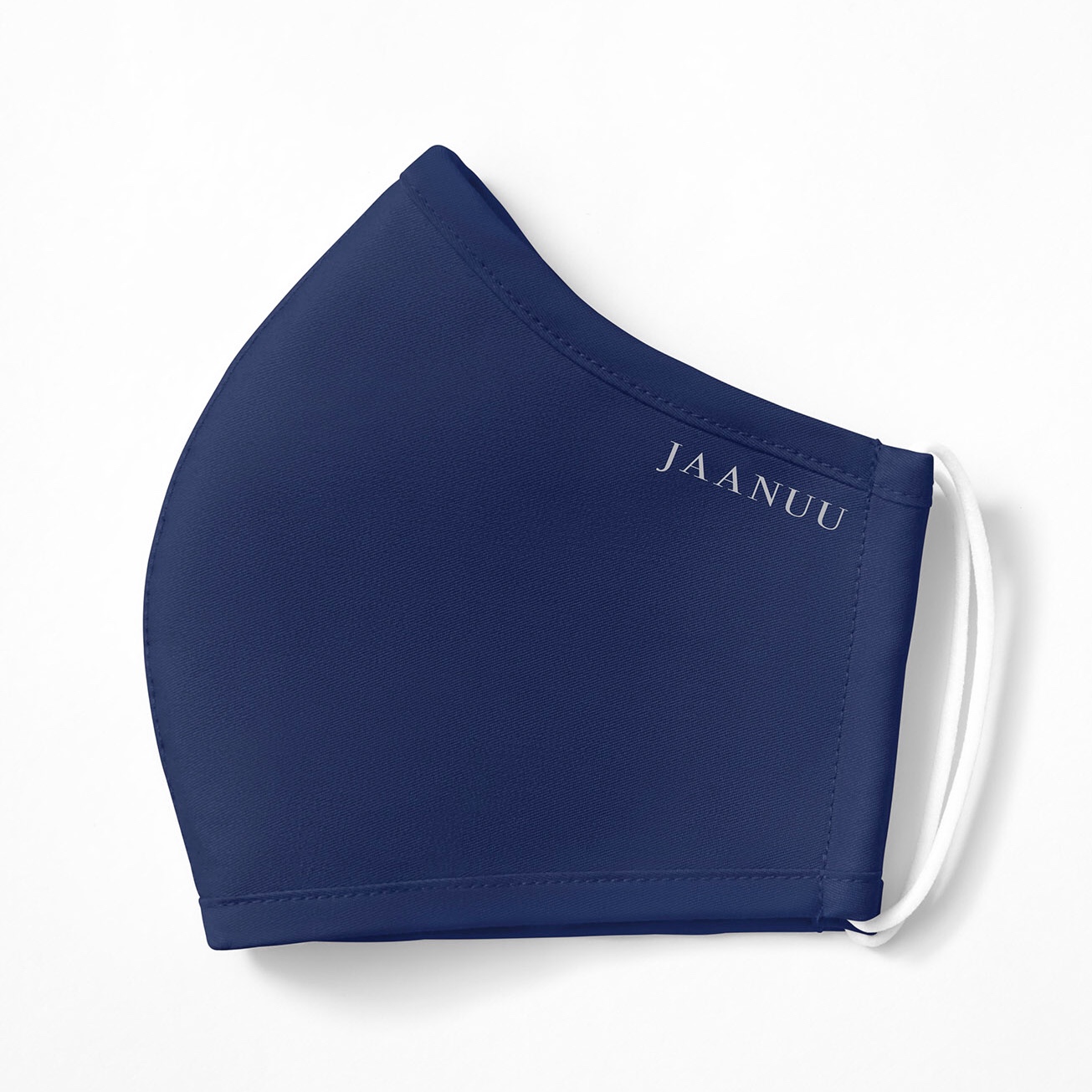 If there's one thing i learned over the last two years, it's that not all masks are equal. There are cheap, flimsy ones, then there's jaanuu masks.
Made from the same durable and comfortable fabric as their signature scrubs, they're treated with silvadur antimicrobial preservative technology to add an extra layer of protection. Why is this technology so important? It actually prolongs the life of the mask while inhibiting the growth of organisms.
Jaanuu masks are reusable and washable, fitted with comfortable, adjustable ear loops so they fit a range of sizes. I also found that the brand makes masks for kids.
These essentials come in packs of 5 up to packs of 10,000. However, if you require a jaanuu wholesale of more than 10,000 they can help you out with that too.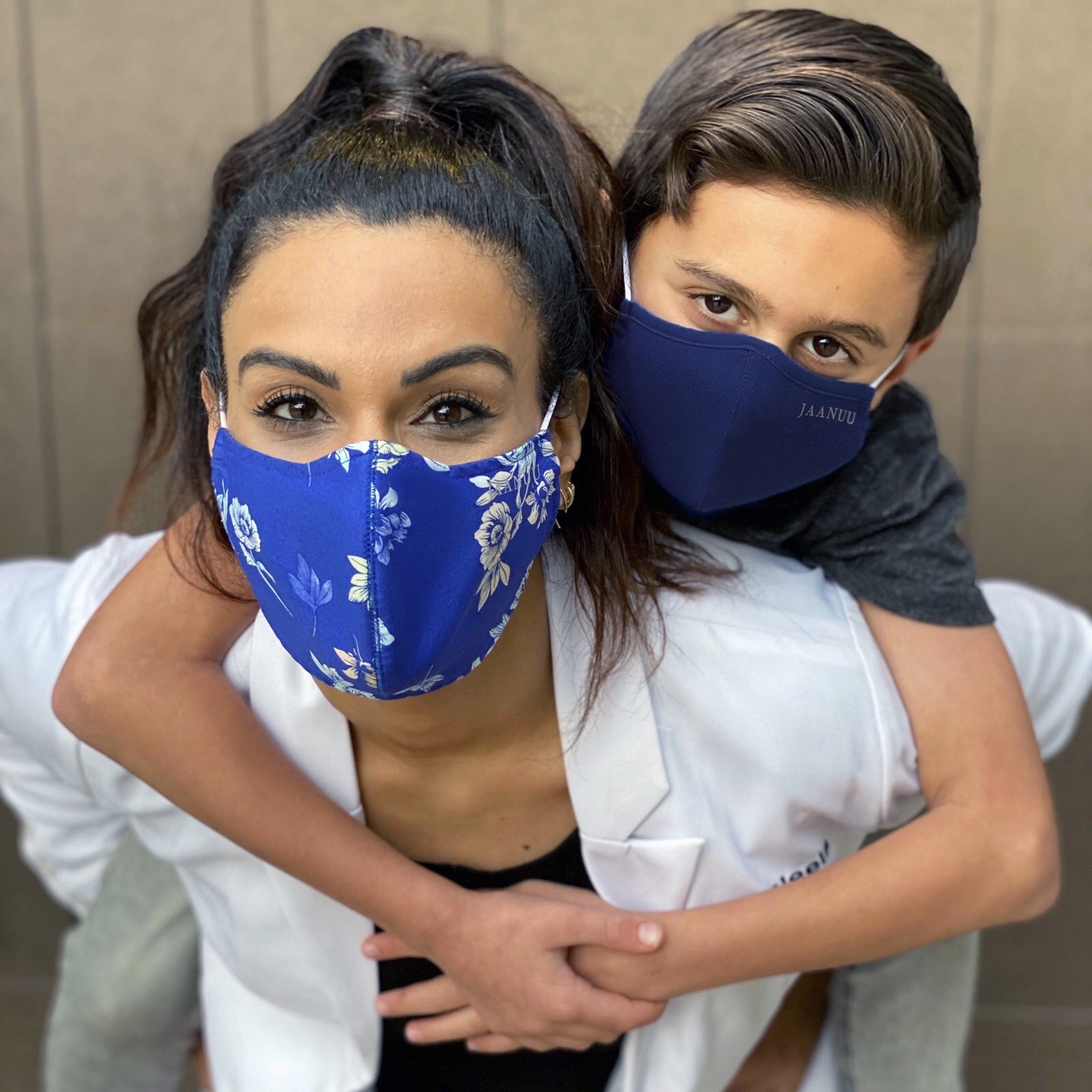 While writing this jaanuu scrubs review, i found that you can save 30% when you buy packs of masks in quantities of 25 or more. If you're still stocking up, this is an incredible deal.
Jaanuu offers 16 designs to choose from, but just keep in mind that your packs will only come in one design.
Jaanuu vs FIGS Scrubs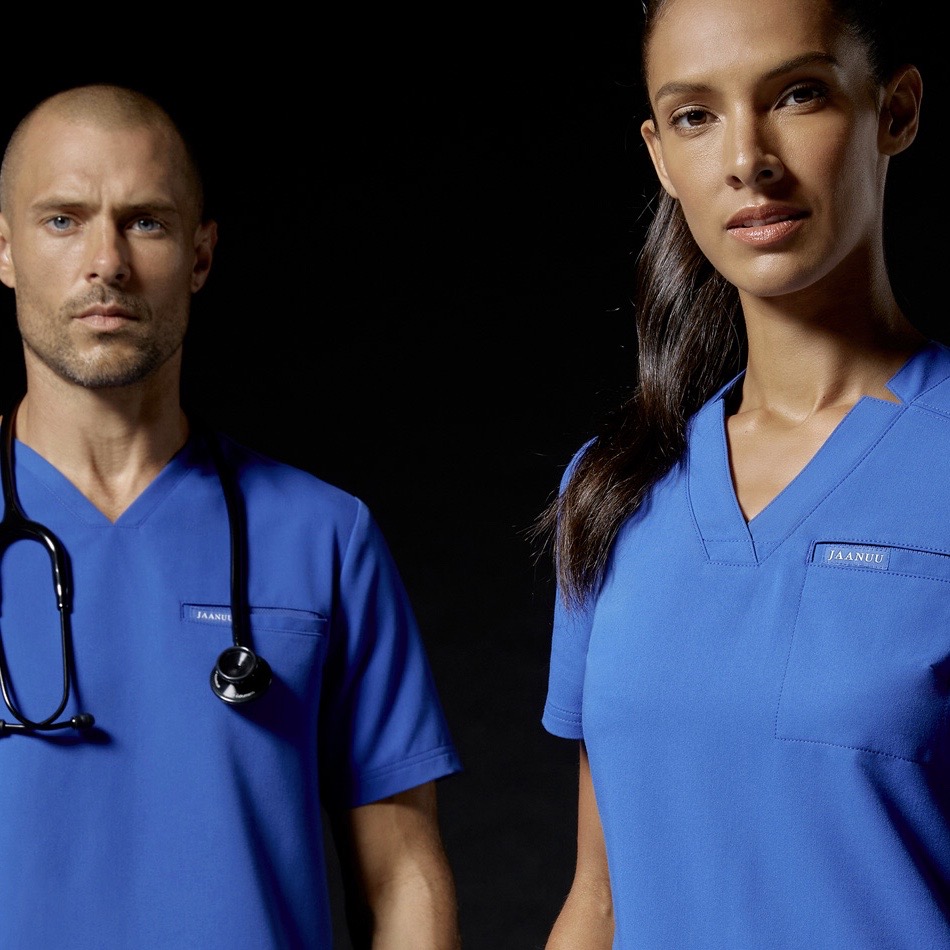 I took a minute to check out all that figs scrubs has to offer and saw that the brand has a lot of similarities to jaanuu scrubs, but also some really big differences.
In this section or my this jaanuu scrubs review, i'll do a quick jaanuu vs figs brand comparison and check out how they stack up against one another in terms of pricing, product variety, and available colors.
Jaanuu and figs are pretty close in terms of color options, although the styles of their scrub tops vary slightly. Figs' pricing is a bit higher than jaanuu's, but nothing noteworthy. I did a comparison between similar items to show the difference:
Figs 3 pocket scrub top ($38) vs jaanuu women's relaxed 3 pocket top ($36)
Figs men's jogger scrub pants ($46) vs jaanuu men's drawstring jogger pant ($44)
The figs fionx core mask, which includes changeable filters and a bendable nose wire, is priced at $12. This comes in comparison to jaanuu masks which are bought in a pack and don't have a nose wire or filter for $25 per 5 pack. Jaanuu masks come in 16 colors and patterns, whereas figs come in only 5 basic colors.
The biggest difference i noticed? The style. This may come as a surprise considering they're both scrubs, but there are subtle design differences between the two. Figs' selection is a little larger as well.
Be sure to check out our complete figs scrubs review for more information about the brand.
Jaanuu Scrubs Reviews: What Do Customers Think?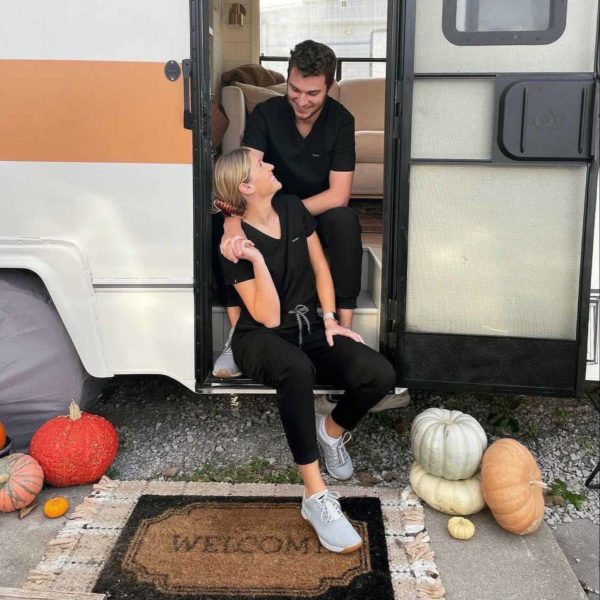 Scrubs need to keep up with the high demands of the medical realm, so in this section of my jaanuu scrubs review, i turned to customer feedback for answers. My first stop was the bbb.
Jaanuu's bbb rating comes in at a solid a. The company has a few complaints there but has looked to respond or resolve all of them. And with that, i headed off to my next source, nurse.Org.
Once there, i found a jaanuu scrubs review that read:
Are Jaanuu Scrubs Worth It?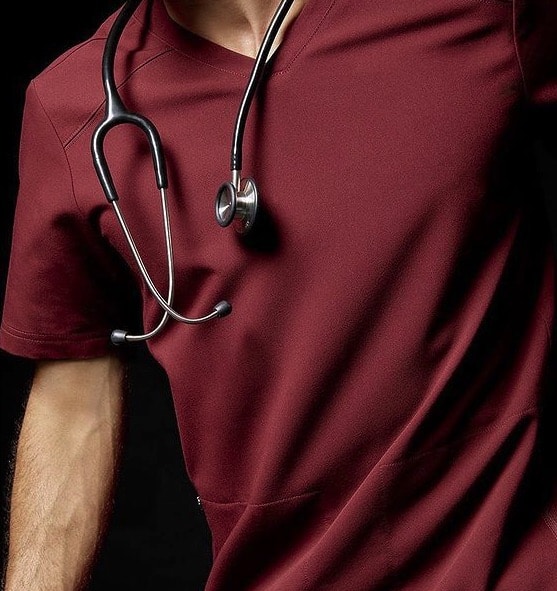 Based on tons of positive jaanuu reviews, their competitive pricing, and innovative designs, i've reached a conclusion about the brand in this jaanuu scrubs review. And it's that i would recommend purchasing jaanuu uniforms.
If you are a medical professional or someone who just wants to purchase their masks, i learned that the risk of being unsatisfied with your order from this company is very low. Whether you're constantly putting in overtime or simply showing up to help, i think you deserve the best, and to me, that's jaanuu uniforms.
Carefully made with medical professionals in mind, i love that the line is designed by a medical pro herself, dr. Neela. All things considered in this jaanuu scrubs review, i really like what this brand has to offer.