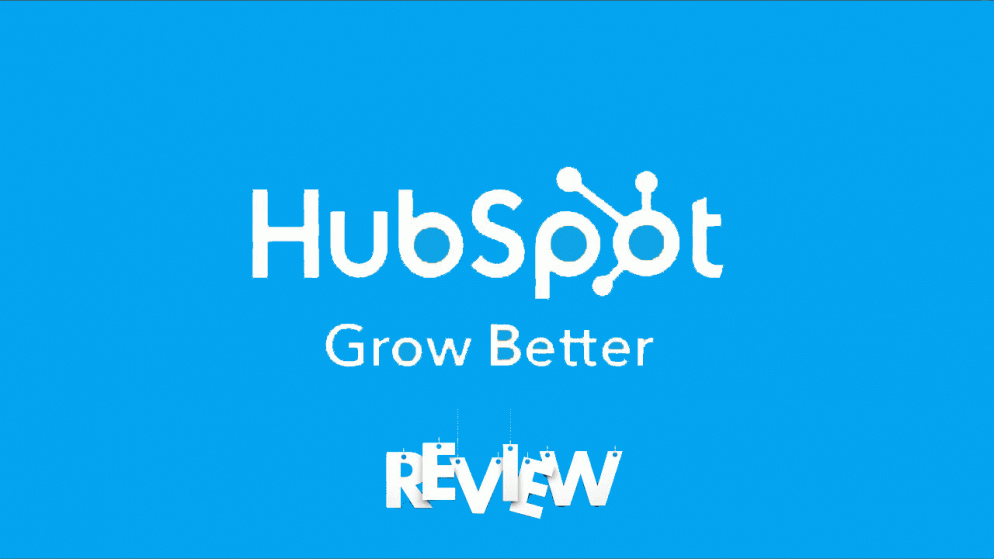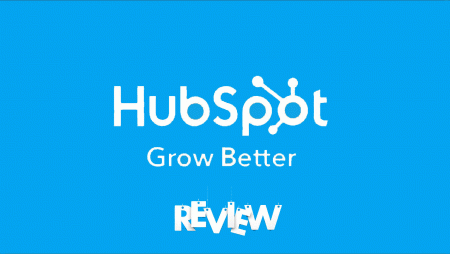 Our content is reader-supported. If you click on our links, we may earn a commission.
What makes a website more visible on the search engine result page, obviously the answer to that is SEO. This is what makes the proper growth of the website as well as brings more customers and thus increases the traffic.
This is the basic reason why we need a software to track potential customers and track the lead of your website. This is the exact place where HubSpot will be proven useful for you.
HubSpot manages all small facts and data about your site and does it at an affordable price. If you are looking for a full stack of software for marketing, sales, and customer service, with a completely free CRM then this is your platform. All the mentioned services when used together prove out to be the most powerful version.
The tools, services, and add-ons provided to you in this platform are worth it for what you pay. In this review, we will be discussing all the features and tools in depth that will show you why it is known as one of the best SEO software.
About Hubspot
HubSpot is the best SEO software with a wide range of marketing, sales, and service software which all aims to assist you with your business to grow it up without costing you anything extra.
Let's get to know something about the history of the beginning of this software. So, officiallyHubSpot was founded by graduate students at MIT in 2005 who were no other than, Brian and Dharmesh. They were attentive towards the shift in the way people shop and buy. The actual thing that they noticed about that is that the consumers were no more interested in tolerating the interruptive bids for their attention.
This is how the HubSpot was discovered. The whole idea behind the invention was the concept that people don't want to be interrupted by the marketers or salesperson rather they wanted to be helped.
The same concept has held the platform tilldate that is to stop interrupting, start helping, and get the focus back to the customers. The company itself says that if you want to grow your business then you have to be ruthless. But they find the best out of the best ways which they acquire to serve their customers.
HubSpot is perfectly a platform where you can see the uniting of software, education, and community to help businesses grow in the best possible ways.
Features that makes it the best SEO software
Here we will be dealing with some of the really interesting features of the HubSpot that together make it the best SEO software available to date.
1.Hubspot lets you schedule your appointments and meetings faster and lets you avoid all those back and forth emails. Thus, in this way you can make a productive and a full calendar.
2.Growing an online business means connecting with more number of people which becomes more time-consuming in social media. But HubSpot allows you to connect through social media with the help of time-saving tools.
3.Email Tracking is one of the other ways how it helps you. Using it you can systemize your daily emails and can send a perfectly timed follow up.
4.It runs sales email automation software through which you can queue up all the series of required emails which are then automatically sent to the destination on the mentioned deadline.
5.HubSpot provides you another major feature that is CRM and web analytics which helps you to manage the ads on your site. It lets you find out the profitable and successful ads campaign. It's another best way to reach your customers.
6.HubSpot allows you to easily create and personalize your marketing emails without the help of any designers or IT.
7.Management of the leads is another specific feature of HubSpot whereby it helps you to keep all the records such as sales activities, company details, and contact records etc., all in one place.
It thus saves you from any kind of hassle.
It helps to add deals with a single click, assign tasks and track the dashboard progress. Thus it never lets any lucrative deal slip through the cracks again.
The list does not end up over here, there are many more such amazing features of HubSpot that makes it a perfect hosting platform such as Sales email template, help desk software, free online form builder, free chatbot builder, free live chat software, marketing analytics, free landing page builder, pie sync integrations, etc.
Add-ons of HubSpot
HubSpot supports many free tolls or let's say ad-ons without any extra charges. These tools are all best to manage and upgrade your website in minimum time. Here is the list of such free tools:
1.Website grader assists you to grade your website so you can calculate the growth of the site. This will help you to create a customer-friendly and search engine compatible website.
2.You also can make your professional and customizable buyer Persona documents with the help of Make my Persona.
It does have an email signature generator which helps in generating a professional email signature to add to your mails.
4.You can also get some new and exciting ideas about your blogs that you need to write about with the help of a blog ideas generator.
5.You can generate and download some professional invoices to send to your customers with the help of invoice template generators.
6.You can also outline your annual marketing strategy and get to know your important initiatives with the help of a marketing plan generator.
HubSpot Softwares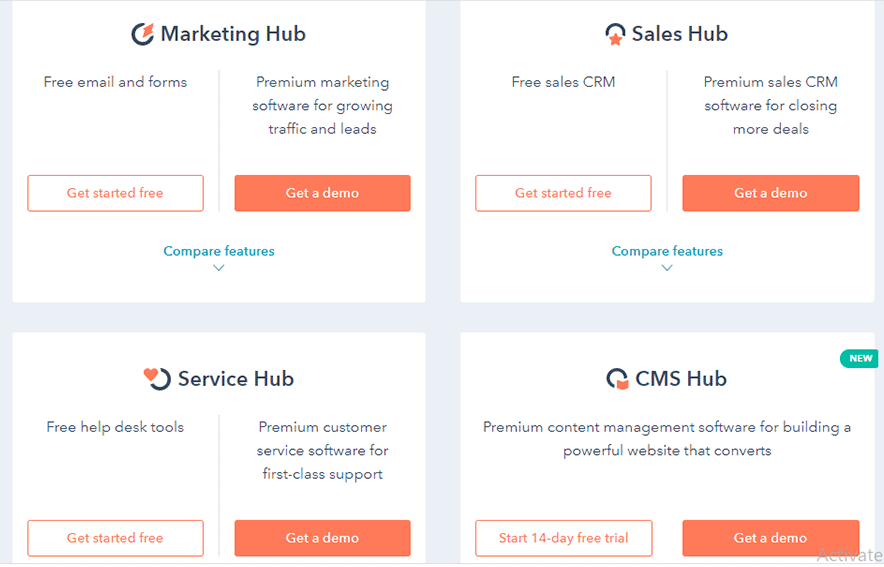 The major working of the HubSpot platform is to enhance your leads, increase your sales, make the process simpler, and create an impactful website. All these solutions provided by the HubSpot are only possible because of the software of the HubSpot. Here is the list of the major software of HubSpot that assists you to achieve your website goals.
1.CRM
CRM is one of the best software that helps you mainly with organizing stuff. It helps you to organize the contacts, get deeper insights on every lead, and watch out carefully all the deals with ease and surprisingly these amazing features are all for free.
This software provides you with everything that you need to organize and track your site and make better relationships with leads and customers without paying a penny. Thus this software is best at contact insights, deals, and tasks.
2.Marketing hub
Now, this is from where you generate traffic for your site and convert leads. It provides you all the tools required to run completely inbound marketing campaigns.
It is majorly a marketing software that helps to run complete inbound marketing campaigns at scale. The major features of this platform include lead generation, Marketing Automation, Analytics, etc.
3.Sales hub
Sales hub is another amazing software at HubSpot that is a full site of sales which helps in shorten deal cycles and increase close rates.
This software altogether saves your time so that it helps you get deeper insights into the prospects, automate the tasks you hate, and close more deals faster. Its major etiquettes include e-mail tracking, meeting scheduling, email automation.
4.CMS hub
CMS hub is all in one featured software that can be used with or without any developers and can do almost everything you need to grow your site.
You can create, edit and maintain your site through it. It is really easy to update and keeps growing with you.
Hence, CMS is the content management software with Drag-and-Drop Editor, SEO Recommendations, and Website Themes as its major features.
5.Service hub
Increasing traffic also means connecting with your customers and the way you can do it is by exceeding their expectations. This turns happy customers into growth. This altogether helps you to grow your customer service team and enhance it. It also provides you all the respective tools that you will be requiring for the same purpose.
Thus, it is a customer service software that will ultimately help you to connect with your customers and turn them into beneficial promoters that will ultimately grow your business.
Some of the major features of service hubs can be counted as tickets, feedback, and the knowledge base.
Pricing at HubSpot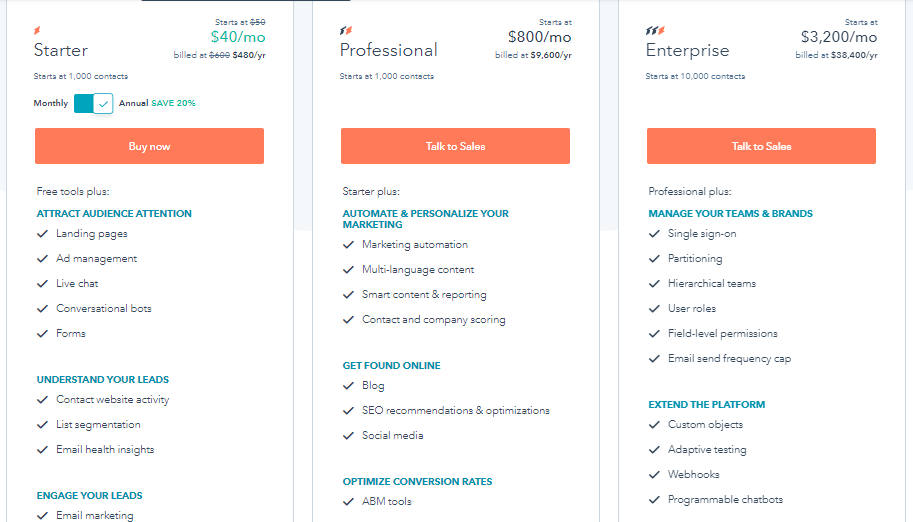 HubSpot is not only the best SEO software but also the best affordable Hosting platform where you can get all the tools required to best grow your online sites. To enjoy more exciting and the best features of the HubSpot you must avail of the major plans of the HubSpot which are available at a High discount. Here we will be discussing the features as well as the cost of all the available software.
1.Marketing Hub
-The starter pack costs $40/month and $480/year.
-The professional pack costs you $800/month and needs to be billed at $9,600 yearly.
-The enterprise pack will cost you $3,200/month and need to be billed at $38,400 per year.
2.Sales Hub
-The starter plan will cost you $40/month which has to be billed $480/year.
-The professional pack will cost you $400/month which has to be billed at the annual rate of $4,800/annum.
-The enterprise is available at the rate of $1,200/month and has to be billed at $14,400/ year.
3.CMS Pack
-The starter pack will cost you $240/month which has to be billed at $2,880 yearly.
-The CMS hub professional platform will cost you $900/month which has to be billed at $10800 yearly.
4.Service Hub
-The starter pack will cost you $40/month and needs to be billed at $480 yearly.
-The professional plan will cost you $320/month which needs to be billed at $3,840 yearly.
-The enterprise plan will cost you $1200/month and has to be billed at $14,400 yearly.
One of the most worth it plans also known as a starter growth suite includes the major features such as HubSpot CRM, MarketingHub Starter, Sales Hub Starter, and Service Hub starter which will just cost $50/month.
Bottom Line on Hubspot
At last, after reviewing all the features, tools, software, and prices, we can conclude that HubSpot is the best SEO software with free CRM. This will be the best affordable deal that you might not get anywhere else.
The free tools and the add-ons are the most fascinating thing in HubSpot overall. Apart from this the quality of the service is the next level and it works devotedly for the betterment of your website. Overall you can call it the most affordable and worth it platform for making your website pop out on the top of SERP.