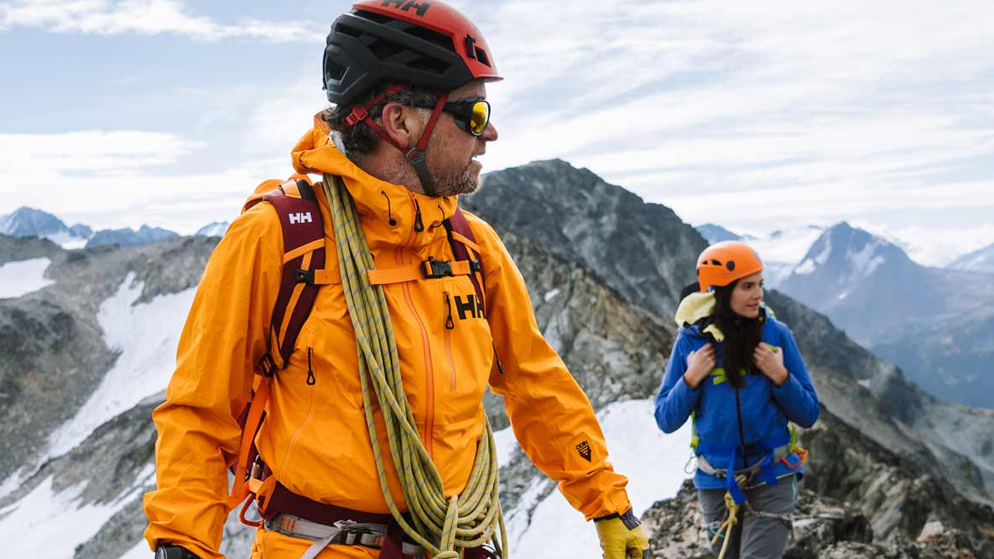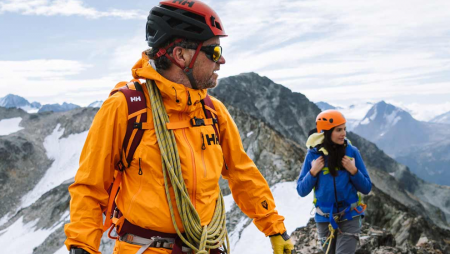 Heads up: Our content is reader-supported. This page includes affiliate links. If you click and purchase, I may receive a small commission at no extra cost to you.
You have probably heard of at least one of these two brands, if not both. These are two famous names in the industry of outdoor gear, clothing, and jackets in particular.
Many outdoor enthusiasts may be confused when choosing the brand which will provide them with everything they need before an adventure.
We can't blame them, though. That is because Helly Hansen and The North Face have dominated the market lately.
Helly Hansen, a Norwegian brand that specializes in water and mountain gear, has more experience than The North Face if we were to count the years they have been in the market.
On the other hand, the American company, The North Face has a wider range of products.
Today, as usual, we will be talking about each brand separately and then we will compare them to see which one would be the better choice.
1. Helly Hansen
A Short History of the Brand
Since the age of 14, sea captain Helly Juell Hansen has been frequenting the sea. It wasn't until he was 35 and married to Maren Margarethe that he started making different articles of clothing.
Those included trousers, oilskin jackets, sou'westers, and tarpaulins.
Over the course of 5 years, Helly Hansen and his wife sold about 10,000 of their products.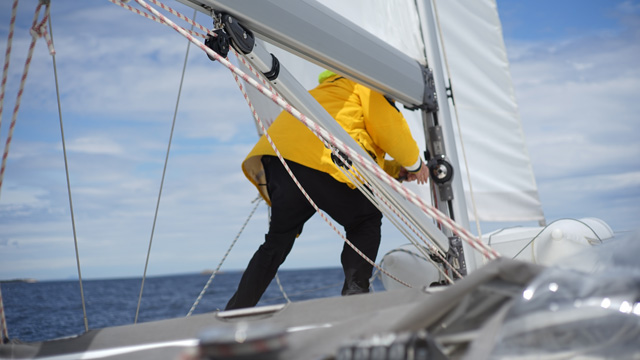 Helly Hansen brings top-quality clothing to face the harshest weather.
This brand originated in Norway and makes its point of strength the use of Scandinavian designs. These designs provide protection from the difficult climate in Scandinavia and other parts of the world.
Materials and Manufacture
The most notable feature of Helly Hansen's products is the water repellent treatments.
These play a very important part in ensuring that the equipment and the clothes are ready to be exposed to harsh weather conditions.
One of the strengths of Helly Hansen's clothes is the use of Helly Tech®.
In a few words, Helly Tech is a fabric technology exclusively created and used by Helly Hansen.
It's both breathable and waterproof, both of which are features present in most of Helly Hansen's jackets and other clothing items.
We have reviewed Helly Tech here and also compared it to Gore-Tex here.
Among the other main fabrics they use, we can mention Polyester and Fleece.
Popular Designs
Now let's see two of Helly Hansen's popular products to see more in detail what they offer.
Helly Hansen Men's Seven J Breathable Rain Jacket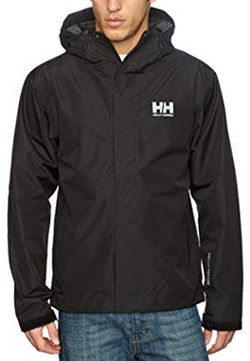 This classic jacket is among Helly Hansen's best sellers. Simplicity is key. You can do anything with this jacket, biking, trekking, and other various outdoor activities.
It's waterproof and breathable, made of 100% polyester. That's not all, the hood and cuffs are adjustable. Thus, the long sleeves could be adjusted to accommodate the length of your arm and protect you from the weather.
Helly Hansen Men's Crew Midlayer Fleece Lined Rain Jacket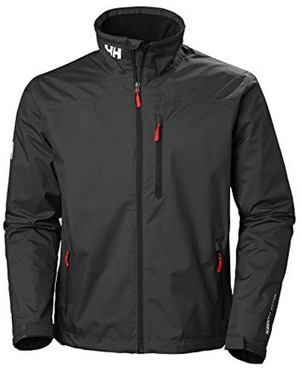 Although designed for sailing and other water activities, this jacket could be used for multiple purposes.
It could act as a windbreaker for motorcycle enthusiasts. It has no hood that would be flailing about during your activities.
This jacket will fit almost anyone. It's designed to be neither too tight nor too baggy. On top of a great fit, the jacket is made with DWR-treated fabric that is waterproof.
Prices
Helly Hansen's products aren't cheap, that's for sure. That's what you could expect from a high-quality brand.
Most of their jackets range from $90 up to $200. Not exactly budget-friendly. Of course, there are some exceptions, some models are cheaper. But, there are not many of them.
Are Helly Hansen's products worth the price?
In our opinion, the quality of these products definitely justifies their price. The durability and functionality make this brand worth a try, so you can see for yourself.
2. The North Face
A Short History of the Brand
In geographic terms, "The North Face" refers to the northern side of a mountain or the "unforgiving side of the mountain".
At The North Face clothing brand, they decided that they'd do their best to help mountain climbers, skiers, and other avid explorers. Ironically enough, the beginning of The North Face was on a beach.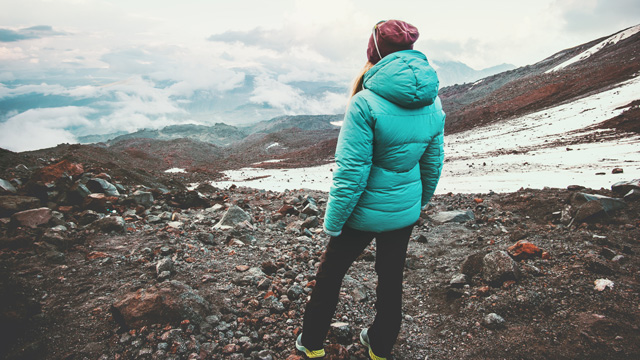 In geographic terms, "The North Face" refers to the northern side of a mountain or the "unforgiving side of the mountain".
Materials and Manufacture
What we really like about The North Face is their focus on sustainability. They aim to recycle as many materials as they can.
Take cotton, for example, they don't use cotton much in manufacturing equipment and jackets. However, when they do, they make sure to source it in a way that does minimal damage to the environment.
Everybody loves The North Face's fleece jackets, here is why: they are made of TKA fleece, which means "thermal kinetic advancement".
This makes their jackets, pants, and zip-ups superiorly resistant to water, wind, and other factors.
Other fabric technologies developed by The North Face are HyVent (currently known as DryVent), FlashDry, WindWall, and FUTURELIGHT™.
And then there is their famous synthetic insulation called ThermoBall, which is comparable to natural down and is done in collaboration with PrimaLoft.
Popular Designs
Let's see what we have picked from The North Face's products.
The North Face Borealis Backpack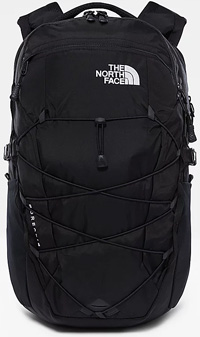 This backpack is great for camping, exploring, short hikes, or for school. The pack is 22cm wide and 50cm high to ensure that there is enough space for all your belongings.
In addition, there is a multitude of colors and designs for everyone's tastes.
The large main compartment contains a laptop sleeve that will fit regular 15-inch laptops. That makes it a great choice for high school and university students.
For more space, there is a bungee net attached to the front.
The North Face Men's Aconcagua Jacket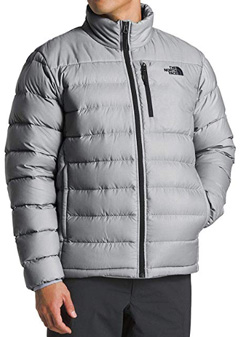 Let us start off by saying that we personally like this design. It's great for facing cold weather, yet fashionable and could be considered a casual jacket.
The jacket is lightweight and will warm you up nicely when temperatures are low. It also comes in a few different colors to choose from.
Aconcagua is water-resistant, not fully waterproof, so it can be used in light rain and in situations where you will not be standing in the rain for a very long time.
Prices
The North Face has a mix of affordable and expensive products.
You can find many of their clothing and outdoor gear for $50 – $100, while their most expensive products are the down jackets and the technical jackets that use fabric technologies, which can reach more than $200 – $300 in many cases.
Are The North Face's products worth the price?
To pay $50 or a little more for a top brand's product is definitely a good deal. This is for products like shoes or hoodies.
Their jackets are usually more expensive, as we said above, and in our opinion are worth their price as they perform impressively.
3. Which Brand is Better?
The quality of their products and especially their fabric technologies are some of the most renowned characteristics of these two brands and are raved about by their customers and outdoor enthusiasts all over the world.
We have reviewed in detail two of these technologies, DryVent and Helly Tech, in previous articles. We linked to those articles above.
If we compare The North Face's prices to those of Helly Hansen, then The North Face definitely wins. It may be because of the variety of products that they offer, but the average is still lower than that of the Norwegian brand.
So, which one is better?
We think that The North Face wins this round. It is more budget-friendly and versatile. So you will not use their products only when skiing, hiking or climbing, but you can use them in your everyday life too.
However, in our opinion, Helly Hansen may prove to be better for water activities, even though it has a more limited product range.
And that's all for this comparison. What do you think? Let us know in the comments below.