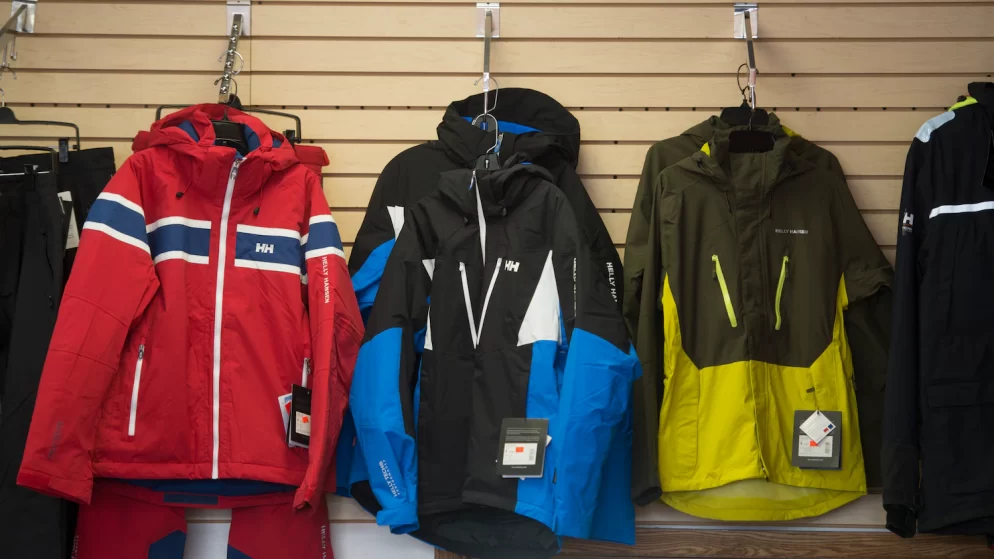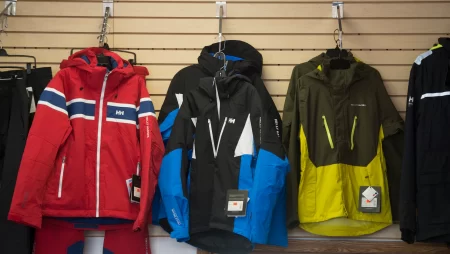 Heads up: Our content is reader-supported. This page includes affiliate links. If you click and purchase, I may receive a small commission at no extra cost to you.
Breathable, durable, and waterproof, the Helly Hansen Loke Jacket makes a great shell—even if it doesn't compress as small as we'd like.

Full Review
We've thoroughly enjoyed testing the Helly Hansen Loke Jacket for the past month in the windy, cold, and rainy/snowy midwest. This rain shell cuts icy wind and keeps you dry, no matter the inclement weather. You can wear it by itself or layer it over a puffer jacket to keep you extra toasty.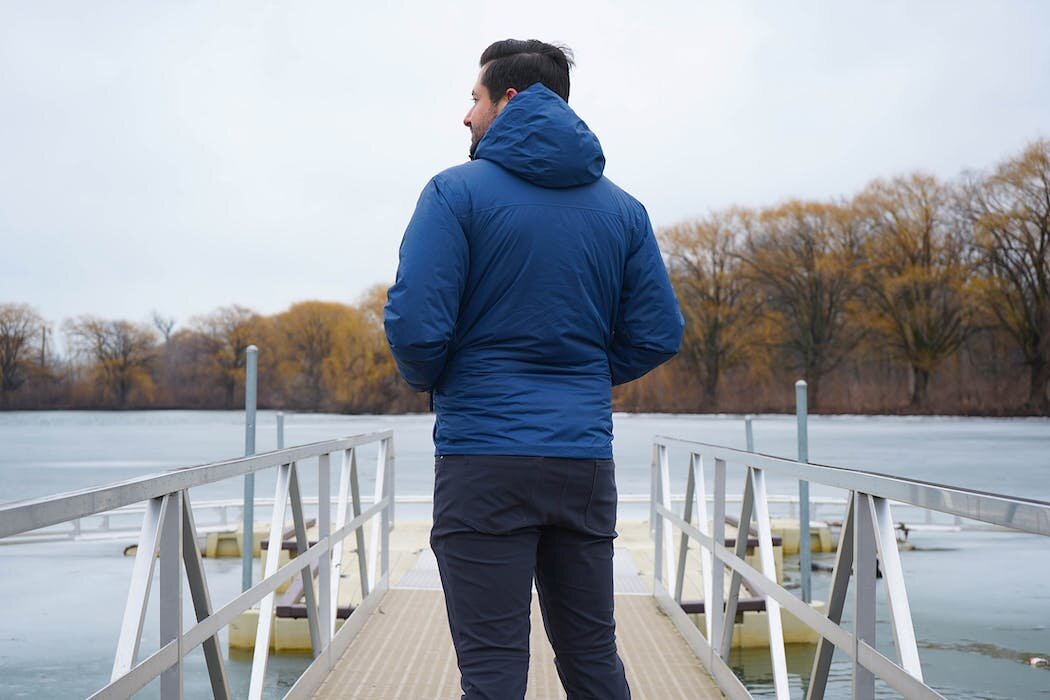 Of course, we have a few nitpicks as well—you can decide if any of those nitpicks are deal-breakers for you. On that note, let's take a look at what we like and don't like about the Loke Jacket.
Fit, Fabric, & Features
We're digging the overall look and feel of the Loke Jacket, which looks like your typical rain shell. The Helly Hansen logo is on the wearer's left side—it's noticeable, but not overkill. And at the time of this review, the Loke Jacket is available in 13 colorways. Yes, 13. Whether you're partial to vibrant colors or subdued earth tones, you'll (likely) find something that fits your style.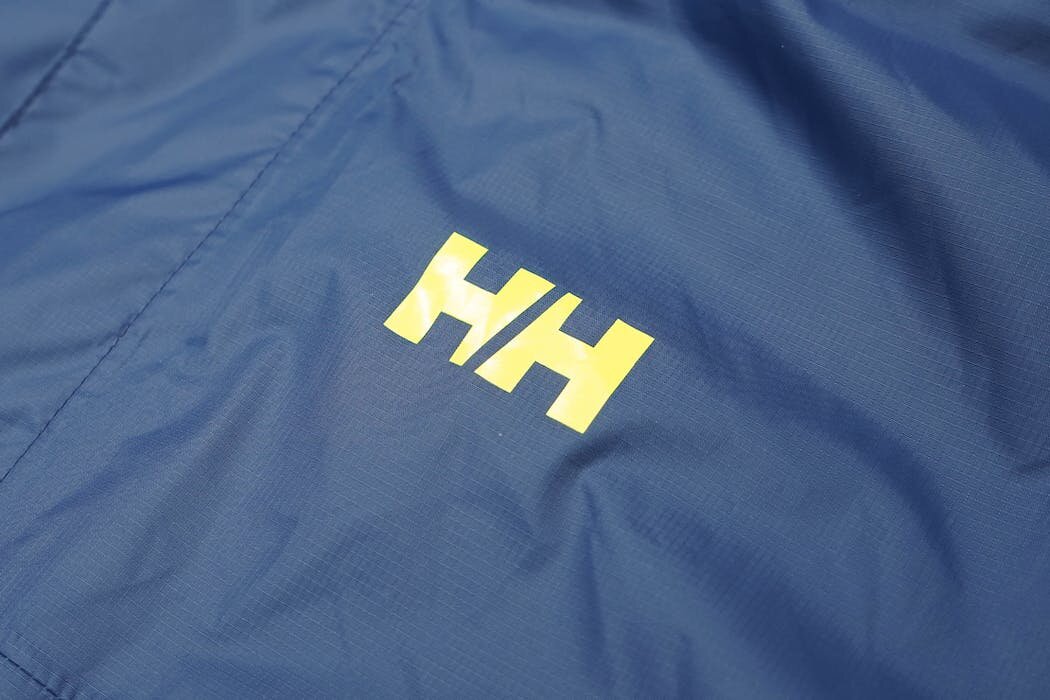 The jacket is made of Helly Tech®, a technical, highly waterproof fabric developed by Helly Hansen itself back in the 1980s. It has a 2.5-layer waterproof construction with a polyurethane laminate. Helly Hansen offers three levels of Helly Tech®— Protection, Performance, and Professional. The latter being the most durable.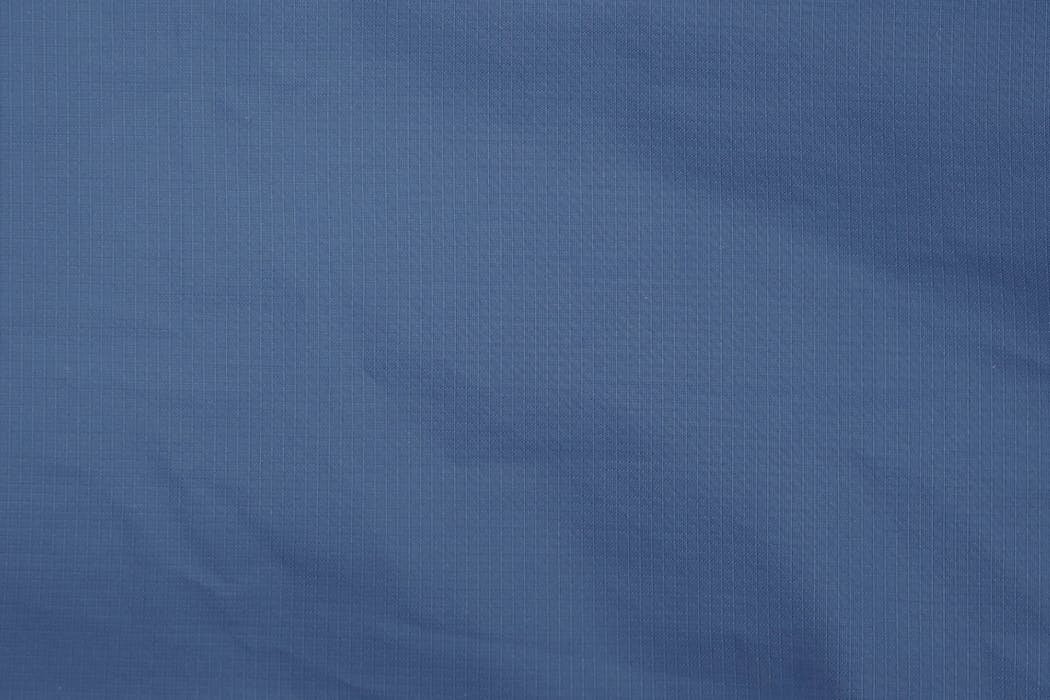 The Loke Jacket is made using the Helly Tech® Performance (the middle level), which means it's suitable "For a wide range of high-performance outdoor activities during highly challenging, changing and unpredictable weather conditions," according to the folks at Helly Hansen. It has a waterproof rating of 10,000mm. And, of course, the seams are fully sealed.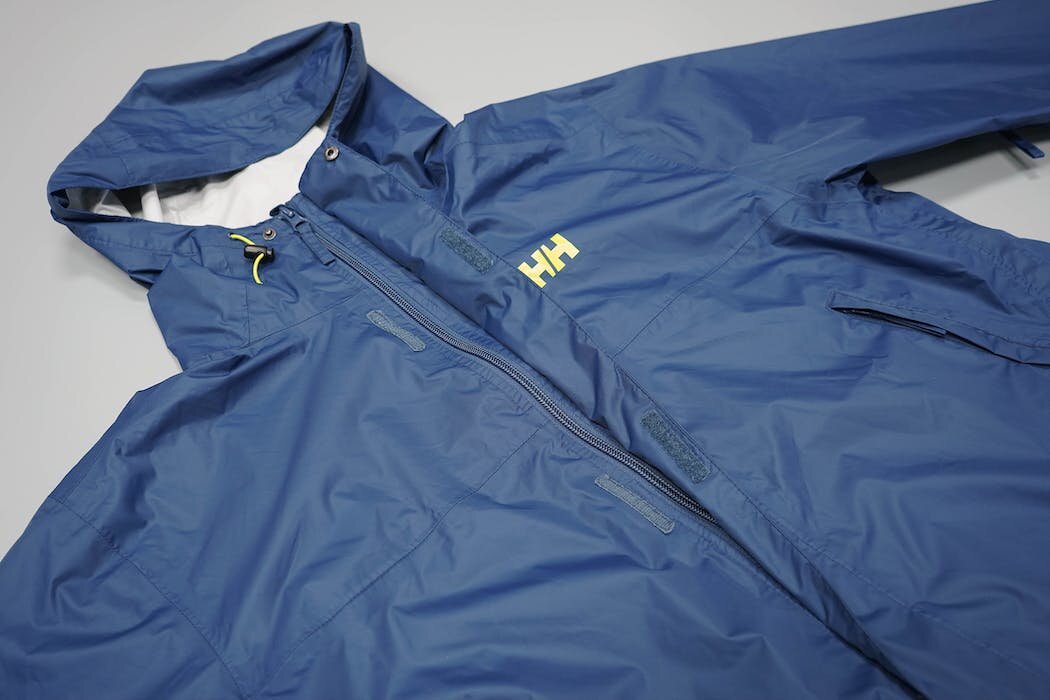 There's a snap fastener at both the top and bottom of the jacket. And there's a row of hook and loop velcro along the zipper track, which secures the storm flap. This is probably the thing we've had the most problems with. The velcro gets caught on clothing—sweaters and wool gloves in particular—and, occasionally, on itself. Unless you love the feeling of peeling clothing off of velcro, this quirk is quite frustrating.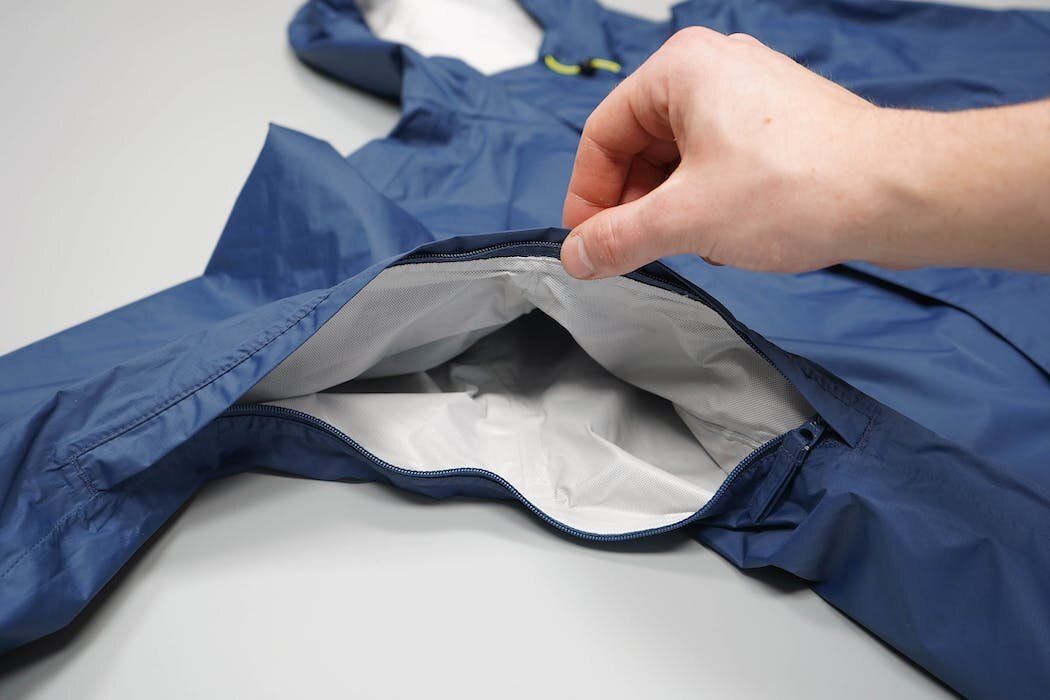 On a more positive note, the jacket is highly breathable. The fabric has been engineered to allow sweat vapor to pass through. Plus, there are "pit zips" (the colloquial and more descriptive term for ventilation zippers). Pit zips add a lot of breathability, ensuring that you don't overheat when you're in warmer climates or exerting energy in any kind of climate. The pit zips on this jacket are massive, meaning you get a good deal of airflow, and they're completely open to the world.
We're not sure how we feel about this—during testing, a Pack Hacker team member accidentally put an arm through the ventilation zipper when putting the jacket on. We would've liked to see a layer of mesh here to prevent that from happening. That said, the extra fabric may add weight. So, it's up to you on whether you see the open ventilation zippers as a pro or a con.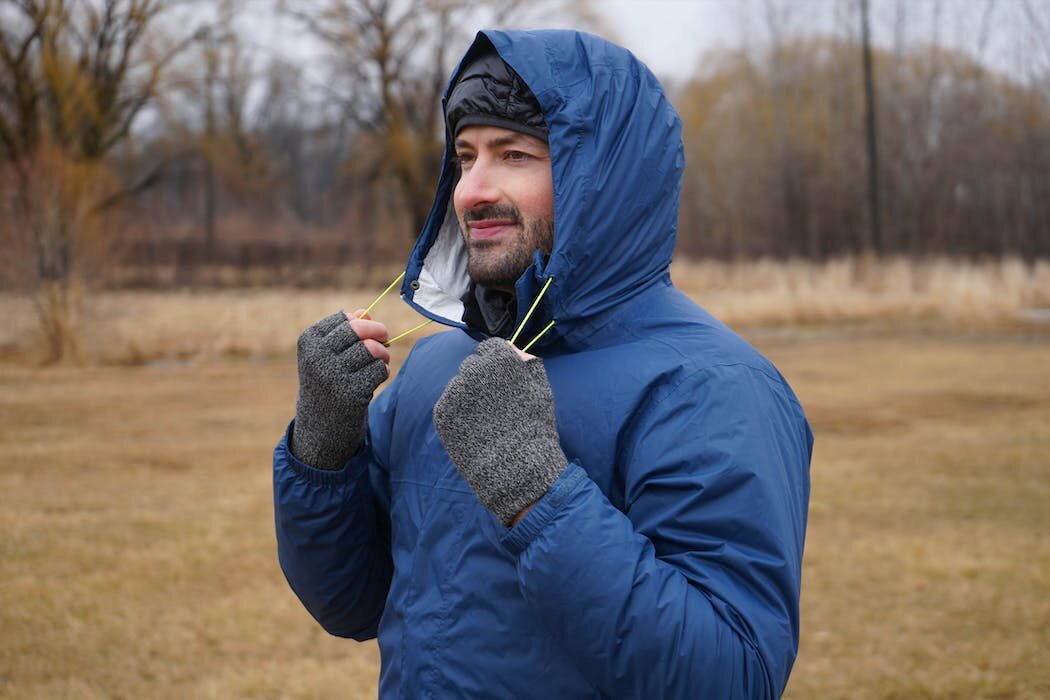 The sleeve cuffs are elasticated and have velcro to keep the jacket tight to your wrists when you need to keep the elements out, yet you can loosen them up when you get hot. The velcro targets are on the smaller end of the spectrum but work just fine. The pro here is that you don't have a massive cuff at the end—it stays streamlined
The hood and hem are also adjustable, so you can secure this thing around your head and torso respectively. We're particularly digging the hood cinching system, which stays clean even when you've got it fully tightened. It's a small detail that adds some great value.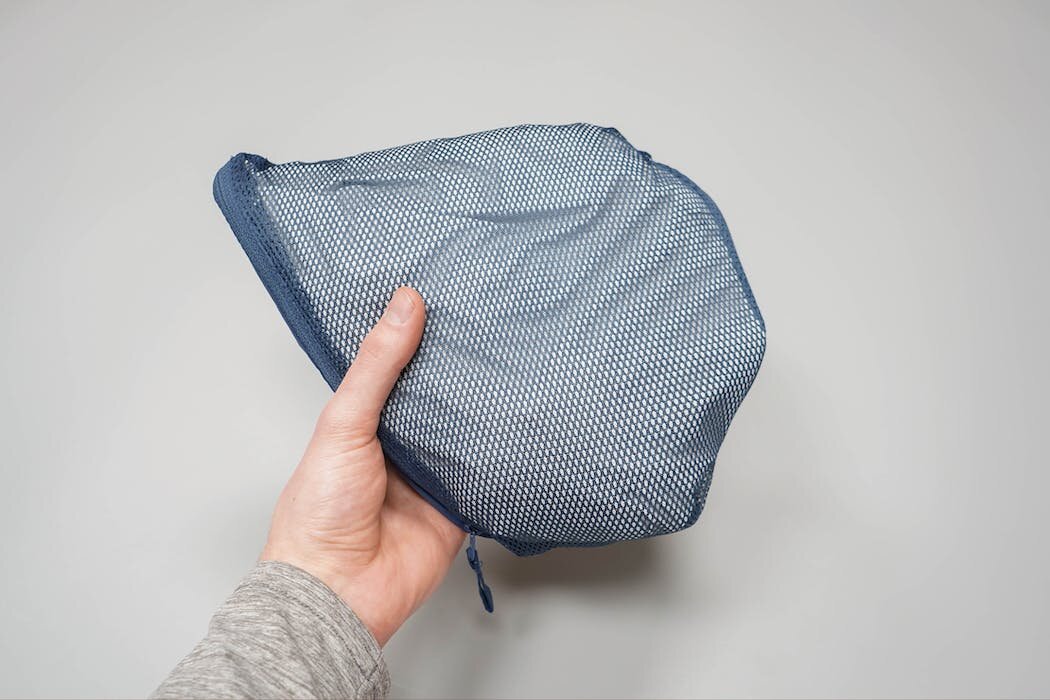 There are also two mesh-lined exterior pockets, one of which the Loke Jacket packs into. It doesn't compress nearly as small as some other rain jackets out there, but that's fine because there's enough give that you can still shove it into the leftover nooks and crannies of your travel bag. Plus, the jacket is super lightweight (less than 10oz). We also like that it packs into mesh, so it will have the opportunity to dry if (let's be real, when) you need to compress the jacket while it's still wet.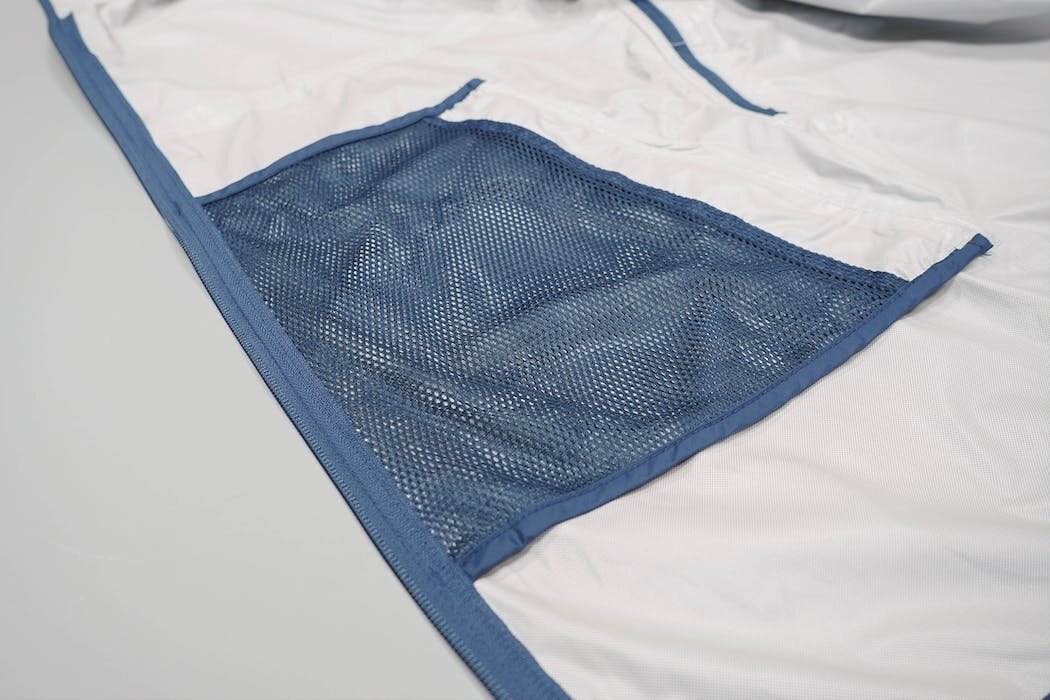 Inside, you'll see that mesh in the form of two sleeves (one on each side), which helps keep the lining from sticking to your skin. We feel like this would've been a good opportunity for additional pockets—the folks at Helly Hansen could've sewn the sleeves up at the bottom. But it's not a huge deal either way. We assume that the folks there made them sleeves to save weight or make the jacket easier to pack.
All in all, we've enjoyed putting the Helly Hansen Loke Jacket to the test for the past month. Yes, there are a few things we think could be improved—the storm flap, for one—but it does what it's been built to do. And it does it well.
Usage Timeline
Initial Usage
Condition: Excellent
Digging the look & feel overall
The hood cinching system seems clean and well-managed below two eyelets
The addition of pit zips is nice—wondering why they didn't opt for mesh instead of the current full opening
2 Weeks of Use
Condition: Excellent
We've been testing this jacket in the middle of Michigan winter and it's been an excellent outer layer to other mid-layers. It blocks wind and precipitation nicely. One small nitpick we've been noticing is that the velcro that secures the storm flap over the main zipper can get caught on sweaters and wool gloves.
1 Month of Use
Condition: Excellent
Packed the jacket into itself for the first time to stow in a larger bag. Overall, it worked well, but we noticed 2 things.
The compressed state of the jacket is a little bit larger than other compressible shells
The mesh on the interior is only stitched to the jacket on two sides instead of three—seems like a decent opportunity for an interior pocket, but it passes through completely
Overall, still really enjoying testing this jacket.