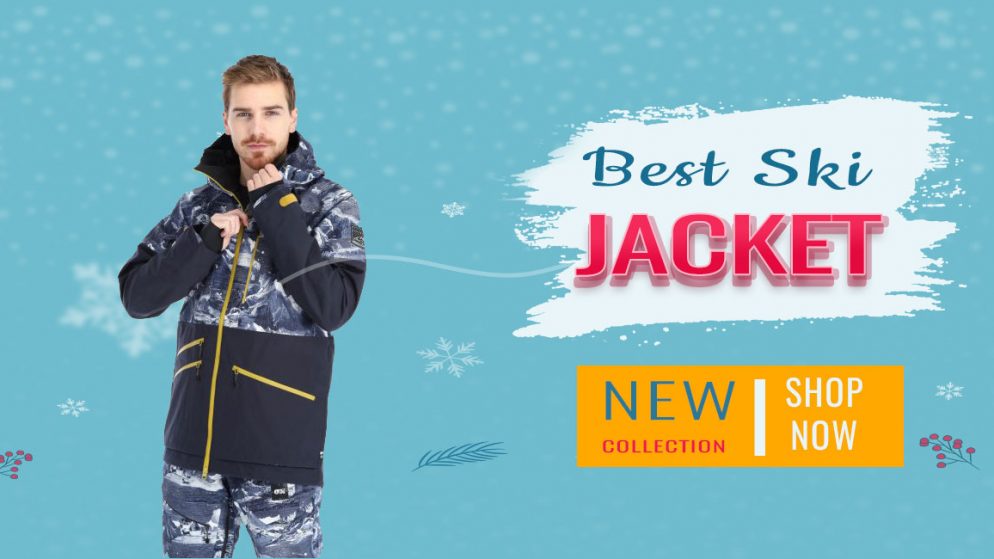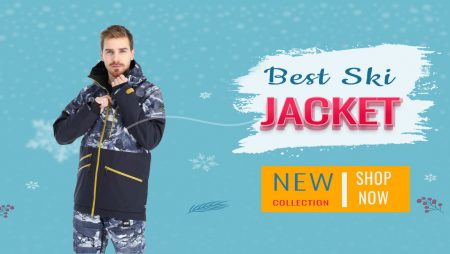 Our content is reader-supported. If you click on our links, we may earn a commission.
The Helly Hansen Alpha 3.0 is one of the top ski jackets on the market today. It is made of high-quality fabrics, is light and breathable, and is quite cozy to wear. Is it, however, the ideal jacket for you? In this thorough review, we'll attempt to respond to that question.
I'll go through every detail of this jacket with you, from the type of insulation to the precise number of internal pockets. And once you've finished reading our evaluation, you'll know for sure whether the Alpha 3.0 is the ideal ski jacket for you or not!
Insulation And Warmth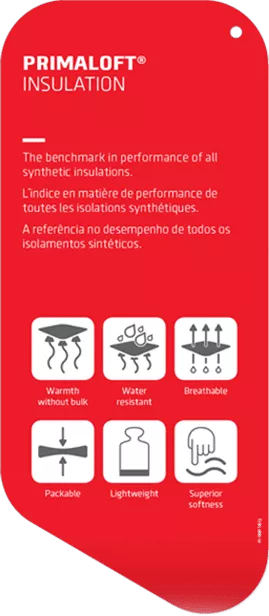 Insulation is necessary for a good ski jacket, but it shouldn't be overly warm. And the reason is really straightforward: while skiing, you move around a lot and generate a lot of heat. The greatest ski jackets can keep you warm even in extremely cold temperatures while not keeping you so warm that you start perspiring profusely.
The Alpha 3.0 jacket has excellent insulation. Primaloft Black and Primaloft Black Hi-Loft synthetic insulation are used in the jacket's sleeves and hood, respectively.
Shell Materials And Hardware Quality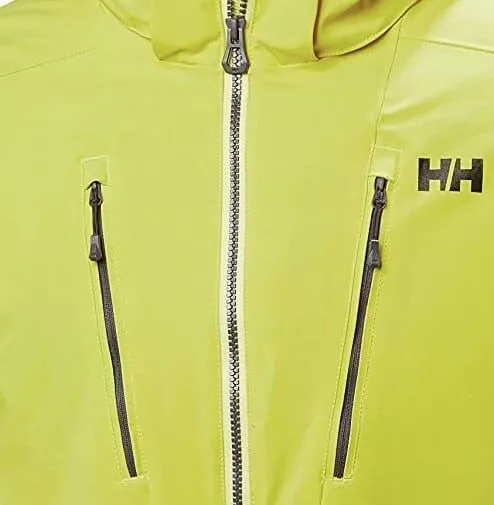 The quality and durability of a jacket are significantly influenced by the materials used in its construction. Most mid-range manufacturers choose between nylon and polyester, but the better brands typically employ a special fabric that combines the two.
That is accurate for Helly Hansen, who makes most of their jackets from their own Helly Tech Performance fabric. It's a two-ply, four-way full stretch fabric with seam-sealed construction. Durable Water Repellent (DWR) is applied to the shell's exterior to provide outstanding waterproofing, and inside technologies maintain the jacket's breathability.
What About Wind Resistance?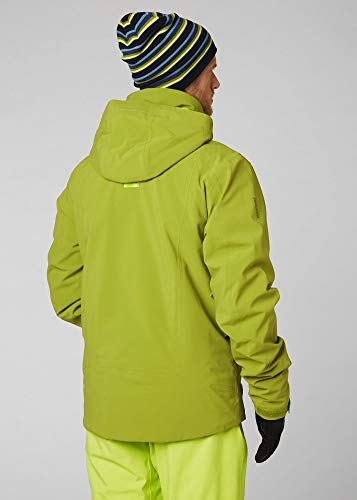 The Alpha 3.0 jacket is weatherproof, which means it has excellent wind resistance, as I've already indicated. Even in extremely windy conditions, there are no drafts through the jacket materials thanks to their extreme density.
But that's not even that significant because decent ski jackets are all composed of materials that are thick and keep the wind out. This Alpha 3.0 jacket has features like elastic cuffs with gaiters, an adjustable hem, and an adjustable hood that are crucial for wind resistance.
Is It Breathable?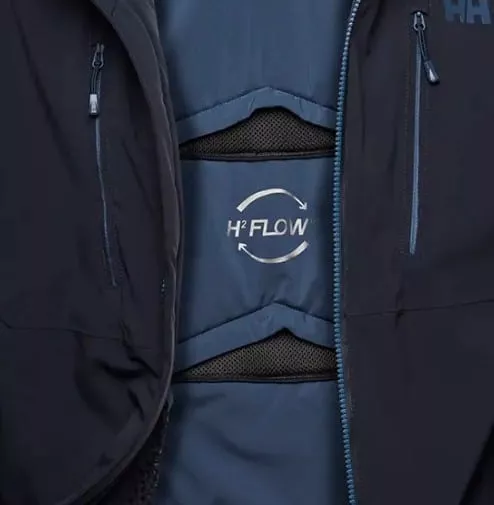 Yes, the Alpha 3.0 jacket is quite breathable, to give the quick answer.
Numerous elements on this Helly Hansen ski jacket aid in controlling body temperature. The most significant is H2Flow, the company's unique temperature control system. It has air pockets that are intended to capture the body heat you generate, keeping you warm for a very long time. In case you ever become too hot, the jacket incorporates underarm ventilation zippers that enable you expel some of the hot air, and let some cool air in.
Additionally, this technology is built such that it allows moisture to drain, ensuring that you're not going to get too sweaty.
Size Range And Fit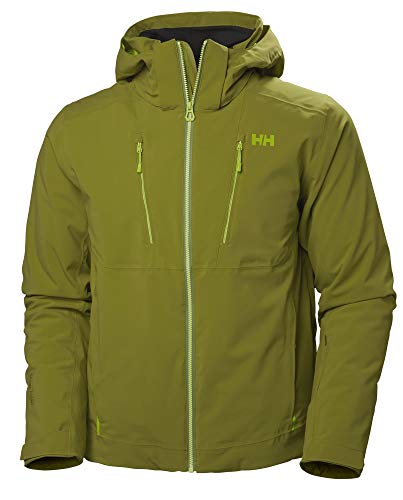 It's crucial that your ski jacket be the right size for you. This implies that it should have just enough room to allow you to wear it over a hoodie or sweater without allowing the warm air to escape.
In addition, the length of a ski jacket is yet another critical factor to consider. Since you don't want anything to significantly limit your mobility, skiers who are serious about their sport tend to favour shorter coats. Longer-sleeved jackets are OK as long as they are not excessively constricting or tight.
All The Alpha Pockets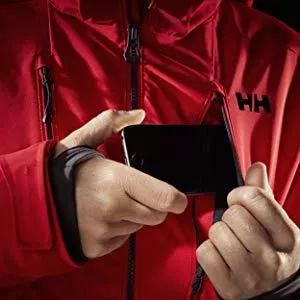 There are two internal and four external pockets on the Alpha 3.0 jacket. For optimal performance, all of the exterior pockets include waterproof YKK zippers. In fact, the inside pockets are made to fit goggles and a ski pass, which is really practical.
The Life Pocket, however, is the only pocket on this jacket that merits special note. On the outside of the jacket, there is an insulated zipped pocket that is made just for your phone. Your smartphone will stay warm thanks to the Primaloft insulation, which also helps the batteries last longer.
Ski-Friendly Features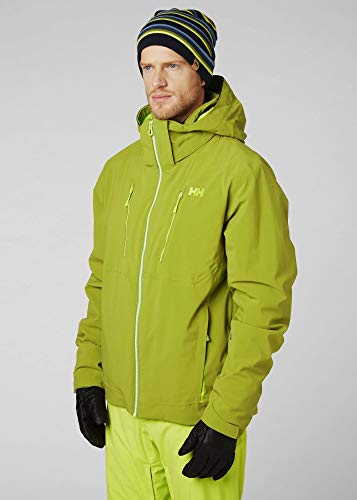 When shopping for a ski jacket, you consider more than just the fabric and fit. The majority of individuals typically search for ski-friendly characteristics, or things that will make your time skiing more pleasurable. How many features does this Helly Hansen jacket offer that are ski-friendly?
A lot. The first is the hood that can be worn with a helmet. Because it is both movable and detachable, you can use it anyway you choose. You'll be happy to know that the hood features a foldaway high visibility brim if you choose to keep it on.
Pricing And Value For Money
You've heard me go over every aspect of this jacket, and it's quite obvious that they're all top-notch. And given how pricey the jacket is, that is more than clear when you look at the price point.
But that is the cost you will have to pay if you want the best ski jacket available. Yes, the Alpha 3.0 is an expensive jacket, but its outstanding quality, longevity, and wealth of features more than make up for it. This is the jacket to buy if you spend a lot of time on the slopes in the winter and want the best possible one.
PROS
Exterior weatherproof
Smartphone pocket insulation prolongs battery life
Reflectors for the Recco Advanced Rescue System
internal compartments for ski passes and sunglasses
CONS
no plus or tiny sizes
a pricey jacket.
There is no version for ladies or kids.
Helly Hansen Alpha 3.0: Is It Worth It?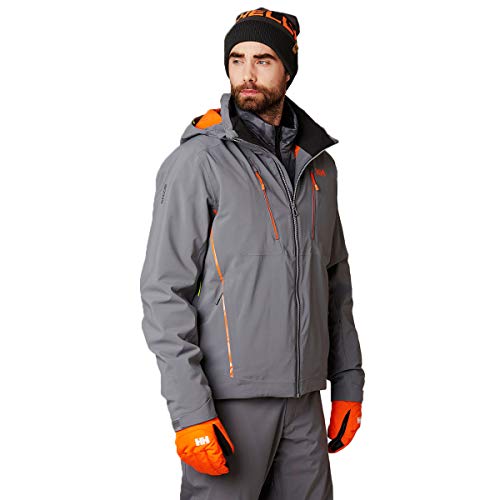 There's no denying that the Alpha 3.0 is a fantastic ski jacket for men. Because it is made of high-quality fabrics that are incredibly durable, you'll end up wearing this jacket for many years. This includes strong YKK zippers and exclusive materials.
Given that it is windproof and waterproof, you will be protected from even the worst weather. And Primaloft Black, one of the best synthetic insulations available today, is used to insulate it.
The jacket includes many pockets for all the essentials you'll need for the slopes, including an insulated phone pocket that will prolong the battery life of your phone. Additionally, it has a removable hood, a powder skirt that snaps away, and thumb holes on the wrist gaiters.