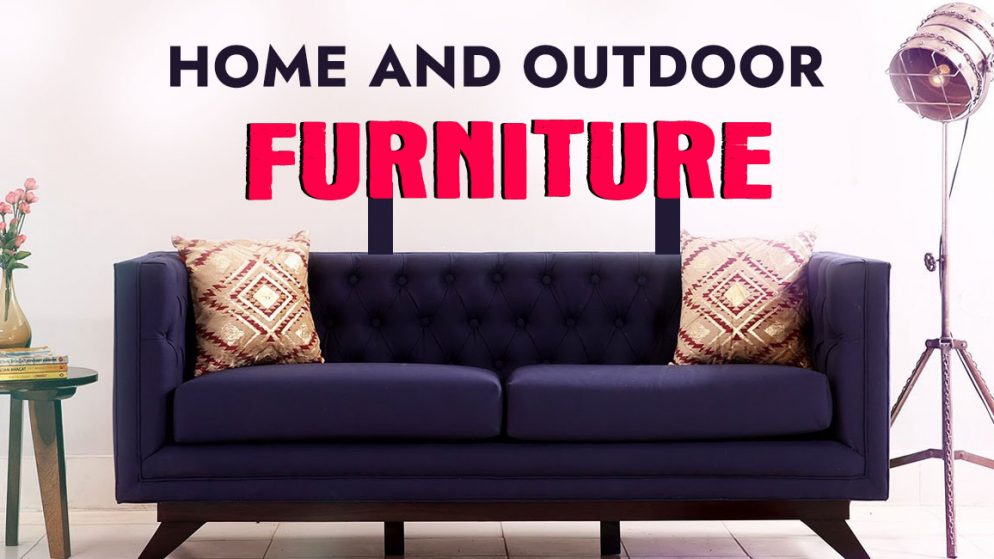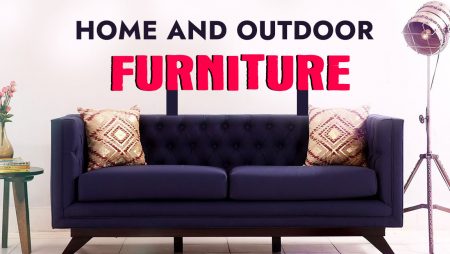 Our content is reader-supported. If you click on our links, we may earn a commission.
**This post contains affiliate links. If you use these links to buy something we may earn a commission.** Thanks
Todays guide is an arhaus sofa review and intended to be an overview of the entire arhaus sofa lineup.
While well be discussing the arhaus couch line in general, well also be taking an in-depth look at the arhaus kipton sofa. Over the last few weeks weve been trying the kipton at our home and testing lab.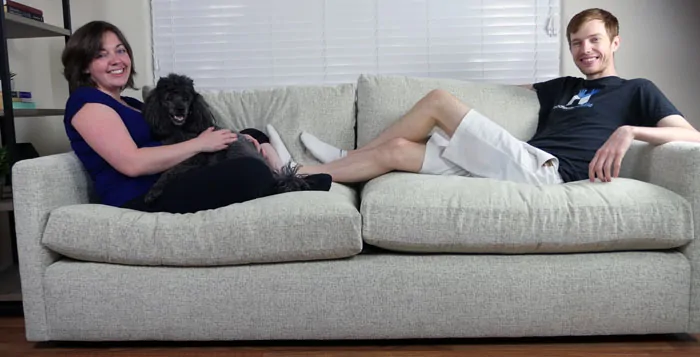 Shop Now At Arhaus
So with that intro out of the way, lets get started.
Pros
High quality sofa construction, finishes, and fabrics on each style of Arhaus Sofa
Offers a wide range of sofa sizes and styles to suit a variety of design tastes
Each sofa comes in a variety of fabric colors, exact variety varies by sofa style
Includes lifetime limited warranty on most all pieces offered by Arhaus
Cons
Difficult to clean fabrics, as many require the use of a water-free cleaning solvent.
Shorter 14 day return period
Long shipping and delivery times
Arhaus Sofa Review: The Breakdown
The sofa lineup that arhaus offers is extremely exhaustive, featuring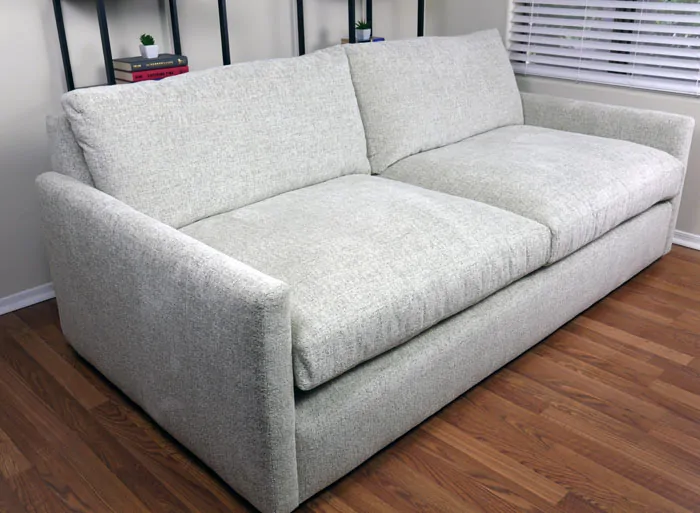 This arhaus sofa review in particular is going to be looking at the broader scope of arhaus sofas as well as more detailed in-home tests that weve done on one sofa in particular, the kipton sofa.
Arhaus Materials and Design
Jumping right in, lets first talk about materials and design.
There is a wide variety of sofa materials available, but in general materials can be classified into three different distinctions:
fabric upholstery
fabric slipcover
leather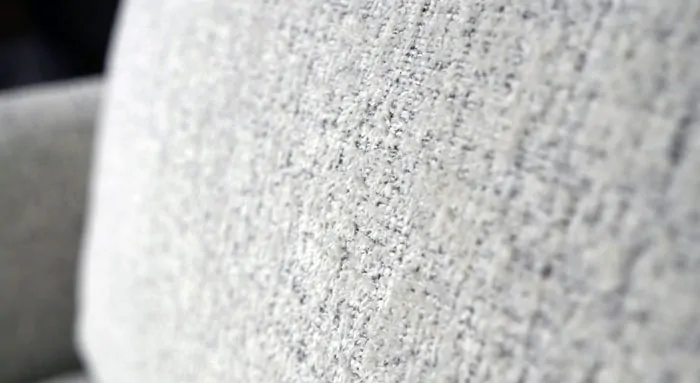 Fabric material and style ranges depending on the exact style of sofa, but generally speaking, Arhaus offers:
a wide variety of neutrals
a few muted colors
and genuine leather texture
Is the Arhaus sofa comfortable?
While exact feel and comfort will vary on each style of arhaus sofa, this review is specifically testing the arhaus kipton sofa.
In terms of comfort, it was extremely comfortable. The sofa seat cushion has a buttery softness. It provides pressure relief and a slight contouring hug, but still has enough push-back within the pocketed coil core to provide good support.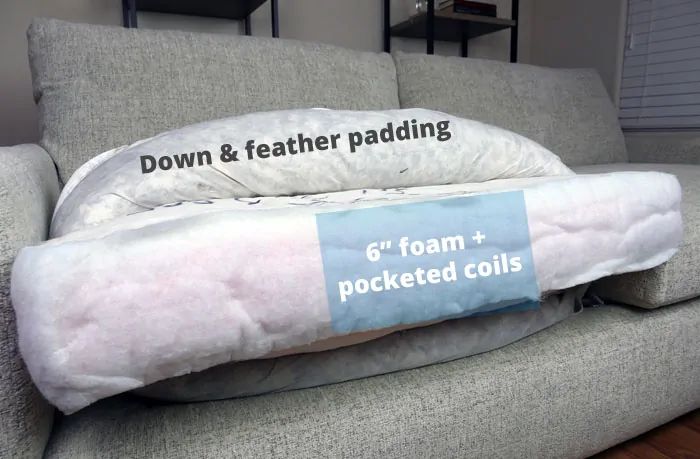 The seat cushion core is surrounded by a thick layer of feathers and down, which provides the instant pressure relief.
The back cushion is 100% poly fiber and is packed quite densely, providing good support, while still relieving pressure.
Do all Arhaus sofas feel the same?
The short answer to this is no.
The exact construction and feel will certainly vary between different sofa styles.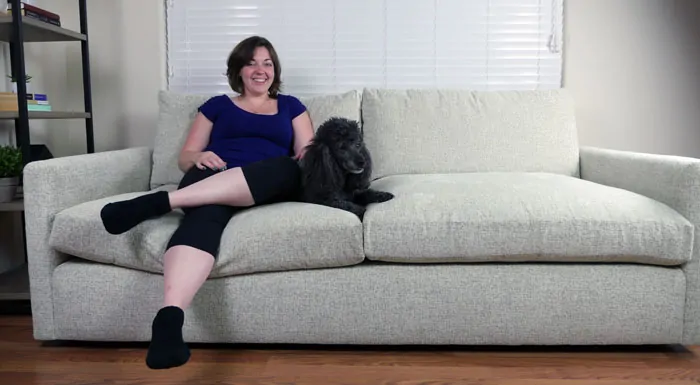 Sofas with tufted or fluted backs may feel firmer than a sofa with plush or overstuffed backs, like the landsbury sofa or the baldwin sofa.
In terms of firmness, i would say the kipton is around a 4 for the seat and an 6 for the back. (see guide below).

To give you an idea of how this firmness is achieved, below I've outlined the construction assembly of the Kipton sofa.
The back cushion is 100% encased poly fill with a removable cover.
The seat cushion includes the following layers, from top to bottom:
Encased down padding
Poly foam (approx 2″ thick)
Pocketed coils
Poly foam (approx. 3″ thick)
Encased down padding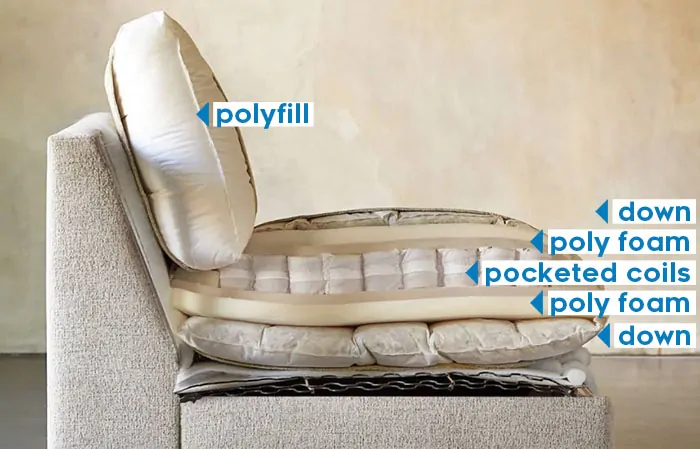 Best Arhaus Sofas
The vast selection that Arhaus offers can be a little overwhelming. To simplify the process, we asked Arhaus what their most popular sofa models were.
Arhaus Fabric Selections
Like I mentioned above, the fabric selections for each sofa can vary, but they do seem to have a consistent quality to them.
Arhaus sofas come with the following fabric options:
Fabric
Slipcovered
Leather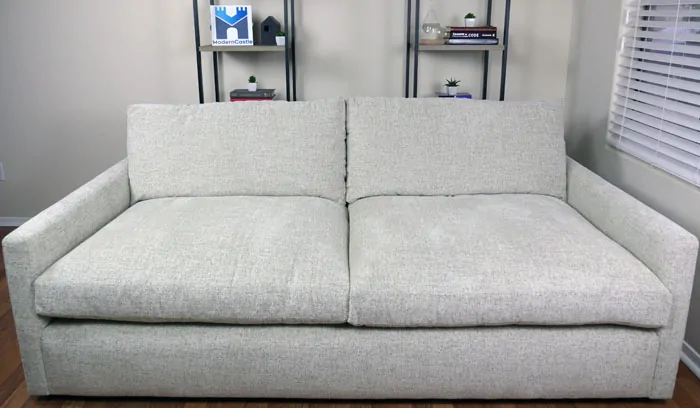 Most arhaus sofas are available in one in stock color, 2-10 custom colors and offers over 500 special order colors as well. You can order physical swatch samples of any of the fabrics available.
What about stains?
If youre particularly worried about stains, arhaus offers two things you may want to consider:
Easy Care fabrics: Easy Care fabrics are easier to clean and more stain-resistant than non "Easy Care" fabrics. Some fabrics in this collection are even machine washable, although the exact details may vary by sofa.
All Arhaus sofas are available in Easy Care fabrics, but not all sofas are available in ALL of the different fabric options.
Worry Free Plan: This is a 5-year accidental plan that covers rips, stains, tears, burns, and even pet damage (only covers pet damage once). This plan will also cover seam separation.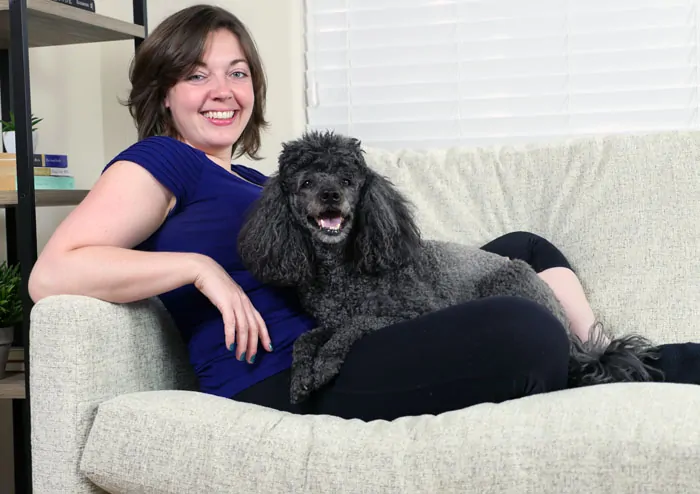 How to Buy An Arhaus Sofa?
Buying an arhaus sofa can be done one of two ways, in-store or online. As not all buyers are near to a local store, buying a couch online is a popular approach.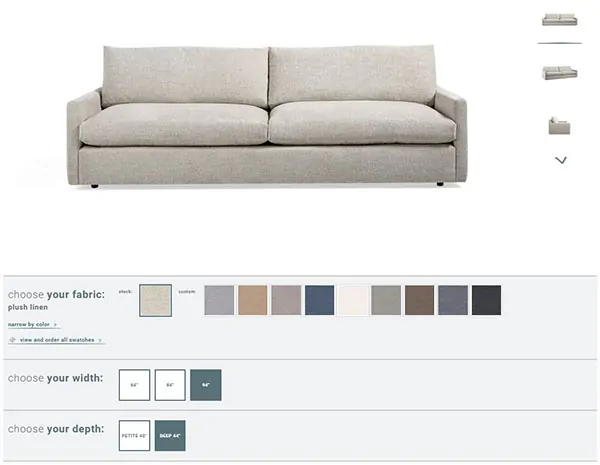 To do that, you'll need to follow the steps listed below:
Choose the fabric.
Select the width.
Choose the depth.
Once you've fully specified the sofa, it's time to wait.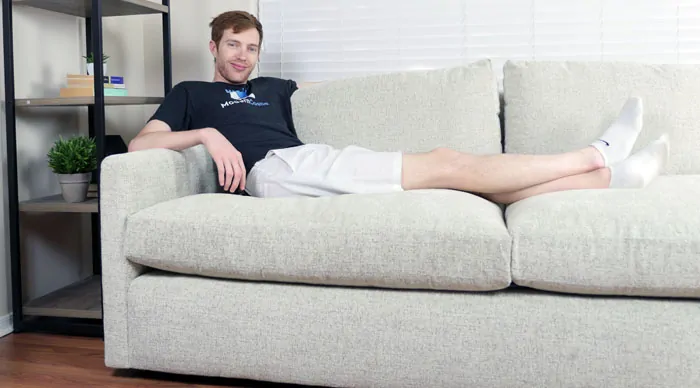 For in-stock fabrics, it takes about 3 weeks for the order to be processed, shipped, and arrive at your door.
If you're ordering a custom sofa, it can take a bit longer, generally 8-12 weeks to produce the sofa and then an additional 3 weeks for processing and shipping time.
Shipping
Arhaus offers a White Glove delivery service that includes:
Unpacking
Inspection
Assembly
In-room placement (restrictions may apply)
Removal of packaging and debris
For sofas and Arhaus couches, there is an additional fee for large-parcel delivery. The prices listed below includes the White Glove delivery service mentioned above.
Trials and Returns
There is a 14-day "trial period" on all Arhaus sofas, excluding the sofas on clearance.
That being said, the exact details of the return policy is a little tricky. We received the following details below, directly from Arhaus.
The "delivery charge" is a bit of a gray area, as it varies based on how close you are to an Arhaus shipment site. Delivery feels range from $299 to $499, depending on your location.
Special Orders: Special orders cannot be returned, cancelled or exchanged for any reason other than defect or damage.
Arhaus Couch Design Elements
There are a lot of parts that make up any Arhaus sofa, but there are a few consistencies. To give a nice overview of this sofa lineup, we're going to hit on the following:
The Frame
The frame of the Arhaus sofas is made from solid hardwood. The exact dimensions and species of wood may vary based on sofa style.
The Cushions
Looking specifically at the cushions on the kipton sofa, i can say that we were impressed. All of the cushions on the kipton sofa are loose from the back and have a zippered closure.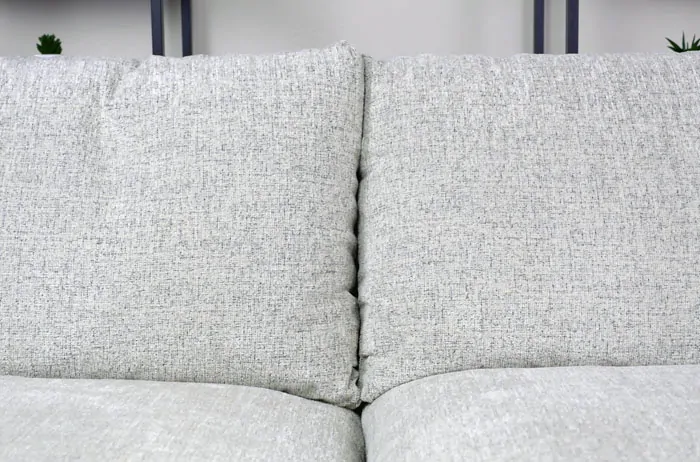 Regarding comfort, the Kipton sofa cushions were great. I found the back to be around a medium-firmness and the sofa seat cushions to be quite soft.
What are the cushions made of?
The back cushions of the Kipton sofa are made from an encased poly foam fiber fill, with a removable cover. Remember, this doesn't necessarily mean that that cover is washable, but being able to remove the cover does make it easier to clean or treat stains.
The seat cushions of the Kipton sofa have a bit more give. They are made from a pocketed coil and foam core with a layer of feathers and down surrounding the internal support. This gives the cushion a nice softness when you initially site down without sacrificing the overall support of the cushion, which is provided from the pocketed coil / poly foam core.
Caring for Arhaus Couch Cushions
The care for any of the Arhaus sofa cushions may vary, depending on the fabric you select.
On the opposite end of the spectrum, "Easy Care" fabrics are designed with messes in mind. These fabrics are easier to clean and in some cases may be completely machine washable.
You can order samples of any of the Arhaus fabrics to see and feel them first-hand before specifying them for your new sofa.
The Legs
The legs of a sofa say a lot about the overall style of any given piece. Arhaus really hits variety hard in this category as well, including legs of the following styles:
Most leg styles on Arhouse sofas are variations of wooden legs. A few of the most popular include:
Minimal wooden legs
Modular block legs
Turned wooden legs
Tapered wooden legs
Metal Legs
This is certainly the less common leg style. So much less so that it appears Arhaus has discontinued selling sofas with metals legs.
As of August 10, 2020 we weren't able to find any sofas in their current line that include meta legs.
Minimal Wooden Legs
This is certainly the less common leg style. So much less so that it appears Arhaus has discontinued selling sofas with metals legs.
As of August 10, 2020 we weren't able to find any sofas in their current line that include meta legs.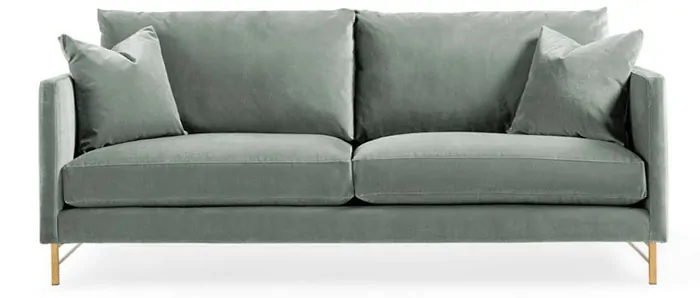 Minimal Wooden Legs
The wooden legs on these sofas are pretty minimal and lightweight looking. On some sofas, they are set back further than others, making them almost invisible. Minimal wood legs are shown on the following sofas: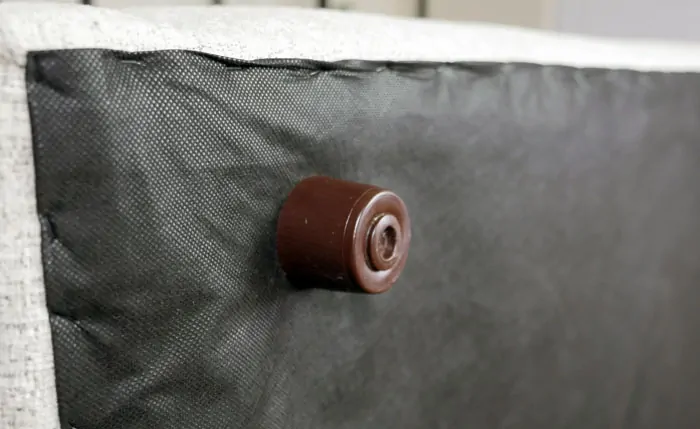 Modular Block Legs
This leg is wooden and has crisp lines. It's a little blocky, but provides a solid foundation and provides some visual weight to the Arhaus sofas that sport it. Modular block legs are shown on the following sofas:
Remington two over two sofa
Dune sofa
Landsbury sofa

Turned Wooden Legs
The turned wooden legs are a bit more traditional looks as if they were turned on a wooden lathe. They undulate in and out creating a nice, rounded rhythm up and down the leg. Turned wooden legs are shown on the following sofas:
Fenwick settee
Outerbanks sofa
Roslyn sofa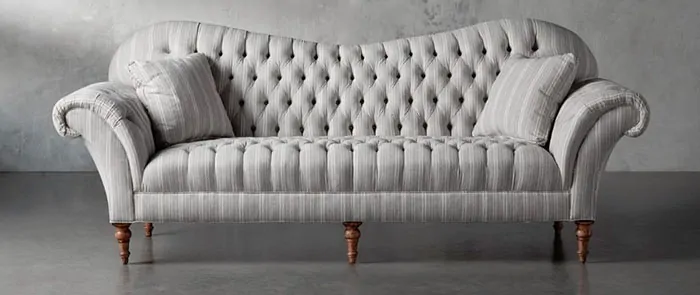 Tapered Wooden Legs
The tapered wooden legs vary in height and overall size, but generally speaking they all start wide at the top and taper down to a smaller footprint at the base, for a more delicate look compared to the modular block legs. Tapered wooden legs are shown on the following sofas:
Hidden Legs
The sofas with "hidden legs" typically have the most discreet legs, either being set back from the front of the sofa or covered entirely (like with a slipcovered sofa). Hidden legs are shown on the following slipcovered sofas:
Baldwin slipcovered sofa
emory slipcovered sofa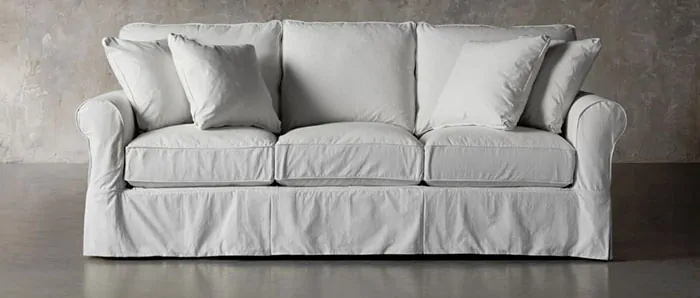 Summary
The Arhaus Kipton sofa is a high-end luxury couch. It's on the soft side with soft seat cushions and medium firm back cushions. It uses a solid wood frame with wooden legs. Cushions are stuffed with a combination of down, feathers, poly foam, poly foam, and pocketed coils. It's not cheap, but not overly expensive, especially considering the build quality and materials included.